What John Stamos Thinks About Lori Loughlin's Role In The College Admissions Scandal
Eyes are on Lori Loughlin as her legal saga with the college admissions scandal continues to play out in the courts. Of course, when the news first broke in March, people were surprised that Loughlin and Felicity Huffman were among those charged with crimes. Loughlin has maintained a fairly clean image over the years—on and off screen—but in the days following the announcement of the federal investigation involving her and her husband, Mossimo Giannulli, her image has taken a hit.
In the wake of the news, people have been wondering what her co-stars think of her involvement. Loughlin's former onscreen husband John Stamos has a little bit to say on the matter.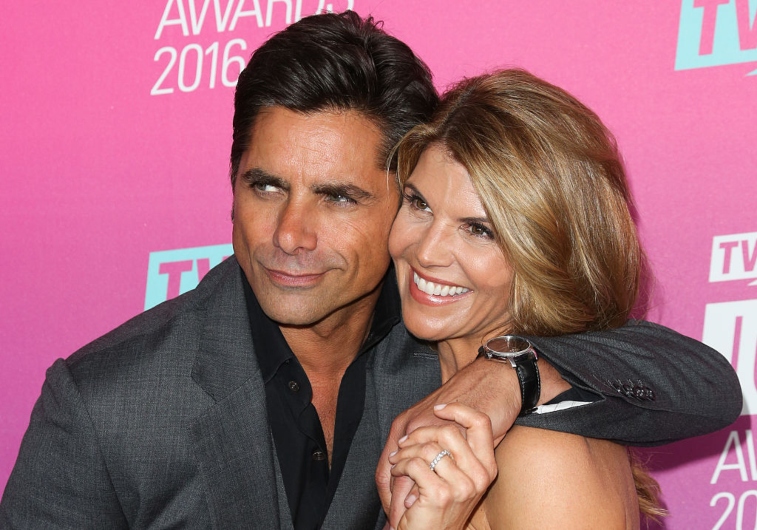 Stamos is surprised but supportive
Many of us were first introduced to Loughlin as "Aunt Becky" on Full House, Uncle Jesse's (Stamos) main squeeze. Loughlin and Stamos played lovebirds on the wholesome show from 1988 to 1995, and since then, both moved on to other TV and film projects. They always remained friends, but Fuller House reunited them in 2016 as the popular sitcom couple.
Stamos recently sat down with GQ and in an interview that was published today, shared some of his thoughts on Loughlin's current legal woes. He didn't want to make assumptions about the case, and admitted he'd rather wait until after the trial passes to open up some more. But when asked if he's still close to his friend/colleague, he replied:
"Yes. And I'll tell you one thing that has been strange is: Honestly I can't figure it out. It doesn't make sense. I talked to her the morning everything hit. I just can't process it still.

Whatever happened, I'm pretty sure that the punishment is not equal to the crime, if there was a crime."
Short and sweet. Like the rest of the world, he's shocked that Loughlin is connected to such events and is waiting to hear what happens in court. However, he obviously doesn't want to see her receive a stiff sentence.
Other co-stars reacted similarly to Stamos
While the news about Loughlin and her husband was still sinking in, her co-stars from Full House and Hallmark were initially in disbelief. Some of those feelings turned to grief upon learning that she would be let go from shows like Hallmark's When Calls the Heart and Fuller House. Candace Cameron Bure told Today that they wouldn't talk about Loughlin but stated that the Full House family would always stick together and be there for one another, no matter what. Bob Saget echoed those sentiments.
Fellow actress Erin Krakow posted heartfelt birthday message to Loughlin expressing her love and support for her "forever friend," and her other When Calls the Heart co-star, Paul Greene, told US Weekly that the news was hard to digest but all he can do is be a loving friend. But with possible prison time being a factor, all are worried about Loughlin's fate.
The latest news on Loughlin is that she's waiving her right to separate attorneys
Loughlin and her husband had a hearing on this week to discuss their decision to share the same defense lawyers. According to Deadline, the two were questioned about the use of drugs or alcohol as possible factors in influencing their unique decision, but they insisted they are of sound mind.
They judge granted their request but with stern advice about conflict of interest and the better option of working with an attorney who has an individual's best interest at heart. They signed forms saying they will move forward together.
Unlike Huffman and many of the other defendants named in the investigation, Loughlin and Giannulli pleaded not guilty and will go to trial. If convicted, they are each facing more than 20 years in prison for each charge, along with fines.