What Kerry Washington's New Netflix Movie, 'American Son' Is About
Many fans have been wondering what Kerry Washington has been up to since Scandal ended last year. Besides being busy with her family, she's still securing roles as an actress and producer. Once she hung up her white hat as the fierce and dynamic Olivia Pope, Washington shifted her focus to new projects.
You may have seen her in the live TV production of Norman Lear's The Jeffersons this past May, but she also was working on a new Netflix series titled American Son. And according to Washington, the role is nothing like her iconic character, Olivia Pope.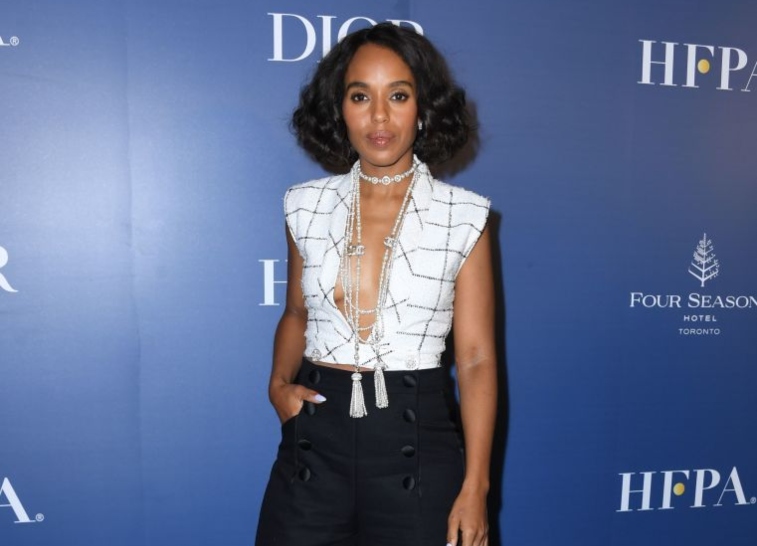 'American Son' is an adaptation of a play
Based on the Broadway play of the same name, American Son was written by Christopher Demos-Brown, a trial lawyer from Miami. Set in a Florida town, the drama is about an interracial married couple, Kendra and Scott, and their search for their missing teenage son, Jamal.
It's a rainy night when he disappears, and tension and conflict arise with police officers who aren't the most forthcoming with information and assistance. The story takes place at the town's police station, and is steeped in themes of racism, police brutality, and community.
Washington starred in the stage play as Jamal's devoted mother, Kendra Ellis-Connor, a psychology professor who is separated from her FBI agent husband, played by Steven Pasquale. Both are reprising their Broadway roles for the Netflix film.
When the Broadway debut of American Son was announced in 2018, it was revealed that in addition to Washington, Shonda Rimes, Gabrielle Union, and Jada Pinkett signed on as producers. The play ran from November 2018 through January 2019, per The Hollywood Reporter.
Demos-Brown told Broadway.com that this particular work was inspired by a combination of his experience with the criminal justice system, current events, and a book by Ta-Nehisi Coates titled, Between the World and Me.
How Washington feels about the role
According to Entertainment Weekly, Washington was attracted to the poignant story about an African American mother's experience with her family and law enforcement. She called it intense.
"It is timely, but also I think it's been part of the historic DNA of what it is to be an African-American mother, just to worry for the safety of your child. Part of all mothering is the lack of control over this other human being who, once they're outside your body, makes their own decisions and has their own dangers. But there's the added layer of powerlessness as a black mother because of the institutionalized racism and the cultural practices that endanger black children."
As an actress, Washington found the part of Kendra to be a challenge but a welcome one, as this character is dramatically different from Olivia Pope.
During her rounds at the Toronto International Film Festival this week, she expounded on how much the two women are unalike. Per ET Canada, she said:
"She's about as different from Olivia Pope as you can possibly get, and I think that's probably why I was drawn to her. She is not — there is no Prada in this one folks, sorry.

I love playing Kendra because she's a mom and she is a wife although she is separated and she's really accessible. She's a working class, really smart… she's grappling with relationships in a really different way." 
When Netflix's 'American Son' film will air
According to a Netflix press release, the streamer is excited to be working with Washington and American Son's Tony award-winning director, Kenny Leon for the film adaptation. VP of Original Content Cindy Holland stated:
"American Son powerfully explores themes of family, love and identity. We are honored to work with Kerry Washington, Kenny Leon, Christopher Demos-Brown and the entire cast to bring this story from the Broadway stage to our members around the world."
After its premiere at TIFF on Sept. 12, the film will arrive on Netflix on Nov. 1.