What Kind of Man Will Kate Gosselin Be Looking for on Her Dating Show, 'Kate Plus Date'?
Jon and Kate Gosselin are no strangers to the camera, as we all remember their hit TV show, Jon & Kate Plus 8, which aired on TLC over a decade ago. The show chronicled their marriage and life with a set of sextuplets and twins, but fans know a lot has changed since then. Not only were Jon and Kate wrapped up in a bitter divorce, but Jon has also completely parted ways with TV. Kate, however, has made a number of TV appearances over the years and is slated to make another comeback with a new show.
Kate's set to star in Kate Plus Date, her very own dating show where she'll hopefully find her perfect match. So, what is Kate looking for in a man? Here's what we know.
Kate seems incredibly excited to share her dating journey on Kate Plus Date
Despite all of the drama, Kate has never regretted her time on TV — and now, she's more excited than ever to get back into the spotlight with her new dating show, Kate Plus Date. Recently, at the Television Critics Winter Press Tour, she discussed the show with twins Mady and Cara by her side. "This was a journey and it was really neat because in coming up with this saying, 'Yeah, I'd love to date, you know, on TV, the safety that it provides'," People reports she said. She also added that while she's generally comfortable in front of the camera, parts of the journey did feel totally new (and a bit awkward) to her, but she still learned a lot about herself in the process. "I'm hard to watch, exciting, awkward, fun and really rewarding," she said.
This isn't the first time she's discussed the dating show, either. Back in 2018, she also spoke to People about her fears of becoming an "old maid" or a "spinster" if she went on with her life being single, so she wanted to give dating a shot. And with the help of a professional matchmaker to make the process that much safer and smoother, she was really excited about the possibilities.
This is the type of man she's looking for
Kate doesn't want just any man in her life. In order to keep up with her life in the spotlight and her eight kids, she has specific qualities she's looking for in a man. And while she's willing to keep an open mind and get professional help in finding the right man for her, she knows what she wants and expressed her needs to People in 2018.
As Kate told the publication, "I do want someone with a set career, who is confident. A grown-up with their own life, their own agenda, who knows who they are. If someone travels for work, that would be great, because I'm used to being on my own and being self-sufficient." She also added that she doesn't expect her children to look up to this new man as a father figure, but rather a mutual friend they can still have a connection with. "I would love my kids to have a mutual friendship and respect with this guy and for him to be someone they can ask for advice," she added. As for another deal-breaker, Kate mentioned that a new man in her life must love dogs. "People disappoint you, but your dogs never will."
How do her kids feel about her getting into the dating scene?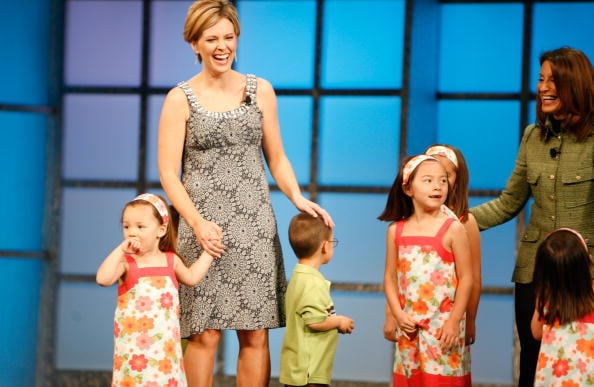 Kate's ready to welcome a new man into her life, but how do her kids feel? According to what she told People last year, it seems her children are looking forward to her having someone special. Kate said, "As we're talking about Mady and Cara going off to college which is becoming more and more of a reality, it's gonna happen, it almost became like a worry for them, too, like 'Mommy, you're gonna be all alone soon'." She then mentioned that it "became apparent: they want someone for me. They want me to have somebody in my life."
It seems Mady and Cara are in agreement with Kate's previous statement, too. They attended the tour along with Kate to discuss the upcoming show, and Mady couldn't contain her excitement. People reports she said, "We've been nudging her to date for years, I think, and we're all, all eight of us are so glad that she finally is. She deserves to be happy. Everyone deserves to be happy."
Check out The Cheat Sheet on Facebook!