Here's What Kylie Jenner Really Looks Like Without Lip Filler
Kylie Jenner has grown tremendously in popularity through the years. The youngest member of the Kardashian-Jenner family was once just a background cast member on the family's hit show. Now, though, she's the wealthiest member of the family and arguably the most famous behind Kim Kardashian West. And perhaps what Jenner is best known for are her plump, perfect lips. But what does she look like without them?
Jenner started receiving lip filler at 17
Growing up, Jenner was constantly compared to her older sister, Kendall Jenner. And when Kendall's modeling career kicked off, Jenner still wasn't quite sure where she wanted her life to go. But she knew her lips had always been something that made her self-conscious, and she wanted them fixed. At 17, Jenner started receiving lip filler, which then ended up almost becoming a part of her identity. She released Kylie Lip Kits so other young women could make their lips look more plump. The lip kits expanded into Kylie Cosmetics, which eventually turned Jenner into the world's youngest self-made billionaire.
Kris Jenner was against her daughter altering her face
When Jenner first told her mother she wanted lip filler, Kris Jenner was definitely not on board. Kris revealed in a 2015 interview that she never wanted her daughter to have the work done. "I don't think I did one thing, physically, to myself until I was in my 50s … So I am thinking, why? Why? Why do you need to do that?" Jenner said of her initial reaction. However, she eventually came around to the idea of her teenage daughter having work done; it ultimately was what would make Jenner happier. Once she started the filler, Kris said she forced herself to move on from it. "I got really upset, and then it was done, and I had to let it go."
Jenner once took a break from the filler in 2018
Though we all know Jenner as having had lip filler for nearly five years now, there was a time in 2018 when she took a break from having her lips done. It's unclear if she was traveling and didn't have time or simply wanted to give her lips a break, but in July 2018, she was spotted out with Travis Scott sans filler. Her lips still looked plump, so she likely had lip liner on, but it was evident they were not their usual look. Jenner never explained why she took a break, and she has since gone back to having them done.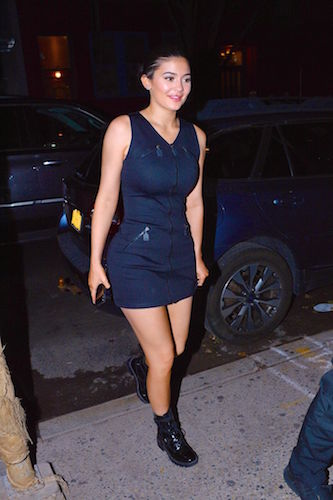 Surprisingly, Jenner has never had plastic surgery
Though there have been rumors (and plenty of memes) about Jenner being plastic, she has never actually gone under the knife. The 22-year-old has received lip filler and facial filler, neither of which require true surgery. Facial filler is injected into the face to deepen contour, smooth lines, and otherwise give the face an overall more plump look. Jenner has admitted to having filler injected but has remained adamant that she has never had true plastic surgery. Since it appears her face is the only part of her that's been altered, it makes sense that it's filler and nothing more.