What Princess Charlotte Really Thinks of Going to School With Her Brother
Princess Charlotte is about to start school with Prince George on September 5. The four-year-old will be joining six-year-old George at his school at Thomas's Battersea. So, what does the Princess really think of going to school alongside her big brother?
Princess Charlotte joins Prince George at school
Charlotte will join George at a private school with a hefty price tag of $23,000 a year. Luckily, the school is in close proximity to the family's home at Kensington Palace. An insider told People how the princess really feels about joining her brother at school. "She can't wait to be with George at big school," a source tells People. "She is so excited about it all."
Prince George already has two years of experience at the school under his belt, so he is more than ready to show his sister around and make her feel right at home. "They are close in age, and they spend so much time together," the source continues. "Playdates [with outsiders] can be tricky, so they learn to lean on each other."
Prince George enjoys school
Queen Elizabeth II was homeschooled, and the thought of royalty being schooled alongside others didn't always happen. George seems to be enjoying himself wholeheartedly though. A source told People that George is affectionally known as George Cambridge at school and is "very happy."
Charlotte was studying at Willcocks Nursery School in London before being enrolled at Thomas's Battersea. Royal fans will most certainly see Prince William or Kate Middleton sending their precious daughter to school on her very first day. Just two years ago, Prince William dropped George off for his first day. Holding his son's hand, the photos clearly reveal that Prince George was timid about the new surroundings. He adjusted to his new school quickly though.
Schoolwork at Thomas's Battersea is no joke
Schoolwork for George is about to pile up. As he is moving from Year 1 to Year 2, his work in school will increase. The website for his school says that students will learn various subjects, including: Literacy, Numeracy, Science, History, Geography, French, PSHCE (Personal, Social, Health, and Economic Education), Art, and more.
Thomas's Battersea's Head of Lower School, Helen Haslem, talked about the school in a letter shared online. "We are proud of our creative curriculum and the children quickly become immersed in their topics and engage in all learning experiences presented to them. Progress is carefully monitored and supported by the form teacher, the teaching assistant and specialist teachers."
The royal siblings are different in their own ways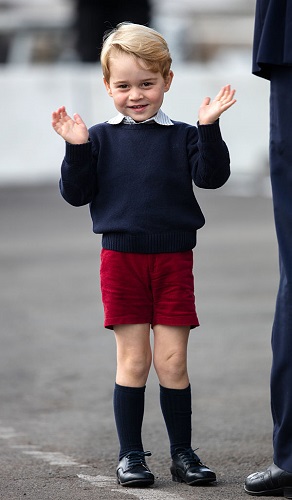 Both children have different personalities, as was evident at their parents' recent charity sailing race. Charlotte was seen playing around by sticking out her tongue, just enjoying being a kid. Her mother was on hand and laughed about it.
The royal siblings will be together at school in the coming days. It will be interesting to see how they get along with each other in the new setting away from their parents.