What 'Real Housewives of Beverly Hills' Denise Richards Says About the Reality Show, and How Lisa Rinna's Advice Helped Her
Joining Real Housewives of Beverly Hills in season 9, Denise Richards is the newcomer of the group. Since it was her first association with the Bravo TV Housewives franchise, Richards was fortunate to get some words of wisdom from longtime friend and RHOBH cast member, Lisa Rinna. She recently spoke about being on the show and how Rinna helped paved the way for her arrival.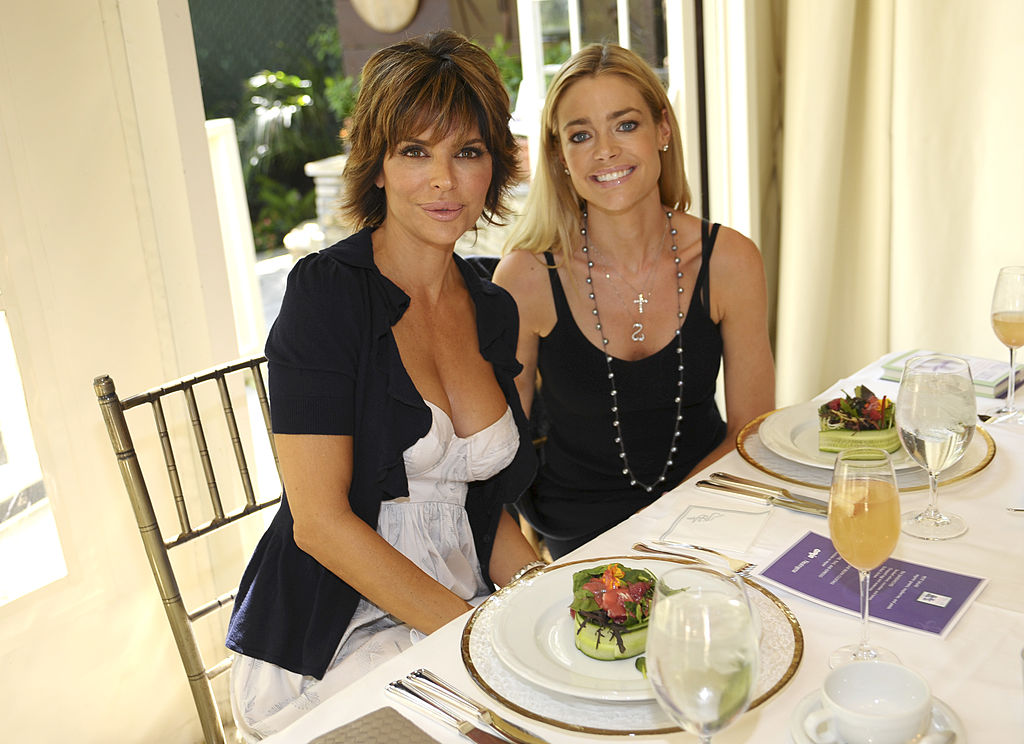 Taking the casual route
Richards recently spoke with the New York Times about being on the popular show, including the first time she met with the producers of Housewives. She chose to go casual rather than glam for the sit-down.
"They said I was the first one ever to come in not all dolled up," Richards told the New York Times, saying she wore a Guns N' Roses T-shirt and ripped denim.
Even for the interview with the renowned newspaper, NYT reported that Richards sported a Fleetwood Mac tee and jeans. She has been known to dress down around the other Housewives. "I thought I was dressed up, wearing shorts that had crystals embellished on them," she said of one outfit. "But not dressed up for them."
Richards spoke to Interview in February about her fashion taste in comparison to the other women. "Well, for me, I am very casual in my day-to-day life. I'm a jeans and a T-shirt, tank top, type of girl," she said. "I love to get dressed up for the red carpet, or a party, or when I'm filming, but I'm a beach girl, so that's where I felt like I didn't fit in with a lot of them."
Help from a friend
Richards is a longtime friend of cast mate Lisa Rinna, who has been an ally on and off the show. "It is very difficult to be the new girl, and I didn't really have anybody to give me any advice when I came on the show," Rinna told Interview. "I really felt it was important to tell Denise everything I possibly could to prepare her for this really (expletive) crazy ride."
Her pal was very appreciative of the information. "I'm so grateful she did. Because, like she said, Lisa didn't have anyone to take her under their wing, and kind of give her advice, and show her the way," Richards said. "So I'm grateful that Lisa was very forthcoming, and so supportive, and an amazing friend by giving me some very private tips."
Though Richards had financial reasons for joining the Bravo TV reality series, she was also a fan. "I had to pay legal bills, at the time," she said "I don't look at it as, 'Okay, I'm going to do a reality show.' It's a show that I've been a fan of since the beginning, and I've talked to Lisa so many times about the show. I was just so fascinated by it."
A true bond
Now as a member of the cast, she speaks highly of the group and even downplays any staged dynamics. "Producers aren't coming up to us saying, 'O.K., why don't you guys start talking about this and fighting about this,'" she told the New York Times. "That doesn't happen."
Richards claimed that the brush-ups between the women were only a small part of their relationships with each other. "Why would we hang out with each other?" she posed.
The reality star stressed that she truly has a bond with the women on the show. "Honestly, I really love all the ladies. I didn't want to have any preconceived ideas, and the stuff that Lisa told me is private, and was so helpful, just going into this. This is a huge franchise," she told Interview. "There's a lot of personalities, and a lot of strong women, so I was actually really excited. In the end, these women, even if they have any sort of discord or tiffs in the season, they still are there for each other—supporting one another in everything that they do, which I really like."
Richards also emphasized that the show is completely spontaneous, with no scripts to follow. "There was a part of me that thought that some of this had to be softly scripted. It was such a pleasant surprise to me that it's not," she told Interview. "It's real moments. You can't prepare for it. All you can do is be in the moment, and react how you would really react in these situations. I don't think anyone anticipated the season going the way it did. I'm so lucky, and grateful I got to join on a very exciting season that has a lot of twists and turns, and there's a lot of fun in it. There's a lot of drama, too. It's a lot of emotions."
Fans are looking forward to seeing Richards and the rest of the Real Housewives of Beverly Hills for season 10 on Bravo TV!