What Sent Meghan McCain's Husband Into His Ugly Twitter Rant
By now, fans of The View are used to seeing Meghan McCain flip a switch and get flustered in a matter of seconds. In January, we saw that in a View segment that ended with McCain screaming, "I am John McCain's daughter!" It was quite a moment.
Apparently, that's something fairly normal in her household. McCain's husband, a conservative blogger named Ben Domenech, offered supporting evidence to that effect in a late-night Twitter rant. In a series of tweets he later deleted, Domenech had quite a few things to say about Seth Meyers.
The occasion was his wife's May 7 appearance on Late Night With Seth Meyers. For anyone who saw the show, you might wonder why Domenech would end up calling Meyers "a monumental a**hole" who performed sex acts on Lorne Michaels to get his job. (The Daily Beast preserved the tweets.)
After all, Meyers took a very civil approach to addressing hot-button issues with McCain. Running back through the conversation, it's easy to see why Domenech made sure all those tweets disappeared.
McCain's husband said Meyers 'went after' her with his 'Late Night' questions.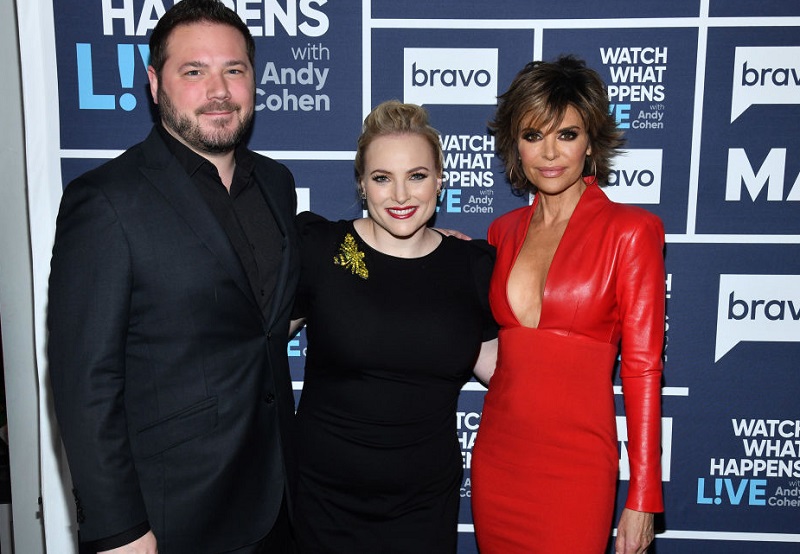 Meyers began his chat with McCain by bringing up her internship at SNL back in the day, and whether she and Meyers had ever interacted. Indeed, they had, McCain said, relating a story about Meyers helping her as an intern.
Later, the tone changed when Meyers brought up Minnesota Congresswoman Ilhan Omar. McCain has repeatedly condemned Omar's comments about Israel as anti-Semitic — even as many American Jews defended the Minnesota rep.
Considering Omar began receiving death threats and later apologized for her choice of words, Meyers wondered if McCain and others should be more careful with theirs. "Don't you think other people who talk about her need to be a little more thoughtful as well?" he asked.
In brief, McCain answered "no." She described herself as "in alignment" with Chuck Schumer on the issue and said she'd be calling out anti-Semitism when she saw it. [Editor's aside: Do Senate leaders "align" themselves with daytime talk-show hosts?]
After Meyers persisted, McCain — at this point very heated — asked the Late Night host if he was "[Omar's] publicist." Still calm, Meyers said Omar was a minority who deserved the same type of respect McCain expected.
Back at home, Domenech tweeted that Meyers "went after my wife tonight with his idiotic anti-Semitic bullsh*t."
Domenech's tirade included the sort of homophobia McCain rails against.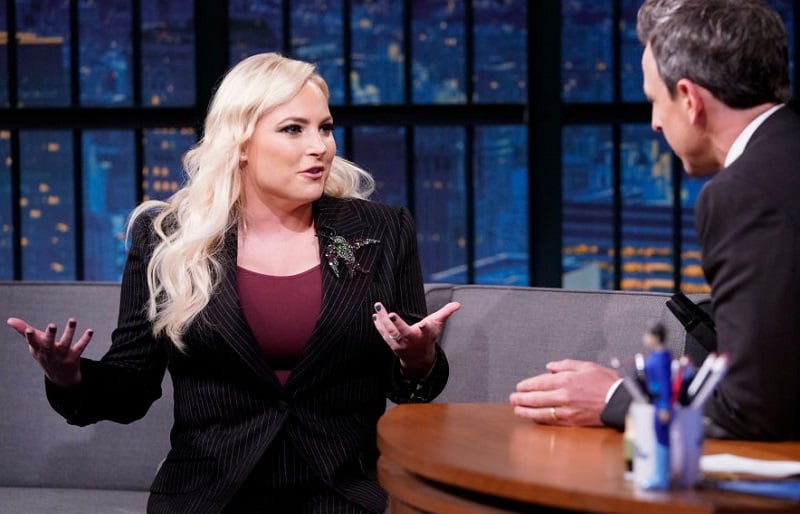 Domenech did not see the same exchange most viewers did. (We posted the entire clip above.) After saying Meyers "gargled" the testicles of his old SNL boss, Domenech called the Late Night host an "untalented piece of sh*t." For many, that was the type of homophobia his wife claims to be against.
But Domenech wasn't finished. "Seth is an awful person who is known within the industry for how terrible he is," he wrote. "He deserves the mockery he receives from all the people who laugh at him."
As they say online, "Whoa if true." However, if you watch McCain's appearance from the start, you'll find someone who disagrees: Meghan McCain. She had nothing but good things to say about interacting with Meyers during her internship at SNL.
"You were a total gentleman and very respectful of interns," McCain said. "Nice guy, Seth!" It makes you wonder what show Domenech was watching. Hopefully, it's not another instance of him plagiarizing the work of others.
Check out The Cheat Sheet on Facebook!