What 'SNL' Got Right About Meghan McCain and 'The View'
We're definitely among those who think Saturday Night Live has had better seasons. Between Robert De Niro stumbling through sketches as Robert Mueller and dull "Weekend Update" segments, there were far too many cringes and not enough laughs to call Season 44 a winner.
But that's not to say there weren't great moments. Kenan Thompson and Kate McKinnon are still capable of elevating any sketch, as are guests stars like Seth Meyers and Paul Rudd when they happen to pass through the stages at 30 Rock.
SNL's take on The View might be a good example of the good and bad of the season that wrapped up over the weekend. While the take on Ana Navarro is a tired one, the writers and Aidy Bryant landed several jabs at Meghan McCain and the show as a whole.
Bryant's McCain is the entitled victim 'The View' fans know well.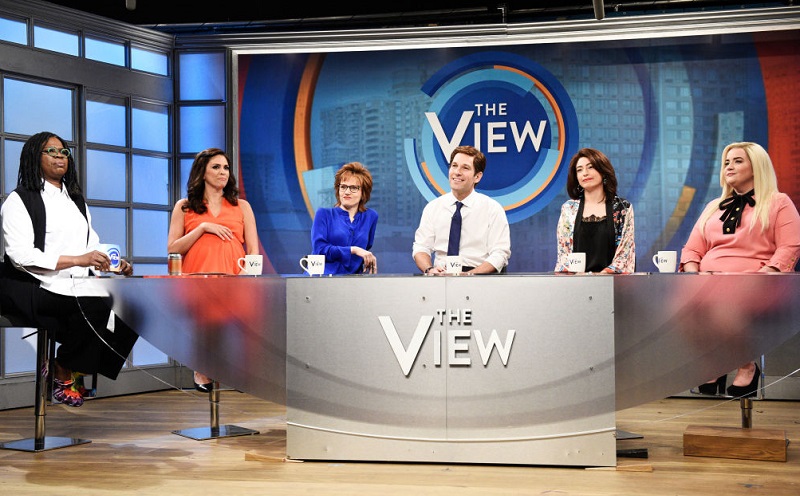 If you've watched The View regularly in 2019, you've undoubtedly noticed McCain identifying as the victim at the table. She's remarked that her opinions are not popular among the studio audience and complained that she doesn't get enough of a chance to speak her mind.
Once she gets the floor, there's a good chance you'll get a reference to this victimhood — and an even better chance you'll hear about her family in the course of her comments. SNL's May 18 skit nailed down both aspects of McCain's typical performances.
"OK, OK. Can I talk now?" Bryant said in character as McCain. "I am the only daughter at this table." After defending Republicans who passed an unpopular abortion bill in Alabama, the SNL McCain returned to the theme of being persecuted.
"Now please, please, guys, let me talk," she pleaded to the silent table. Leslie Jones's Whoopi Goldberg was dumbfounded: "No one else is talking." But that didn't end the drama going on within Bryant's McCain.
"OK, you see, I'm getting attacked. And as the person most upset right now, I am right," she said through tears. If you're McCain, it might have hit too close for comfort.
The often-shallow takes on the 2020 presidential race at 'The View'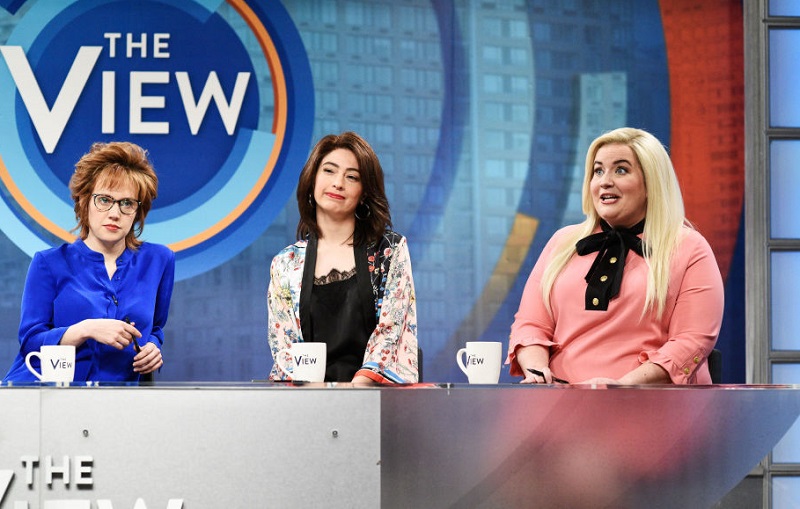 Fans of The View are also familiar with the parade of candidates for the 2020 Democratic nomination for president the SNL skit referenced. In the skit, we got a look at Paul Rudd as Pete Buttigieg ("booty-jay" in the pronunciation of Jones's Whoopi).
Rudd's Buttigieg has a hilariously shallow interaction with McKinnon's Joy Behar. After getting Mayor Pete to fix her phone, she says, "I gotta ask 'cause I'm sure it's come up, but … You're gay." "That's not a question," he responds. (A chyron simply reading "GAY" flashes upon the screen.)
Once Buttigieg's husband (played by Beck Bennett) comes out, the ladies at The View are all for him. Well, they're all for him aside from their preferred candidate, Joe Biden. Though the former VP has attracted little enthusiasm among the Democratic party's base, he's been a favorite at The View.
You might say it's the civility factor, or you could credibly argue the ladies at the table are looking for a father (or brother) figure in their next president. If you seem like a nice guy and aren't "too far left" to make McCain angry, you've got the vote of The View.
Check out The Cheat Sheet on Facebook!