What 'Spider-Man' Star Tom Holland Really Thinks of 'Avengers' Co-Star Robert Downey Jr.
There was a ton of hype surrounding Avengers: Endgame, and the three-hour epic certainly delivered. It had the action and emotional drama that we were all hoping for in a film, and many Marvel Cinematic Universe fans are sad that it's over. There's still plenty in the pipeline, of course, and while Avengers fans may be feeling blue (especially given the ending of Endgame), we should all be excited for Spider-Man: Far From Home.
Tom Holland will reprise his role as Spider-Man in the new film which leaves off right after the events in Endgame. As for the actors in the MCU, we're all wondering how they really feel about each other, too. Did Holland enjoy working with Downey Jr. while he had the chance, or is he ready to move on with his Far From Home co-stars?
Tom Holland seems to get along very well with his Spider-Man co-stars
Fans love seeing Peter Parker's banter in the films, but it seems Tom Holland may have a similarly likable, goofy attitude in real life. We know he's ultra-close with co-star Zendaya who plays Peter Parker's love interest, Michelle Jones. The two have been spotted multiple times hanging out off set, and that's even prompted many to suspect they're dating. Both Zendaya and Holland have denied the rumors and insisted they're just best friends.
It's not just Zendaya Holland is getting along well with, either. Jake Gyllenhaal has joined the cast of Far From Home as Mysterio, and the two got along so well that they were even getting in trouble for laughing too much during filming. While Gyllenhaal was on The Tonight Show, he also sang the praises of Holland as both an actor and a human being. "He's great, dude. He's awesome. He's the nicest guy. I'm super into him as Spider-Man," Gyllenhaal said.
Holland sees Robert Downey Jr. as a major role model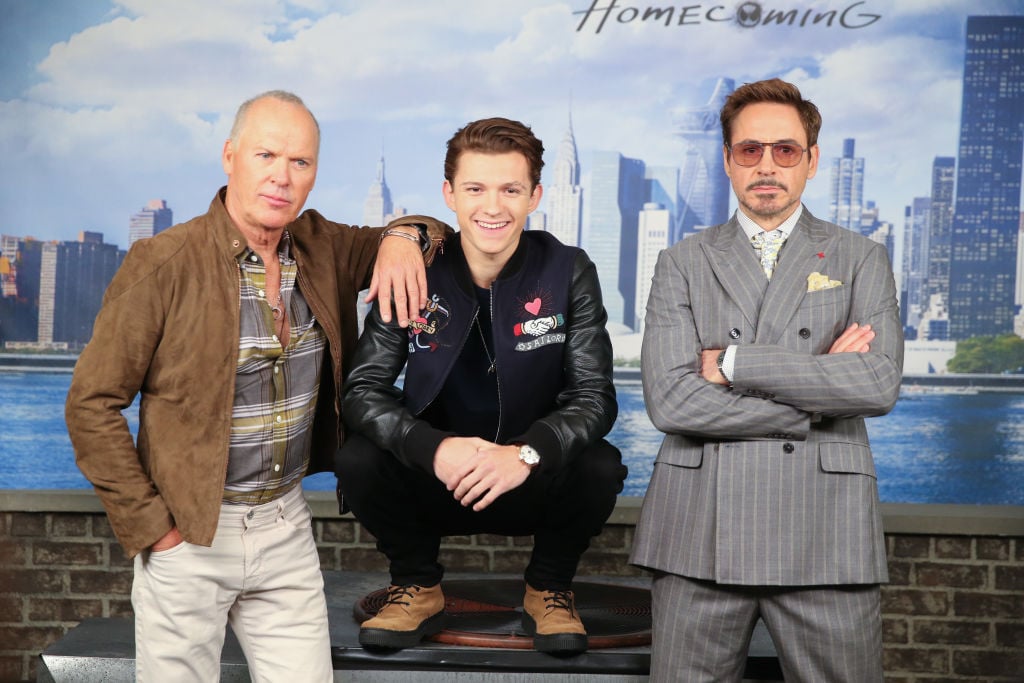 Robert Downey Jr. may not be in Far From Home, but the two worked closely while filming Endgame and Spider-Man: Homecoming, of course. We can't forget that Tony Stark served as a sort of mentor for Peter Parker, so (spoilers ahead) his demise in Endgame will certainly affect Parker heavily in Far From Home. And it seems Downey Jr. and Holland may have had a similar relationship in real life, too.
Metro notes during an interview, Holland said of Downey Jr., "He's a really good role model for me to have as a young man in this industry. If I am ever lucky enough to get there, then I should act as he does." And when Holland was asked what it was like working with Downey Jr. on the first Spider-Man film, he also added, "He's 10 minutes early every day, says hello to every crew member, and it just showed me that it doesn't matter how famous you get or how much money you make, you should always treat everyone the same."

Downey Jr. has also poked some fun at Holland
If there's one thing everyone knows about Holland, it's that he's notorious for spoiling his films. And while he may think Downey Jr. is a class act, there's no doubt Downey Jr. will still make fun of him for his reputation. Downey added this tweet from the Spider-Man TV series that aired between the '60s and '70s, ScreenRant notes. Under the funny meme of Spider-Man tying another Spider-Man up, Downey captioned, "Is this a shot of @TomHolland1996 trying to keep himself from spilling the Endgame beans?"
It's not all fun and games for Downey Jr. He also posted this throwback photo of him and Holland on Instagram this past April. "#tbt to simpler times… I love you kid…," he captioned the heartwarming post. It's clear the love between Downey Jr. and Holland is completely mutual.
Check out The Cheat Sheet on Facebook!