What Tattoos Did Vanessa Bryant Get to Honor Kobe and Gianna?
In January 2020, the world was rocked by the news of Kobe Bryant's death. The NBA superstar was killed in a helicopter crash, along with his young daughter, Gianna, and several others. While fans and sports critics around the world struggled to cope with the loss, the hardest-hit was Bryant's own family, consisting of his wife, Vanessa Bryant, and their remaining children. In the months since his passing, Vanessa Bryant has been open about dealing with her grief, and recently she unveiled the moving tattoos that she got to honor the memory of her husband and daughter.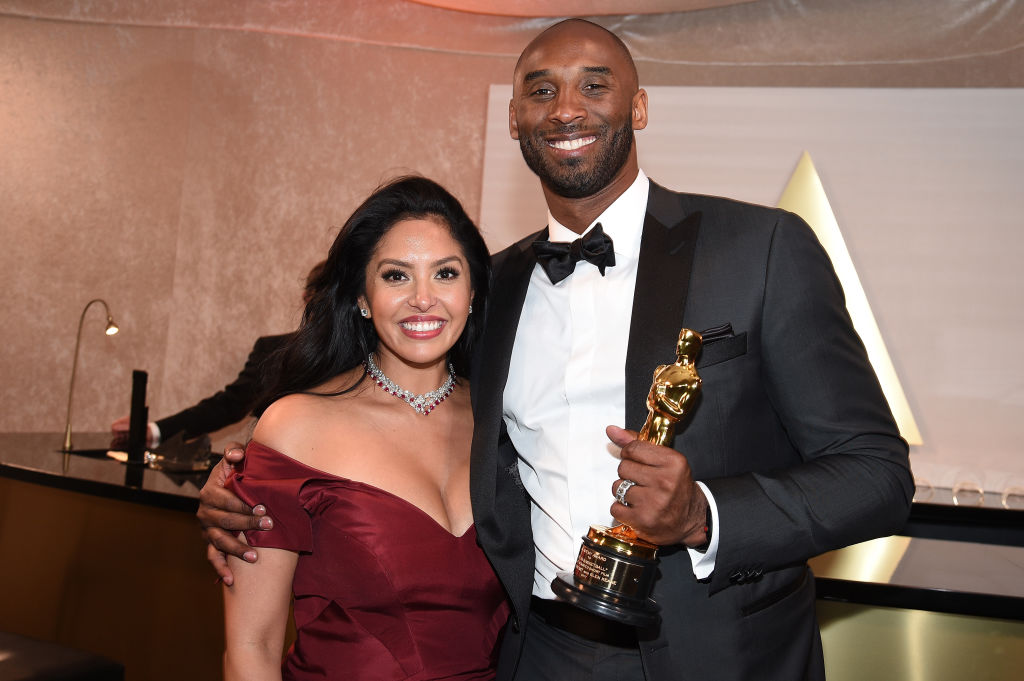 Kobe Bryant's devastating death
Kobe Bryant was one of the most decorated NBA superstars of all time. He spent the majority of his career playing for the Los Angeles Lakers and remains the all-time leading scorer in Lakers franchise history. Known as the "Black Mamba," Bryant was one of the few basketball players to become widely known to the general public. Everyone knew Bryant's name, and everyone respected his talent as well as his hustle.
On January 26, news broke that Bryant had died in a helicopter accident. Details were scarce at first, but as the hours went on, it was reported that Bryant wasn't the only person to have perished in the accident. As reported by ABC News, a total of nine people had passed away in the crash, including Bryant, his thirteen-year-old daughter, Gianna, and seven other passengers. The tragic news affected millions, with the world honoring Bryant and his legacy in the days that followed. 
When did Kobe Bryant and Vanessa Bryant get married?
RELATED: Vanessa Bryant Discovers Love Letter Kobe Wrote Before His Death
Almost as soon as the news broke, people's thoughts turned to Bryant's widow, Vanessa Bryant. The longtime couple had been together for years and had become one of the most iconic pairs in the sporting world. Vanessa and Kobe Bryant first met in 1999 and started dating almost immediately after, according to US. They got engaged only six months after their first date and got married in 2001.
Kobe and Vanessa Bryant didn't wait long to expand their family, and in 2003, they welcomed their first of four daughters. Three more children followed, with the couple's youngest child being born in June 2019. Kobe Bryant was a very hands-on father and was often spotted with his girls both on and off the court. His second oldest daughter, Gianna, was drawn to the sport of basketball, just like her father, and he began mentoring her in the game. She was obviously talented and many believed that she would have gone on to become a professional player, just like her father before her.
Vanessa Bryant recently got new ink to honor Kobe and Gianna Bryant
Vanessa Bryant spoke out not long after her husband's death, posting an emotional tribute to him and the family that they had built together. She has been open with fans in the days since, giving them intimate snapshots into her grieving and recovery process. Recently, Bryant shared a series of videos on her now-private Instagram, revealing that she got several new tattoos in honor of her late husband and child.
"I wanted my boo boo's @kobebryant sweet message transferred on me," Bryant posted on Instagram. The video also showed Bryant in the process of getting tattooed, and while she did not reveal exactly what the tattoos said, it seems as though both tattoos are "messages" from Kobe Bryant and Gianna Bryant and consist primarily of words. It is very possible that while Bryant doesn't mind sharing the fact that she got the tattoos, she would prefer to keep the messages themselves safe from public view, for her intimate knowledge alone.