What This 'Dancing With The Stars' Pro Shared About Winning the Mirrorball During Her First Trimester of Pregnancy
Fans of Dancing With The Stars are gearing up for another season of watching celebs paired with professional dancers hit the ballroom in a battle for the famed mirrorball trophy. After ABC decided to skip a spring round of the competition, anticipation is high for season 28 this fall.
One of the show's most famous pros is returning after a two-season hiatus to spend time with her 2-year-old son. She has previously spoken on the challenges of dancing throughout her pregnancy, and the struggle of returning to work after her son was born.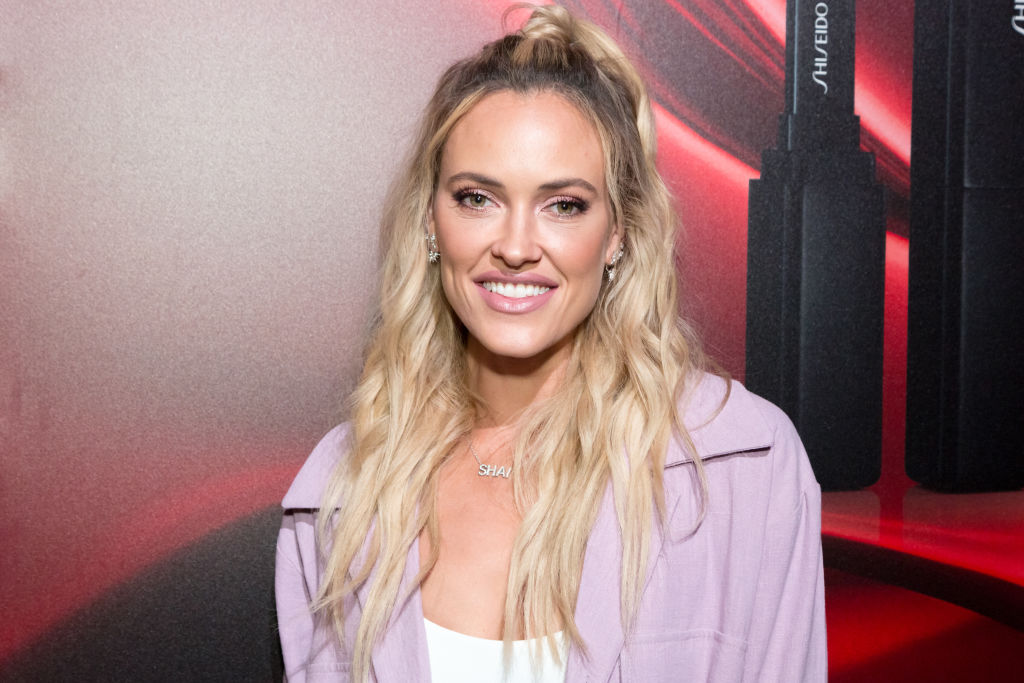 From mirrorball to motherhood and marriage
Peta Murgatroyd is a two-time mirrorball champ. Joining the DWTS cast in 2011, the professional dancer won the competition in season 14 with pro football player Donald Driver, and again in season 22 with deaf model and actor Nyle DiMarco, according to Us Weekly.
Murgatroyd enjoyed quite a high-profile engagement when she was proposed to by longtime love Maksim Chmerkovskiy, also a DWTS pro, onstage in Miami, Florida in December 2015. Their joy continued when Murgatroyd gave birth to their son Shai on January 4, 2017. The two married the same year in July.
Changes, changes
Murgatroyd's became pregnant during season 22 of DWTS, and continued the competition with her partner DiMarco, though she kept her condition a secret. "I had to dance through nausea, which wasn't great. The worst thing, though, was fatigue. I'd literally fall asleep on the couch in the studio while I was supposed to be teaching Nyle," she told Parents. "Eventually Nyle said, 'I know your secret.' He'd figured it out, because my boobs had grown and Maks was bringing me food every day. But Nyle and I won the season with me eight weeks' pregnant!"
Staying trim is usually a given with the extensive rehearsals that competitors on DWTS have to endure on a daily basis, but for Murgatroyd, she was facing the physical changes that come with pregnancy. "I gained about 40 pounds. My thighs got bigger. My boobs got bigger. My butt got ten times bigger. But throughout my pregnancy, I kept exercising: light weights, walking on an incline on the treadmill, and Pilates. Keeping up my core strength helped me push during the delivery," she said.
After their son Shai was born, Murgatroyd was still dealing with shifting hormones and body issues. "I still looked five months pregnant right after I gave birth. A friend who came to the hospital said, 'Oh, you sure there's not another one in there?' I laughed, then went into the bathroom and cried," she said. "I'd just had this beautiful kid. I was high on life. That was a joke that I didn't need to hear. Back home, I didn't recognize my body. I had massive DDD boobs. It was overwhelming. So I posted a selfie on Instagram as a way to reach out to other women. I'm a dancer who is usually pretty damn fit, and I looked like a different person. Now I know you have to give yourself time."
Returning to work
Though Murgatroyd did go back to DWTS after her son was born, it was a struggle for the new mom. "I got the call to come back on the show right after Shai was born. I said yes, but after I hung up, I said to Maks, 'I don't think I can do this.' He reassured me," she told Parents. "I returned with new agreements—there'd be a limit to my hours. Even so, much of the time when I go to work, I have tears in my eyes. Shai gives me this beautiful smile, and all I want to do is stay home for an extra hour. Then I think, 'The sooner I go, the sooner I can get back.' After work, I hurry home."
Now that her son is older, and after taking off two seasons from the competition, Murgatroyd is clearly looking forward to returning to the ABC show. "I'm overwhelmed with excitement," she told Us Weekly. "I'm excited and happy to be back with my family. Honestly, I just missed everybody so much! As a lot of people know, it's such a close and tight-knit family, so I'm just happy to be back with everybody."
The pro dancer shared that the new season was excellent timing for her return since her husband is busy on other projects, and she has help with her now 2-year-old son. "I definitely wanted this to happen. I hoped that I could make this work for a couple of months now and was praying and hoping that it would all align," she said. "It was the perfect time for my family. Maks has other things going on and Shai is well taken care of and it was just a good time for us."
Season 28 of Dancing With The Stars premieres on September 16 on ABC!