What This Former 'Today Show' Host Says About Being a Working Mom
Tamron Hall, former co-host on the Today Show, has a lot on her plate these days. Recently married to music executive Steve Greener, the journalist gave birth to the couple's first child, son Moses, in April, according to Us Weekly. Hall is also launching her own talk show this September, while trying to balance her new role as a mom.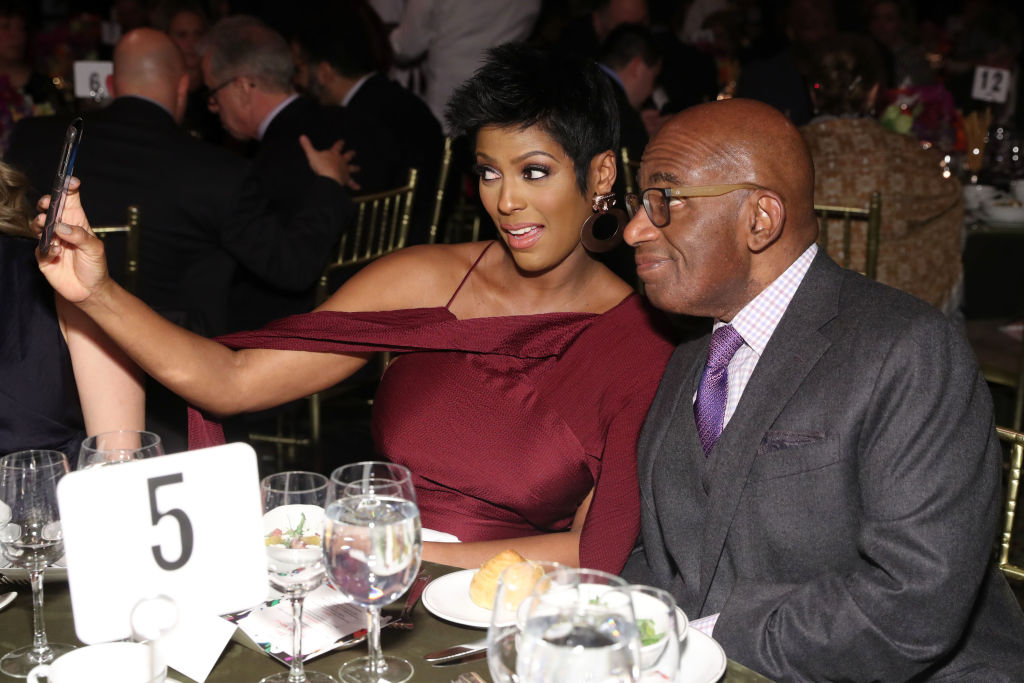 Leaving 'Today' behind
Hall was a staple on the Today Show, joining the program's third hour, Today's Take, with Al Roker, Natalie Morales, and Willie Geist in 2014, according to MSNBC. Hall left the show in February 2017 when it was announced that Kelly would be joining the network news program, meaning Hall would lose her time slot to Kelly's upcoming show. "I decided to take a leap of faith," Hall told People. "I knew I would have to trust my gut and that I could be a part of something that would reflect who I am as a person, as a journalist, as a woman."
Upon reflection, Hall is grateful for what the loss of Today opened up for her. "I never thought I'd have to lose everything to gain even more, but I lost my spot and I gained a husband who roots for me, a beautiful baby boy who looks at me like I'm his entire world and not just his milk source, and I have a phenomenal daytime talk show team who every time we're on the phone, they just want the best for me and I want the best for them," she said, as reported by MSN.
New talk show host in town
Hall will be joining other new talk show lineups, including one headed by The Voice's Kelly Clarkson. The two programs even debut on the same date – September 9.
The former Today co-host is planning on a more traditional format, one that would reflect The Oprah Winfrey Show. She is hoping to present episodes that include conversations of substance, as well as lighter fare like lifestyle trends. "What most of the [shows] out there have in common are variety and a lighter energy. We think we can be that while also being compelling and informative," Hall said, according to O, The Oprah Magazine. "When you think about traditional daytime television, the kind we all fell in love with, in the course of five days you laughed with someone, cried with someone, maybe bought a book and learned something. Right now, we believe there's not one show that's doing that."
Talk show veteran Bill Geddie is serving as executive producer for the ABC syndicated show. "Tamron Hall is the real thing we've been searching for in daytime talk," he told Deadline. "Tamron will bring her abundant wit, style, intelligence and warmth to her show. She has the unparalleled breadth of experience to talk and listen to all sides and bring folks together."
Juggling responsibilities
While Hall is clearly enjoying motherhood, she admits that it is quite difficult to give ample attention to all the areas of her life competing for her time and energy.
"I'm not balancing it all. You know what, I said to someone the other day, I know people say, 'How do you balance it?' and I said, 'I could try to find some cool quote to give you and make it look all tidy, but it's not,'" Hall recently told People. "The other day I was crying in the airport. He (Hall's son) went one way and I went the other and I'm like, 'Please don't remember that your momma just left you to go on this plane.'"
Hall focuses on the positives, including support from others and the time she gets to spend with her son. "I'm doing the best I can [and] I have help. My mother's there with my son, and I also have a nanny who's helping me. I couldn't do this by myself. … I'm trying and it's been beautiful three months," she said in an interview with Us Weekly. "I probably would not have planned it like this, but clearly the universe had something else in mind. … I've learned from my family and my friends and other women [that] cracking under pressure is OK. Going in the corner and crying is OK, just don't cry too long, dust yourself off, put your white jacket on, and try to do the best you can!"
Viewers can see Hall's show when it premieres on September 9!