What Time Will BTS Perform at Dick Clark's New Year's Rockin' Eve? ARMY Is Dying to Watch the NYE Show
On Dec. 31, BTS is returning to Dick Clark's New Year's Rockin' Eve With Ryan Seacrest to kick-off 2020 in style. The South Korean band previously appeared on ABC's NYE special in 2017, where the septet pre-recorded "MIC Drop" and "DNA" for audiences at home. And now, BTS — including members RM, Jin, Suga, J-Hope, Jimin, V, and Jungkook — will perform live from New York City's Times Square as we leave 2019 behind. But what time will BTS's performance start on NYE? Here's how to watch the New Year's Rockin' Eve show and how long you need to wait until BTS turns the event into their own mini-concert.
What time does BTS's New Year's Rockin' Eve performance start?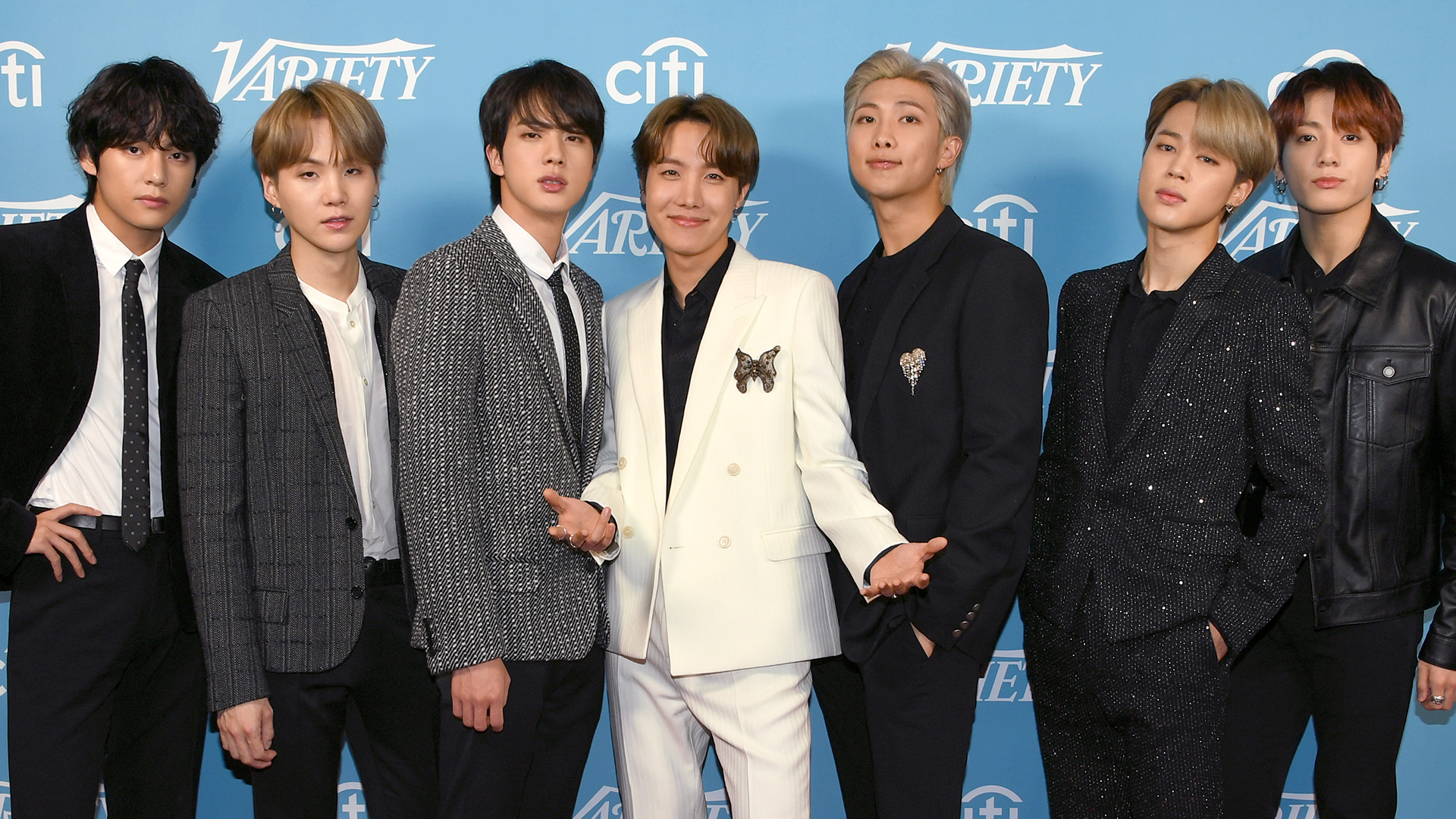 On Dec. 6, BTS appeared at iHeartRadio's 102.7 KIIS FM's 2019 Jingle Ball, where the group performed a 15-minute opening act. The seven members played "MIC Drop," "Make It Right," and "Boy With Luv," which included a guest appearance from Halsey. However, it seems the BTS stage at Dick Clark's New Year's Rockin' Eve 2020 on Dec. 31 will be much shorter.
According to the official website for Times Square, the South Korean band will play a "medley of their hit songs on the Countdown Stage" on New Year's Eve. BTS's time slot will also go from 10:38 p.m. to 10:46 p.m. ET. The total set will be 8-minutes long. Just remember this is a live event, which means there is always a possibility of a schedule change or shift. So tune in a little earlier if you can.
Nevertheless, the BTS performance on par with other artists on the NYE stage. In comparison, Sam Hunt will go on from 9:38 p.m. to 9:44 p.m. ET, totaling a 6-minute set. Meanwhile, Alanis Morisette and the cast of Broadway's Jagged Little Pill will perform for 8 minutes from 8:33 p.m. to 8:41 p.m. ET. And to close the night, Post Malone will also play an 8-minute medley from 11:38 p.m. to 11:46 p.m. ET.
How to watch the BTS performance on NYE
There are multiple live streams of the 2020 New Year's Eve ball drop. So make sure you tune into the correct one on Dec. 31, 2019. Fox, CNN, and NBC all have their own countdown events. However, to watch BTS's performance on Dick Clark's New Year's Rockin' Eve, you need to switch the channel to ABC. And according to the network, the whole show begins at 8 p.m. ET, with the BTS stage starting at 10:38 p.m. ET.
As per usual, you can watch Dick Clark's New Year's Rockin' Eve live on ABC. You can also watch the show online at ABC.go.com or through the ABC app. And both options have live streams that are available for free with a cable subscription login.
BTS teases their 2020 comeback schedule
Now, BTS's performance in Times Square isn't the only thing ARMY should look forward to in the new year. For months, the group teased fans with comeback album hints.
"We're working on our next album now, and I think we'll be able to put out an even better album than you're expecting," Jimin said at the 2019 Mnet Asian Music Awards on Dec. 4. "Please look forward to it."
And when speaking with J-14 at Jingle Ball, J-hope revealed BTS's new album will "make your wait worthwhile."
Then at Variety's Hitmakers Brunch on Dec. 7, RM confirmed BTS's next album in 2020. "We're currently working on our new music and our new album," he said. "We can't wait to share them with you guys in the near future. I hope you guys are also excited to discover what BTS has got for 2020."
The buzz about the BTS comeback washed over members of ARMY like a tidal wave. But then the group added fuel to the fire. And on Dec. 23, Big Hit Entertainment delivered some exciting tour news on Twitter.
"April 2020. Stay tuned," the company tweeted alongside an image of the septet with the word "TOUR" written at the bottom.
So get ready, ARMY. BTS will bring it in 2020 — and the performance on New Year's Eve is just the beginning.
Read more: BTS: RM Reveals the Connection Between 'Boy With Luv' and 'Boy In Luv' — Spoiler Alert: It's Beautiful