What to Know About Wrinkles the Clown and His Upcoming Film
The reemergence of Pennywise in theaters this month may have you believing he's the most terrifying clown on the block these days. He's not.
In case you missed it, there's someone called Wrinkles the Clown who's been trending during the past few days, weeks, and months, but he's been around for a while. At this point, Wrinkles has achieved mythological status, so we are not even sure he's human.
But the reason Wrinkles is racking up headlines right now is because he too has his own clown film coming out. And it's not fiction, folks. If you have coulrophobia, skip over this deep dive into Wrinkles' backstory.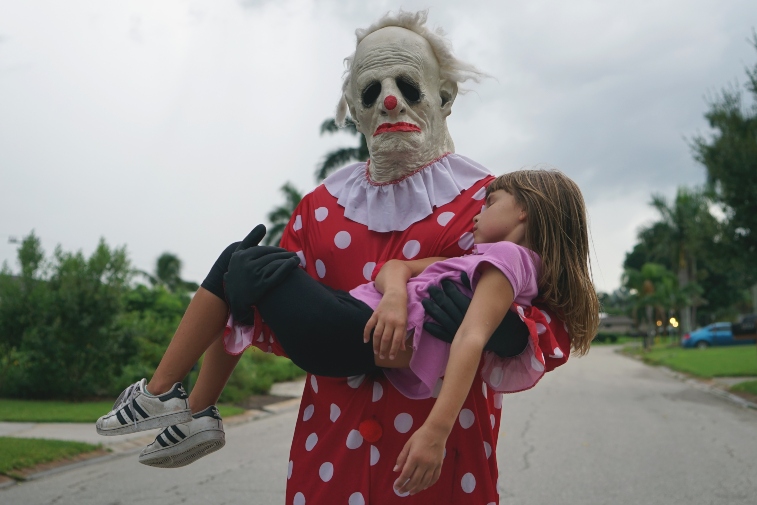 Where and how did Wrinkles the Clown go viral?
We've all heard stories in the news of clowns haunting the streets, woods, and parks in random cities around the world. South Florida is the domain of Wrinkles, and a security video of him slithering out of a hiding place under a child's bed sparked a viral legend. That was in 2014.
Wearing a red and white polka dot clown outfit with black gloves, Wrinkles dons a creepy, old-looking mask with darkened eyes and doesn't speak much. Over the years, he's been spotted around different towns, including Fort Meyers, standing, lurking, or just waving to people. There are also balloons.
The sightings have managed to creep out local kids and adults, and inspire copycats, but not everyone is afraid. He has a phone number set up for people who want to hire him to scare their friends and family members.
He also has people who want to beat him up for scaring kids and innocent clown-fearing bystanders.
The 'Wrinkles the Clown' movie sheds light on the mystery
Wrinkles the Clown has built up a rep that finally earned him a movie, but he's still a mystery. A documentary arrives in theaters on Oct. 4, getting everyone ready for Halloween.
According to an interview in The Austin Chronicle, filmmaker Michael Beach Nichols tracked down Wrinkles in Naples, Florida and was able to convince him to do a documentary. Though you never see his face in the film, viewers learn that he started out as regular guy trying to book gigs as a normal clown for entertainment.
He then figured he needed to kick things up a notch to stand out. Soon, parents were hiring Wrinkles to scare their children straight. On the flip side, Wrinkles would receive calls and messages from curious kids who were wondering if he was real or youngsters wanting to see if they could get him to terrorize someone.
The small film crew shadowed the man behind the Wrinkles mask, and the documentary explores the history of Wrinkles, how he reluctantly achieved viral fame, and his true intentions.
Will people ever learn the true identity of Wrinkles the Clown?
It doesn't seem likely that anyone—besides the film crew—will ever know Wrinkles' real name or how he looks in real life. If you live in southwest Florida, there's a chance you can call him up and hire him to do your evil bidding.
There's also the chance you can hire him to do your entertainment bidding. Watch this old news footage of Wrinkles and you'll not only notice that his voice sounds like Adam Sandler's, but you'll hear him describe how he also performs at parties, Bat Mitzvahs, and other celebrations. Some kids love him.
Wrinkles the Clown debuts at Fantastic Fest on Sept. 21 with an encore on Sept. 23. Should you want to keep fueling your clown obsession this season, don't forget to head to the theaters in October.