What Was Senator and War Hero John McCain's Net Worth at the Time of His Death?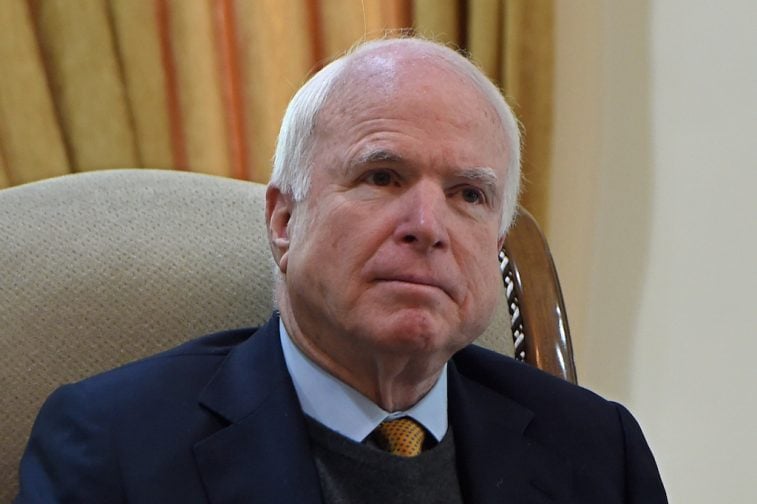 Sad news broke on Aug. 25, 2018, that Sen. John McCain died following a battle with brain cancer. He was 81 years old.
The news came just one day after his family announced in a statement that he was discontinuing treatment for the disease.
"John has surpassed expectations for his survival. But the progress of [the] disease and the inexorable advance of age render their verdict," the statement read. "With his usual strength of will, he has now chosen to discontinue medical treatment. Our family is immensely grateful for the support and kindness of all his caregivers over the last year, and for the continuing outpouring of concern and affection from John's many friends and associates, and the many thousands of people who are keeping him in their prayers. God bless and thank you all."
McCain, known as the "maverick" of the Senate, transcended party lines and was well-respected on both sides of the aisle. Not only did fellow politicians pay tribute to him but also celebrities did via social media. McCain was also a Vietnam war veteran and a former prisoner of war which is why several stars were sure to mention his military service and all that he did for the country.
"Rest In Peace Senator John McCain. What an incredibly full life he lived. I appreciate his lifelong dedication and service to this country," Dale EarnHardt Jr. tweeted.
"God Bless, # JohnMcCain. Respect for this American citizen who proudly served our country for so many years," Reese Witherspoon wrote.
"60 years of service to our great country. A hero through and through. Thank you, Senator and all the love to his beloved family and friends," Mandy Moore posted on Instagram.
Those who had the chance to meet him even shared personal stories about him to give a glimpse into what he was like as many are very interested in his life outside politics.
At the time of his death, John McCain had a net worth $16 million. His salary as a senator was $174,000 and his navy pension was more than $70,000 but the majority of the family money is from his wife. Cindy Hensley McCain, who had been married to him since 1980, is an heiress to Hensley & Co. which is one of the largest Anheuser-Busch distributors in the country. When her father passed away, she inherited a major stake in the company and her estimated net worth is between $200 and $300 million.
Sen. McCain was once asked how many homes he and his wife owned but he wasn't sure the exact number because their real estate portfolio is so extensive. "I think–I'll have my staff get to you," McCain said at the time. "It's condominiums where–I'll have them get to you."
We do know that the McCains owned a 15-acre ranch in Sedona, Arizona, a condo in downtown Phoenix, as well as a loft at the Biltmore Lofts in Phoenix. In addition, the couple had several properties in California and an Arlington, Virginia, condo which was sold for than $1 million in 2017.