What We Know So Far About the Oculus Rift VR Headset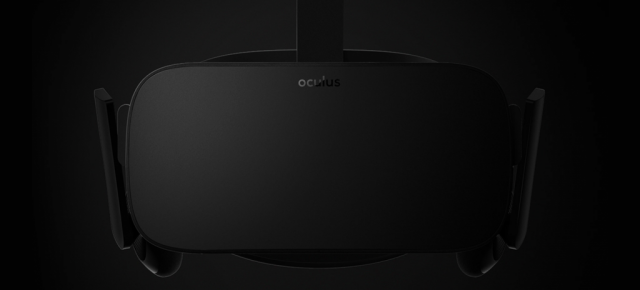 The Oculus Rift virtual reality headset from Facebook-owned Oculus VR is the most anticipated piece of hardware in the industry. A post on Oculus VR's blog reveals that the Oculus Rift headset will begin shipping to users in the first quarter of 2016, and customers will be able to place preorders later this year. The post says that the Oculus Rift, easily the most anticipated virtual reality headset, will deliver "on the dream of consumer VR with compelling content, a full ecosystem, and a fully-integrated hardware/software tech stack designed specifically for virtual reality," and is designed to "reimagine what gaming can be."
The consumer-ready Oculus Rift improves on the Crescent Bay prototype with a more sophisticated tracking system that supports both sitting and standing experiences. (However, it will need to be used with a personal computer, which will do the heavy lifting when it comes to the computing needed to create the illusion of other worlds for the user to explore.) The headset will also feature a more polished and ergonomic design. In the coming weeks, Oculus will reveal details about the hardware, software, input, and made-for-virtual-reality games and experiences coming to the Rift. But what do we know so far about the much-anticipated headset?
The answer is that we don't know a whole lot yet. Vindu Goel reports for The New York Times that while Oculus declined to release the price or technical details of the Rift, a rough profile has been available to software developers for several years. The second-generation Rift development kit went on sale for $350 last year, and Oculus's cofounders have said that they'd like the price to stay between $200 and $400.
Gizmodo's Sean Hollister reports that because the Oculus Rift is based on the Crescent Bay prototype, it should be "drastically" lighter, smaller, and more comfortable than the headsets in previous developer kits, and it could integrate headphones and positional audio. Goel notes that the 2016 release date is later than what both Oculus founder Palmer Luckey and Facebook had hoped for.
The technology needed to create the virtual reality headset, from the motion tracking system to the computer processing needed to display 3-D images in real time, has proven challenging to perfect. Writing for The Verge, Adi Robertson notes that Oculus Rift has gone through many iterations since launching on Kickstarter in the summer of 2012, seeing two development kits and multiple prototypes.
The Crescent Bay prototype, which appeared last year, uses two small displays, an external tracking camera, and carefully designed software to create the illusion of a 3-D space. Robertson said that especially since its acquisition by Facebook in early 2014, Oculus has "de-emphasized hard technical detail," though the company's blog post promises that some specifics for the Oculus Rift will be shared next week.
As-yet-unannounced game titles could also be big news for the virtual reality headset, as could input methods, given the speculation that Oculus will announce a custom controller (though it could simply make third-party controllers work with the Rift). The Verge notes that onstage at TechCrunch Disrupt, Oculus product VP Nate Mitchell offered the insight that input has been "really tricky," and that the company has two research groups working on it, one looking for a near-term solution and one researching a longer-term solution.
While virtual reality has been a long-held dream of the computing industry, early versions of the technology caused motion sickness or offered only poor simulations. But a number of manufacturers have developed virtual reality technology that will come to the market soon, including Sony's Project Morpheus headset and a headset called Vive from Valve and HTC. The Verge reports that Oculus arguably single-handedly revived interest in consumer virtual reality, and it's been more willing than its competitors to release prototype hardware. It's the last of the major companies to announce a rough release date for its virtual reality headset.
More from Tech Cheat Sheet:
Want more great content like this? Sign up here to receive the best of Cheat Sheet delivered daily. No spam; just tailored content straight to your inbox.