What Will Anna and Josh Duggar Name Baby No. 6?
Anna and Josh Duggar recently announced they are expecting a baby this fall. For those of you keeping track, this makes baby number six for the couple. The announcement was made via Instagram with a video of their five children — Mackynzie, 9, Michael, 7, Marcus, 5, Meredith, 3, and 19-month-old Mason — hearing the news for the first time.
Their kids were obviously excited to hear the news that there would be a new Duggar in the house soon. It's still early in the pregnancy, so no word has been released on the new baby's name, but we think they might have a few ideas in mind.
How long have Anna and Josh Duggar been married?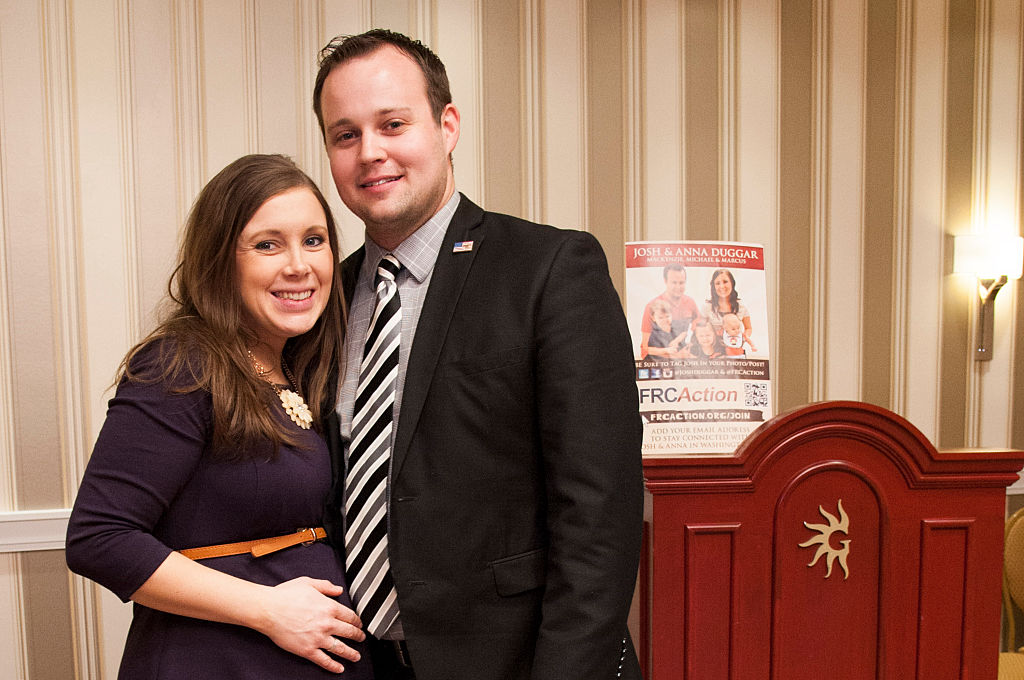 Anna and Josh were married in September 2008. They welcomed their first child, Mackynzie, on December 7, 2010. Mackynzie's first birthday was chronicled in the TV special GrandDuggar's First Birthday. During the special, the couple announced that they were expecting baby number two. They have since welcomed three more children.
Anna celebrated the couple's anniversary on Instagram, writing: "Josh and I celebrated our 10 year engagement anniversary! The past 10 years have been a wonderful adventure. So thankful for God's redeeming grace and His blessings to us along the way, especially our 5 M's!"
From the outside, it looks like Josh and Anna's lives are bursting with happiness. But things haven't always been so easy for the couple. In 2015, the Duggar's world came crashing down when it was revealed that Josh had molested five girls when he was a teenager, four of whom were his sisters.
The controversy didn't end there. It was later revealed that Josh was registered on the website Ashley Madison, a site designed for married people looking to cheat. He also declared he had a porn addiction and was admitted to a faith-based rehab facility.
Who is pregnant in the Duggar family?
The Duggar famously broke onto the scene over 10 years ago with their TLC show, 17 Kids and Counting. Jim Bob and Michelle subsequently had two more children and, as such, their show was renamed 18 Kids and Counting followed by 19 Kids and Counting.
During the show's run, the Duggars welcomed four grandchildren. Since the show's ending, Jim Bob and Michelle have had 11 more grandchildren, bringing the running total to 15.
2019 looks to be a busy year for the Duggar family. Josh and Anna are just the latest Duggars to announce that they are expecting. Amy Duggar had her own news to announce on Easter: She and her husband Dillon King are expecting their first child. Earlier this year, Jessa Seewald (nee Duggar) revealed that she and her husband, Ben Seewald, are expecting baby number 3. But that's not all. Kendra and Joe Duggar are expecting their second child too.
What will Anna and Josh Duggar name their new baby?
It's always fun to speculate about what a new baby's name might be, and the Duggars make it especially fun. All 19 Duggar children have names beginning with the letter J. Josh and Anna seemed to have carried on this tradition by beginning their children's names with the letter M. It's likely we'll see another M name for baby number 6.
For a boy, Matthew and Micah are both strong names that not only start with the letter M, but they both have a biblical background. For a girl, we like the names Mary and Madeline.
Could they surprise us with a non-M name? We'll find out when baby Duggar is born this fall.