What Will Be the Hardest Part of Raising Baby Archie in the Royal Family?
Prince Harry and Meghan Markle have welcomed their beautiful son into the world. Little Archie Harrison was born on May 6, 2019, and weighed 7 pounds, 3 ounces. The little bundle of joy came just in time for Meghan to celebrate her first Mother's Day as a new mom.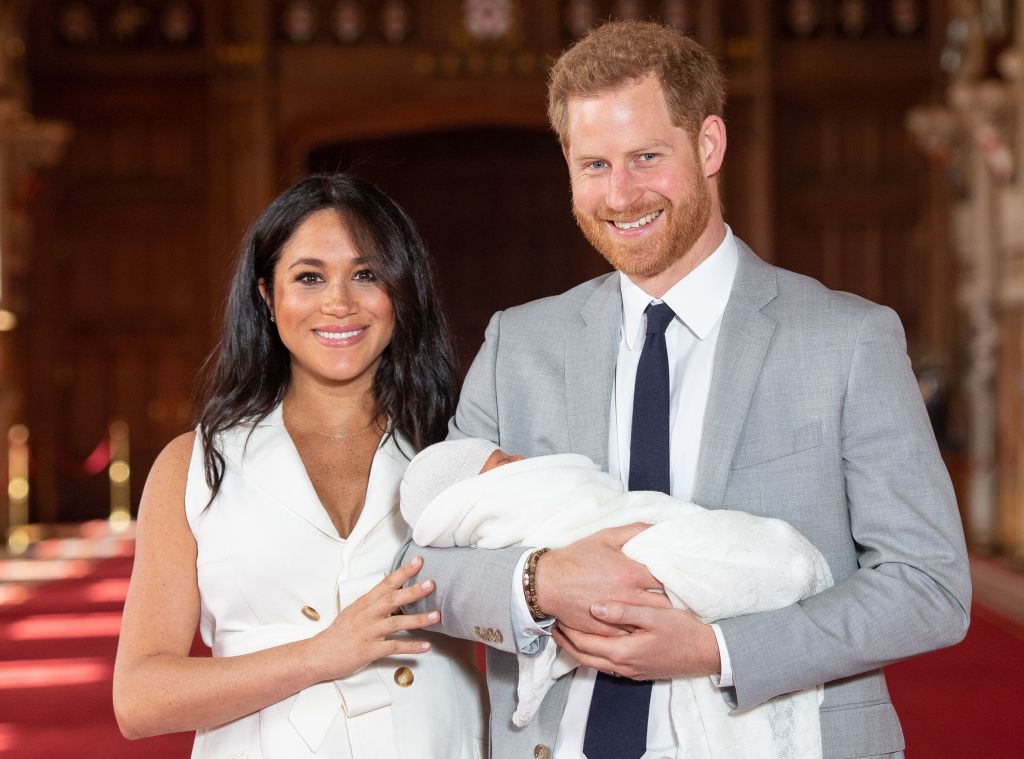 Archie's birth also brings even more first to his entire family. This is the first time in the history of the British monarchy that a child has been born into the family that is biracial and half American. He is also the first grandchild of Doria Ragland, Meghan's mother.
While Archie's birth is a history-changing moment within the royal family, it also brings up many questions. Will raising Archie in the royal family be more difficult than raising any of the other royal babies? Will Archie be brought up as a traditional royal or will he be encouraged to embrace his American side as well? Although Meghan and Harry have yet to divulge their parenting plans, we have a pretty good idea what challenges the new parents may face as they raise their son.
Does Baby Archie have dual citizenship?
It has been reported that the Duke and Duchess of Sussex want Archie to grow up as a "global citizen." Because of this, many people have speculated that the new parents may apply for Archie's American citizenship one day in the future. However, according to CNBC, that will not be necessary because baby Archie is already considered to be an American Citizen. The American news outlet said that anyone who has a parent that is an American citizen, is automatically an America citizen themselves, even if they have never lived in the country and don't plan to ever live in America.
There are some stipulations to this rule, however. "The American parent has to have lived in the U.S. or one of its territories for at least five years before the baby's birth. At least two of those years have to have been after the age of 14," CNBC stated.
Being that Meghan fits that criteria, it could mean that Archie may also be the first royal baby to have dual citizenship. If that is the case, it could mean that he may also be the first member of the British monarch to have to pay American taxes.
Will Archie be raised in the same way as other royal children?
Meghan and Harry are very adamant about the fact that they do not want their son to be raised in the royal spotlight. According to Express, the Duke and Duchess of Sussex plan on raising Archie as a "private citizen." This means that he will probably not have any royal titles and will be known as Master Archie Mountbatten-Windsor.
By raising their son as a private citizen, Meghan and Harry hope that young Archie will be able to grow up as a "normal" child and will have a higher level of privacy than other members of the royal family. A source close to the royal couple reportedly told the Sunday Times, "Archie is not an HRH, Harry feels he has every right to strictly police his son's privacy."
What will be the hardest part about raising little Archie in the royal family?
As every new parent knows, raising a baby has its ups and downs. For Meghan and Harry, however, the birth of their son brings about a whole new set of challenges that no member of the royal family has ever had to deal with before.
The biggest challenge that they will have to face, however, will be trying to keep their son out of the royal limelight while also traveling and an attending different engagements as part of their royal duty.
We know that there will be quite a few trials and tribulations that the new parents will face. But with the way that Meghan and Harry are already head over heels in love with their new bundle of joy, we know that no matter what obstacles lie ahead, the new parents will be able to face it together and do what they feel is best for their son.