What Would a BuzzFeed Movie Look Like?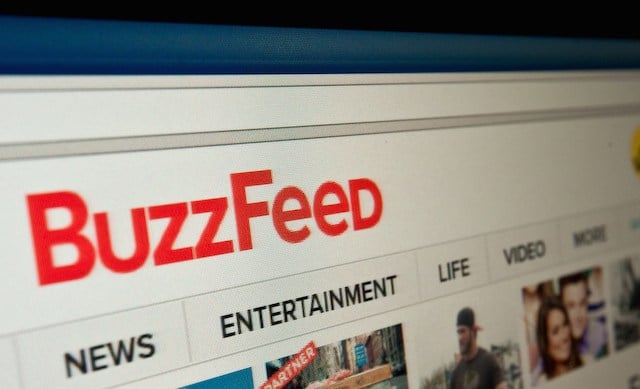 BuzzFeed is going into the movie business. After making a big announcement this weekend that the venture capital firm Andreessen Horowitz was investing $50 million in the website famous for its list posts and other ultra-clickable online content, BuzzFeed said one of the opportunities it plans to pursue with all that cash is the creation of a movie studio. According to The Hollywood Reporter, BuzzFeed Motion Pictures will be created from a reorganization of the site's popular BuzzFeed Video division and will make content from BuzzFeed's signature GIFs to feature length films.
The site's use of GIFs to explain various items in a list and its funny YouTube videos with titles like "Can You Make It Through This Video Without Wanting to Pee?" and "If Your Boyfriend Was Your Phone" are already familiar to anyone who spends any amount of time online. BuzzFeed's formula for distraction and social media leverage has been so successful that it has been widely copied by other sites on the Internet and even spawned a parody website called Clickhole.
According to a report from The New York Times, BuzzFeed sees 150 million average monthly viewers and the investment from Andreessen Horowitz values the company at $850 million. "We think of BuzzFeed as more of a technology company. They embrace Internet culture," said Chris Dixon, one of the partners at Andreessen Horowitz who will be joining BuzzFeed's board, to The NYT.
BuzzFeed's articles and videos are the equivalent of Internet junk food; a complete and total guilty pleasure. The question now is: what would this look like for a feature length film? Everyone has their guilty pleasure movies, but the whole point of BuzzFeed's content is that it can be consumed — and forgotten — quickly. How will the company turn concepts like "Things Disney Characters Do That'd Be Creepy If You Did Them" into a 90-minute movie?
They've got some big names on board to help them figure out the answer. Producer Michael Shamberg, best-known for producing the Quentin Tarantino films Pulp Fiction and Django Unchained, has signed on as an advisor to the company, along with comedian Jordan Peele. Pulp Fiction is considered to be one of the greatest films of all time, but it's hard to imagine that would be the kind of movie BuzzFeed would even look to make.
As far as trashy, junk-food type movies go, BuzzFeed could go for a similar model as The Asylum, the film studio known for making straight-to-video low-budget horror movies that have gained a considerable cult following. The Asylum's most famous efforts to date are the inexplicably popular Sharknado films, which are beloved for their sheer awfulness. BuzzFeed could make movies with a similar level of cheesiness to match its online content — just a heart-warming version bathed in the glow of Nineties nostalgia rather than hilariously awful horror B-movies.
BuzzFeed has already proven incredibly successful at capturing our attention online with its fluffy, distracting content that captures the psyche of your average social media user, and now it's looking to experiment with whether that kind of mindless entertainment will work for feature length films.
More From Entertainment Cheat Sheet:
Follow Jacqueline on Twitter @Jacqui_WSCS
Want more great content like this? Sign up here to receive the best of Cheat Sheet delivered daily. No spam; just tailored content straight to your inbox.