What's Next For the Stars of 'The Good Place'?
Although The Good Place will end its run after four seasons on NBC, some of its stars, particularly series lead Kristen Bell, already have plans locked in for life after the afterlife.
Some TV shows tend to wear out their welcome and hang around with half-hearted material — looking at you, Happy Days — while other shows make it a point to end before they fade, even if the ratings are still solid. The Good Place decided to be one of those.
Although the actors were naturally sad to part, Creator Mike Schur told the Hollywood Reporter, "They get along really well and have all become really good friends. They've have this special journey that they've been on and their careers are all exploding."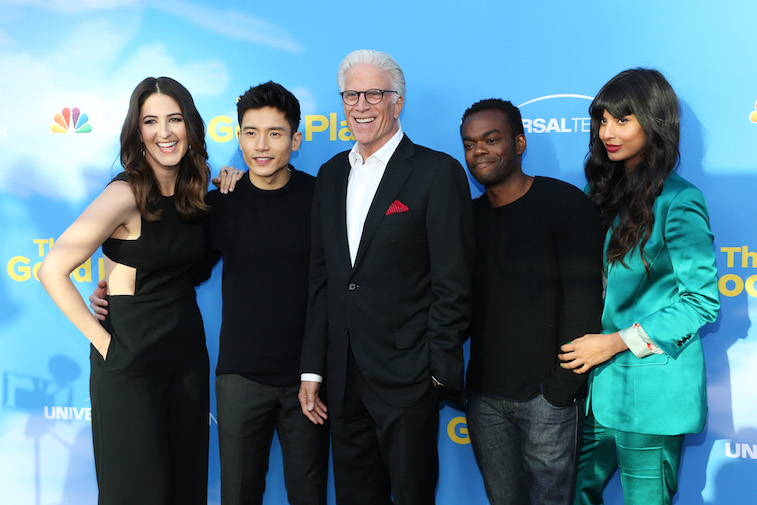 Why 'The Good Place' is ending
Schur recently told a Television Academy panel:
"Given the ideas we wanted to explore, and the pace at which we wanted to present those ideas, I began to feel like four seasons – just over 50 episodes – was the right lifespan …At the end of the day, we don't want to tread water just because the water is so warm and pleasant. As such, the upcoming fourth season will be our last."
Bell certainly knows a thing or two about how to handle endings, although she's only talked about the big twist at the end of Season 1. We won't spoil what it is here, except to say it's bad.
"I was told, and… the funny thing is, uh, I got a lot going on, and I don't remember things very well, and I forgot. I legit forgot," she said, not very convincingly on Conan O'Brien's show.
Schur elaborated to The Hollywood Reporter, "It was completely dictated by the idea and how much juice I thought the idea contained and the pace at which we were letting story unfold and stuff like that. The nice thing about TV shows nowadays is it's not a forced marathon. You can let the idea dictate the number of episodes that you actually do, which is great for creativity."
Kristen Bell has plenty of other projects
Even before it was announced that The Good Place would end, Bell already had a full itinerary. When it was announced she was doing a new season of Veronica Mars on Hulu, some wondered how could possibly juggle two series.
Still, she was devoted to playing Veronica, too, having already appeared on three CW seasons and a theatrical movie made possible by a Kickstarter campaign.
Not to mention that Bell has also been busy working for Disney. She reprised the voice of Princess Anna not once but twice: for Ralph Breaks the Internet, in which she appeared with an all-star roster of Disney princesses, and for Frozen II, which is sure to break all kinds of records when it opens Nov. 22.
The other 'Good Place' stars have bright futures ahead
There's no need to worry about Bell or Danson, whose star status was set long before The Good Place. Danson is filing a movie called Everything I Wanted to Tell My Daughter About Men. And the other actors will do well too.
"Manny [Jacinto] is in Top Gun and Will [Jackson Harper] is writing plays and appearing in movies and Jameela [Jamil] is the queen of the internet right now. And D'Arcy [Carden] is everywhere and in every magazine. This has been a very special, highly concentrated thing that we've gotten to do for 53 episodes — because we're doing 14 episodes this season and doing an hour-long series finale." Schur told The Hollywood Reporter.