What's the One Question Fans Ask Julia Louis-Dreyfus From 'Veep?'
As Julia Louis-Dreyfus looks to once again sweep the Emmy's for her portrayal as politician Selina Meyer in Veep, she reflects on her lengthy career in comedy, plus shares what fans really want to know when they meet her.
The pint-sized actress spoke candidly with the Los Angeles Times, offering thoughts on everything from her smash hit show Veep ending to facing breast cancer. She also provided some insights into her role on Seinfeld, including Elaine Benes' infamous dance.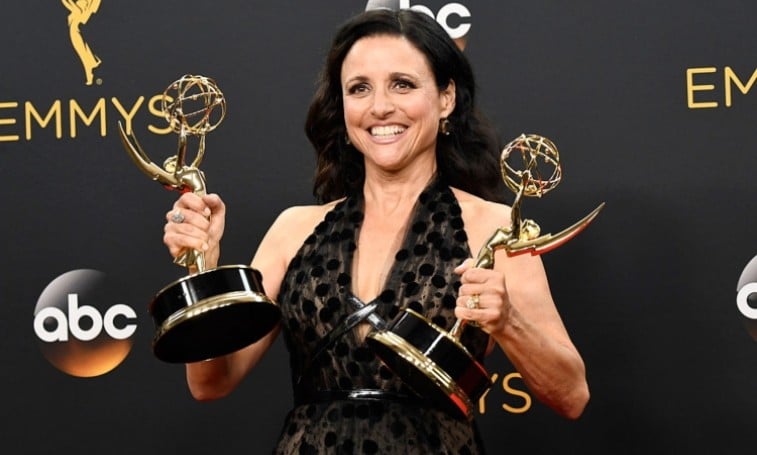 She shared that after being treated for cancer, going back to work on her show Veep was a lifesaver. Plus, she answers which shows she likes to watch for comfort.
This is the biggest question she gets on the street
Celebrities are often confronted with a number of requests and questions. But some stars seem to field the same ones over and over again. The reporter from the Los Angeles Times cited that comedian Bill Hader continuously receives Stefon cracks or questions about working with actor Henry Winkler.
So what is the main question Louis-Dreyfus gets? "I get 'Have you thought about running for president?"' No. Emphatic no. 'No soup for you!'" she hilariously says, weaving Seinfeld and Veep together.
But she also finds that people want her to give them the iconic Elaine Benes dance or "get out" shove. "And of course, they'd like to see me dance, which I won't do either. Or they want me to shove them like on Seinfeld. "Get out!" I'm very polite …" The reporter confirms that Louis-Dreyfus doesn't give fans the full shove. "Exactly. That's a good alibi. Can I use that?"
Saying 'goodbye' to 'Veep' is hard
Louis-Dreyfus said that having the show end was very tough. "It was crushing," she said. "It was the correct thing to do, but it was a heartbreaker through and through. It's the hardest job I've ever had and the best job I've ever had. The getting down in the dirt, getting it done … it's just incredibly life-affirming."
In fact, returning to the show after cancer treatment was probably the best medicine of all. "It was. Oh my God," she says about coming back after being on hiatus. "There was nothing better. To work together as a team to create something and try to be as funny and as authentic and as unusual as possible … that just restored my spirit. It was the absolute best."
She adds 'Veep' to her long line of memorable roles
Louis-Dreyfus chatted about Seinfeld and how the sitcom has this enduring quality for viewers. She wonders if people continue to watch because the show is a funny release at the end of the day. "It's had a life. It's funny? Funny works. It's nice to get a laugh before you close your eyes, I guess. It's kind of a release maybe."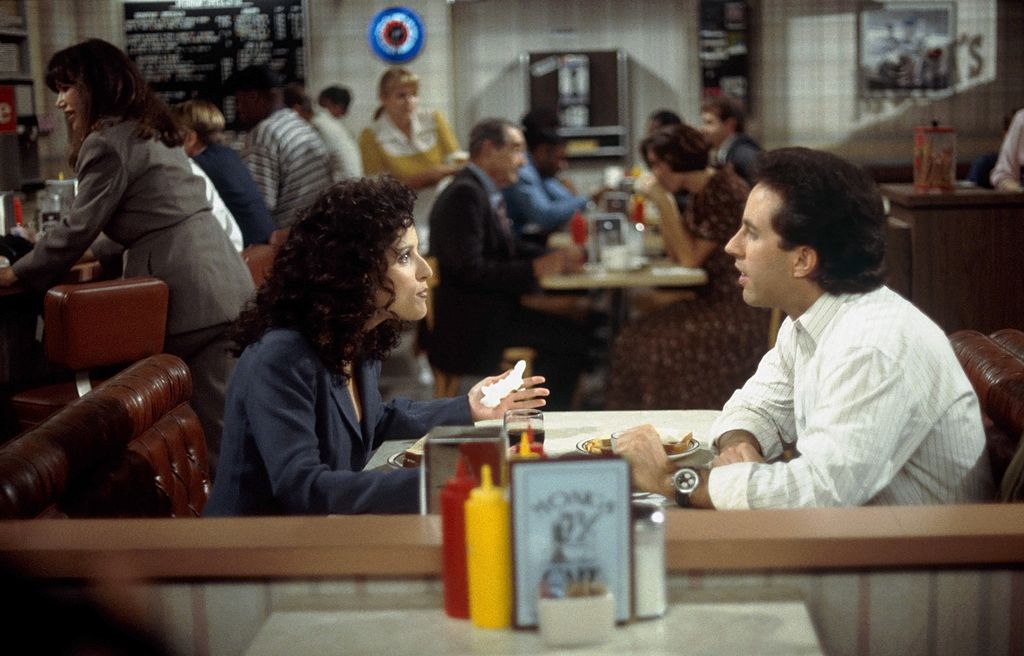 She also shares who created Elaine's dance, plus which shows gives her comfort to watch. Regarding that awesome dance, "I came up with that dance, you know," she revealed. "That was my invention. They wrote 'weird dance' …"
While some people tune into a nightly viewing of Seinfeld for comfort, she prefers these classics. "I Love Lucy. That's like a good wine. It gets better and better. When I was little, it was Flipper. Who can resist Flipper? A talking dolphin! And I watched All in the Family again recently. Carroll O'Connor is a stone-cold genius. He plays such a heinous individual. And you adore him."