When Can You Catch Bobby Flay On TV? His Most Popular Food Network Shows
Bobby Flay is an undeniable force in the food entertainment industry. His talents in the kitchen and charisma in front of the camera have helped him to amass a net worth of around $30 million—that's four times the net worth of fellow culinary superstar Guy Fieri.
While Flay has made headlines for his multiple marriages and rumors of infidelity, he still remains the most famous for his true talent: cooking really good food.
Whether fans are tuning in to learn how to make the perfect burger for themselves or simply want to live vicariously while watching a master at work, they have lots of options to see Flay's skills on display.
Flay has a whole array of shows that air on Food Network, and each one offers a slightly different spin to provide a variety of delicious entertainment options.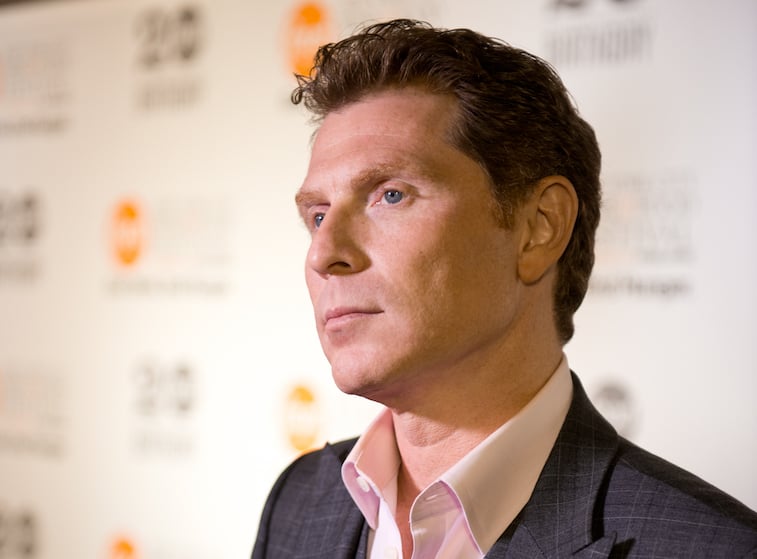 Bobby Flay was an early celebrity chef
Flay showed an early interest in cooking but got his first break into the industry by happenstance. His father, then a restaurant manager, ordered him to come fill in for a sick busboy. This moment of serendipity would lead to a full-time job and then a full-fledged career.
Flay opened his first restaurant in 1991 and received the high honor of Best Restaurant from New York Magazine the very next year. When he won the James Beard Rising Star award the year after that, it was clear that he was on a path to fast success.
His first appearance on Food Network came in 1994, and he would go on to become one of the core chefs around which Food Network built their programming.
Many of Flay's shows have a competitive spirit
Flay's appearances on Food Network today are varied. One of his popular shows is Throwdown with Bobby Flay. In this series, there is a surprise element. Different cooks are featured on each episode, and they think they are being profiled for the network when Flay appears and challenges them to a showdown. Part of the appeal is the wide variety of types of foods and, of course, the element of competition.
Keeping the similar spirit of competition, Flay is one of the "Iron Chefs" who appears on the show Iron Chef. In this role, celebrity chefs like Flay, Mario Batali, and Cat Cora accept challenges from world-class chefs who want the chance to earn their moment of fame and the bragging rights of having defeated a champion.
For a twist on the competition element, Beat Bobby Flay allows challengers to try to defeat Flay in the kitchen, but they must first battle each other to even earn the chance to attempt such a feat.
Flay gets to choose secret ingredients to keep the competition leading up to the big showdown interesting.
Less competitive shows capture Flay in his element
While the competitive show may be Food Network's bread and butter, Flay seems most in his element in shows where he gets to truly highlight his passion for cooking. Brunch @ Bobby's is a show that does exactly that. Viewers will feel inspired to whip up some delicious brunch fare of their own after seeing his delicious spreads.
If brunch isn't your style, Flay also offers a glimpse into another passion: backyard BBQ. In Barbecue Addiction, Flay goes deep into the world of outdoor grilling and takes viewers through various different methods and styles of cooking up the American classic cuisine.
Whether fans are looking for some head-to-head competition with tremendous bragging rights on the line or are simply trying to find some inspiration for their own cooking journey, Bobby Flay is a celebrity chef who delivers entertainment for all. His multiple Food Network series provide many ways to enjoy his passion.