When Did 'A Charlie Brown Thanksgiving' First Air on TV?
The classic holiday cartoon, A Charlie Brown Thanksgiving, originally debuted on the CBS network on November 20, 1973. A Charlie Brown Thanksgiving is based on the comic, Peanuts, written by Charles M. Schulz. Schulz won an Emmy for Outstanding Individual Achievement – Children's Programming in 1974 for his work on A Charlie Brown Thanksgiving.
What happens in 'A Charlie Brown Thanksgiving'?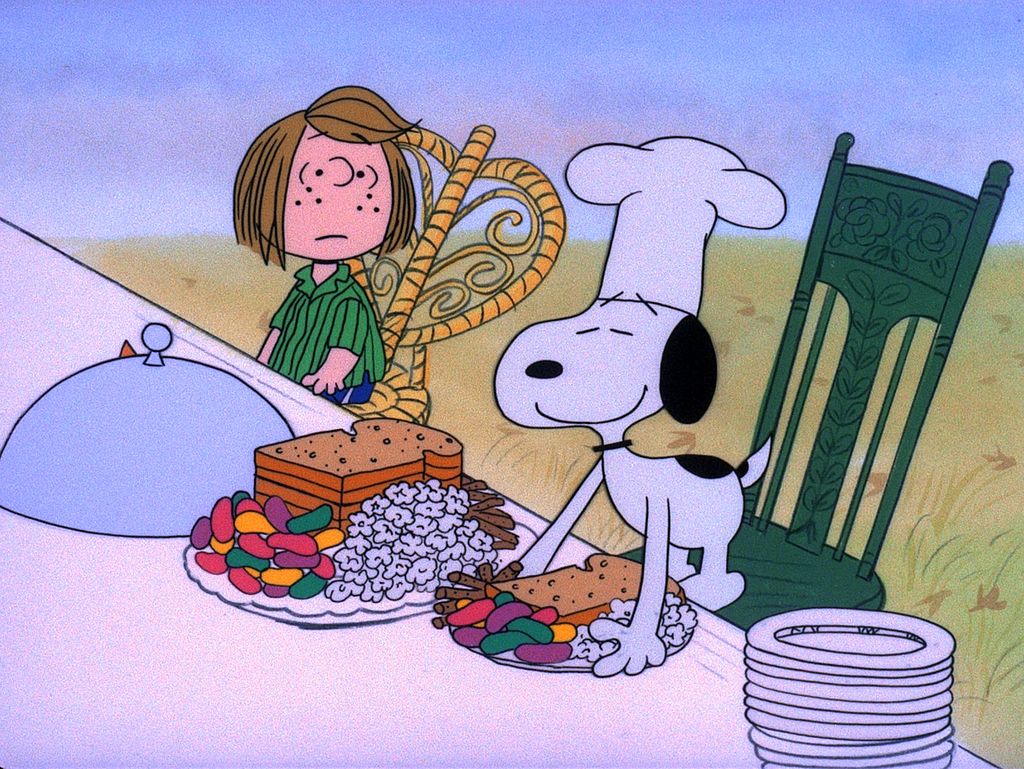 This classic American cartoon tells the tale of Brown and his friends gathering together to celebrate Thanksgiving. The show begins with Brown planning to attend Thanksgiving dinner at his grandmother's house.
Peppermint Patty quickly invites herself to Brown's house for Thanksgiving. Brown tries to inform Patty that he has other plans, but she won't take no for an answer. Patty takes it upon herself to invite Marcie and Franklin to the feast.
Brown discusses the situation with his pal Linus and reveals that he doesn't know how to cook. Pretty soon, the gang of friends is gathered around a non-traditional Thanksgiving feast of toast, popcorn, and jelly beans.
The friends say a prayer together. Brown presents a speech about the meaning of Thanksgiving and the joy of sharing a meal with loved ones. Patty is furious at Brown for hosting a non-traditional holiday feast, even though Brown did his best to be a good host.
Patty's friend, Marcie, tells her that she was too hard on Brown and that she shouldn't have forced him to host the Thanksgiving meal. Brown calls his grandmother and explains the situation. His grandma invites his friends to join her holiday dinner as well.
The show ends with Snoopy and Woodstock sharing a turkey dinner together. 
How does it compare to other Peanuts classics?
The 1965 holiday cartoon, A Charlie Brown Christmas, is a holiday film favorite for fans of all ages. It is filled with innocent humor, grace, and holiday spirit.
The cartoon addresses holiday stressors including the pressures of holiday shopping and seasonal depression. Brown busies himself with finding and decorating a Christmas tree. Meanwhile, Snoopy decorates his dog house extravagantly. The Christmas special is a  beloved 30-minute retreat from the holiday rush.
Another Peanuts holiday classic is It's the Great Pumpkin, Charlie Brown. The show tells the outrageous tale of a Halloween spirit pumpkin who comes once a year.
Happy New Year, Charlie Brown, follows Charlie Brown and his friends as they celebrate New Year's Day and establish New Year's resolutions. Happy New Year, Charlie Brown debuted in 1986. No matter what time of year it is or what holiday is approaching, there is always a relevant Charlie Brown episode to celebrate life's special moments.
How to watch 'A Charlie Brown Thanksgiving' this year
The 30-minute Thanksgiving special will air on Wednesday, November 27, 2019, at 8 pm EST on ABC. A Charlie Brown Thanksgiving is also available for a fee on specific streaming platforms. It is available for rent on Vudu from $3.99. The holiday special is also available for purchase on Amazon Prime from $9.99.
Charlie Brown is an iconic American cartoon and a nostalgic symbol of simpler times. Charlie Brown began as a printed comic strip in newspapers, debuted as a cartoon on TV, premiered on the big screen, and has even been featured as a balloon in Macy's Thanksgiving Day Parade.
Continue on the tradition or create a new tradition, gather your family or friends around the TV the evening before Thanksgiving and enjoy this feel-good holiday special. Even 46 years after it originally aired on TV, A Charlie Brown Thanksgiving continues to delight viewers with a joy-filled tale of Charlie Brown, Snoopy, and the gang celebrating the holiday.