When Does Ariana Grande, Miley Cyrus, and Lana Del Rey's New Single for 'Charlie's Angels' Drop?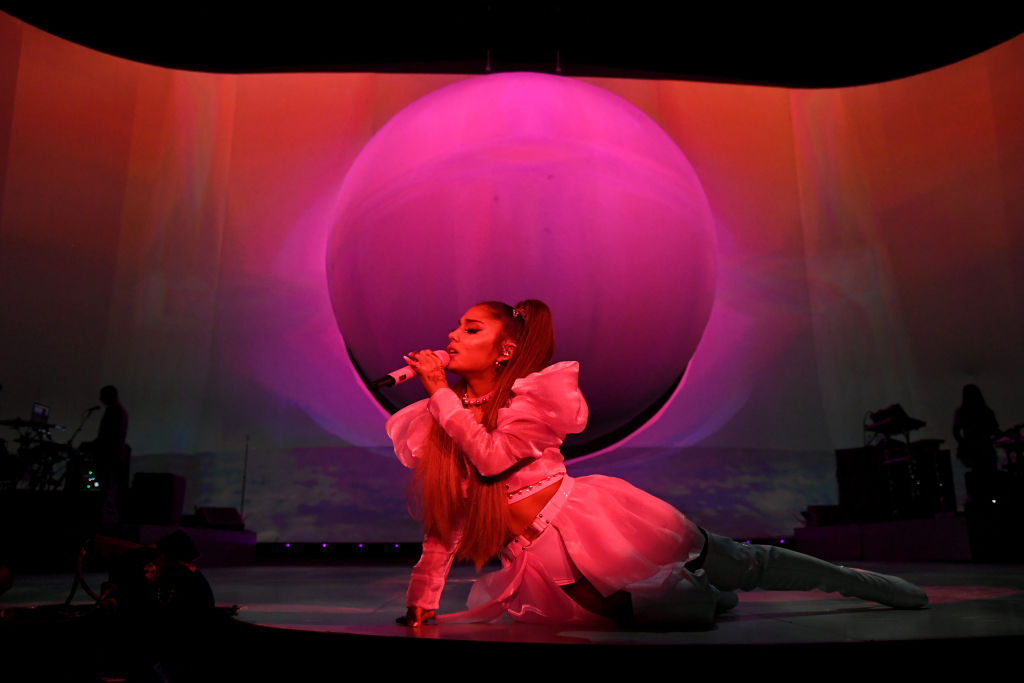 Charlie's Angels premieres on Nov. 15, 2019. The film stars Kristen Stewart, Naomi Scott, and Ella Balinska and is directed by Elizabeth Banks. Ariana Grande, Miley Cyrus, and Lana Del Rey all collaborated on a single for the movie. So when does their single for Charlie's Angels drop?
The song premieres on Sept. 13, 2019
On Sept. 11, 2019, the title and release date for the song was announced. The song is called "Don't Call Me Angel" and comes out on Sept. 13, 2019. In addition to the song's digital release, a music video will also drop.
Grande and Cyrus both shared a short teaser clip of the music video. The video clip shows Lana Del Rey, Grande, and Cyrus walking down a hallway while wearing black wings. As they walk, the three singers wear stern expressions, matching the tone of their outfits.
"Don't Call Me Angel" is the lead single from the movie's soundtrack. Grande is a co-executive producer of the soundtrack with Savan Kotecha, Max Martin, and Ilya. Hannah Lux Davis directed the music video for "Don't Call Me Angel."
Fans can't wait for a song with Ariana Grande, Miley Cyrus, and Lana Del Rey together
After the teaser dropped, fans of the three singers expressed their excitement for the upcoming song on Twitter. Lana Del Rey, Cyrus, and Grande all have dedicated fan bases. This makes "Don't Call Me Angel" a highly-anticipated song.
"THIS IS SO POWERFUL IT DOESNT FEEL REAL," one fan wrote on Twitter.
"The marketing team knows exactly who's the audience for this movie hahaha," wrote a Twitter user.
Some Lana Del Rey fans expressed concerns about her role in the song. A lot of times when Lana Del Rey is featured on other artists' work, she mainly performs back-up vocals. Because Lana Del Rey did not promote the teaser like Cyrus and Grande, her fans are worried she will not have a large role in "Don't Call Me Angel."
"DCMA looks more like Ariana ft Lana,Miley than a collab. In the trailer,Lana looks like she doesn't wanna be there and Miley looks bored af too. If Lana only has some background vocals,imma riot.ugh," a fan tweeted.
"Lana will probably only be the background vocals on Dont Call Me Angel since she doesnt care a bit ab the promo," wrote another.
'Charlie's Angels' is a reboot of the franchise
"Don't Call Me Angel" is one of the songs from the Charlie's Angels soundtrack. The 2019 film is a reboot of the original Charlie's Angels franchise. The original movies starred Cameron Diaz, Drew Barrymore, and Lucy Liu.
Banks is the director of the 2019 Charlie's Angels and she also wrote the screenplay. She previously directed Pitch Perfect 2 and produced the other movies in the Pitch Perfect franchise. In Charlie's Angels, Banks will play the role of Susan Bosley.
In the movie, Stewart plays Sabina Wilson. Scott plays Elena Houghlin. Balinska plays Jane Kano. Sam Claflin, Noah Centineo, Djimon Hounsou, and Patrick Stewart also appear in the film.