When Is 'A Charlie Brown Thanksgiving' Airing on TV in 2018?
It's just not Thanksgiving without Peanuts. A Charlie Brown Thanksgiving — the holiday special featuring Charlie Brown, Linus, Lucy, Peppermint Patty, and the rest of the gang — has been a TV-viewing tradition since 1973, when it aired for the first time on CBS. (These days, you can catch it on ABC.)
Missing this slice of animated family entertainment would be a tragedy on par with forgetting the pumpkin pie at Thanksgiving dinner. Fortunately, we've got you covered. Find out when A Charlie Brown Thanksgiving will air in 2018.
A Charlie Brown Thanksgiving 2018 air date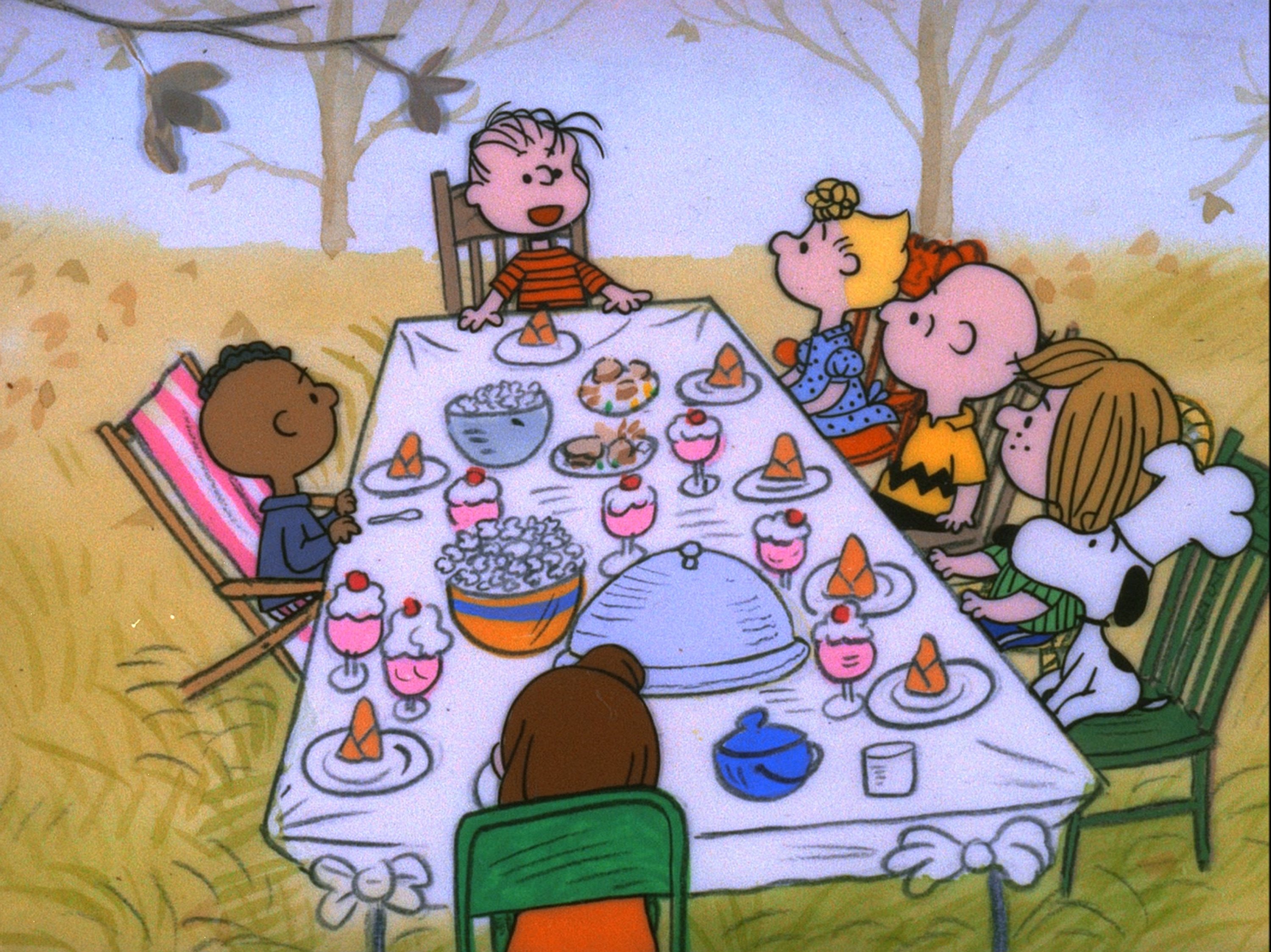 This year's broadcast of A Charlie Brown Thanksgiving will happen on Wednesday, November 21 at 8/7c on ABC. The original 30-minute special – which features Charlie Brown's disastrous attempt to cook a Thanksgiving dinner for his friends – will be followed by the animated short The Mayflower Voyagers.
Can you stream A Charlie Brown Thanksgiving?
If you're too busy prepping for the big meal to catch the live broadcast, don't worry. You can also stream it. You can purchase A Charlie Brown Thanksgiving from Amazon Video, iTunes, Google Play, or Vudu for $9.99. 
When does A Charlie Brown Christmas air in 2018?
A Charlie Brown Thanksgiving is just one of dozens of Peanuts specials, including holiday favorites like It's the Great Pumpkin, Charlie Brown, from 1966, and Be My Valentine, Charlie Brown (1975). But the most beloved Peanuts special of all time is without a doubt A Charlie Brown Christmas. The heartwarming classic chronicles Charlie Brown's attempts to find meaning in an increasingly commercialized Christmas season – a dilemma that's just as common today as it was more than 50 years ago with the show was first broadcast.
This year, A Charlie Brown Christmas will air Thursday, December 6 at 8/7c on ABC. If you miss the initial broadcast, it will air again on Thursday, December 20 at 8/7c. I Want a Dog for Christmas, Charlie Brown! will air on Friday, December 21 at 8/7c. You can round out the holiday season with Happy New Year, Charlie Brown on Thursday, December 27 at 8/7c.
Other holiday TV specials for 2018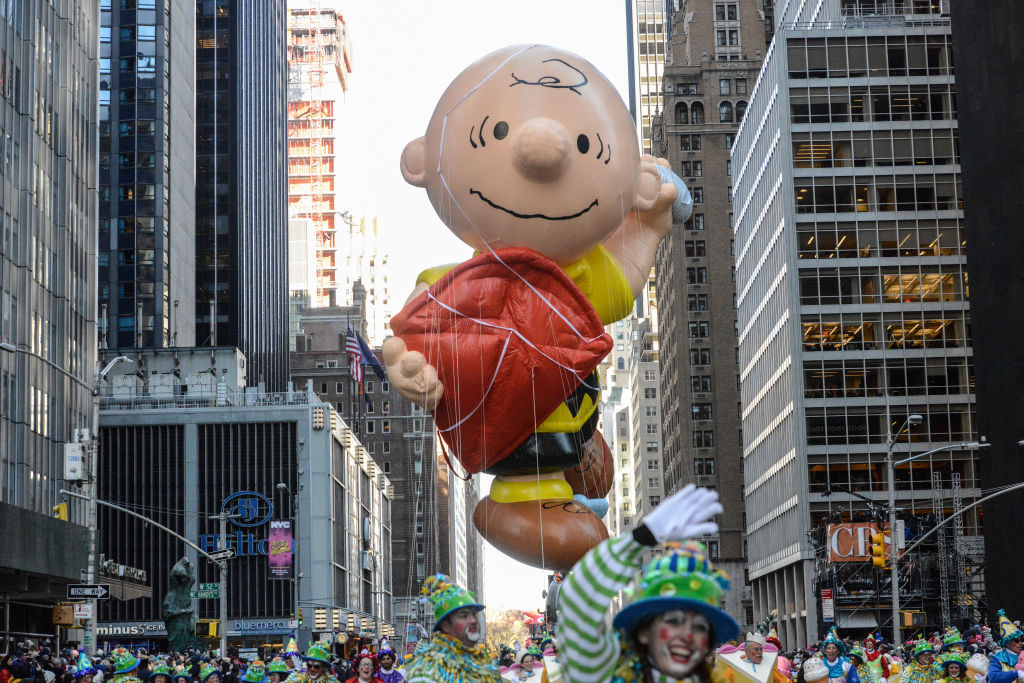 A Charlie Brown Thanksgiving isn't the only upcoming TV special to put on your calendar. Here's when some of your other holiday favorites will air.
A Saturday Night Live Thanksgiving: Wednesday, November 21 from 9 to 11 p.m.
Macy's 92nd Annual Thanksgiving Day Parade: Thursday, November 22 at 9.m. on NBC
The National Dog Show: Thursday, November 22 at 12 p.m. on NBC
How the Grinch Stole Christmas: Friday, November 23 at 8 p.m. on NBC
The Great Christmas Light Fight: Monday, November 26 at 8 p.m. on ABC
Rudolph the Red-Nosed Reindeer: Tuesday, November 27 at 8 p.m. on CBS
86th Annual Christmas in Rockefeller Center: Wednesday, November 28 at 8 p.m. on NBC
A Legendary Christmas with John and Chrissy: Wednesday, November 28 at 10 p.m. on NBC
The Wonderful World of Disney: Magical Holiday Celebration: November 29 at 9 p.m. on ABC
National Christmas Tree Lighting: Saturday, December 2 at 10 p.m. on Ovation 
Thanksgiving Day TV marathons
Whether you're a classic movie fan or can't get enough of the Kardashians, there's a Thanksgiving Day TV marathon for you. Here are a few standouts:
Gone with the Wind: Starting 6 a.m. on Thanksgiving Day on Sundance
The Godfather Trilogy: Starting at 9 a.m. on AMC
The Simpsons Thanksgiving episodes: Starting at 8 p.m. on FXX
Friends Thanksgiving episodes: From 1 p.m. to 6 p.m. on TBS
Family Guy Thanksgiving episodes: From 11 a.m. to 1 p.m. on TBS
Keeping up with the Kardashians: From 4 a.m. to 12 p.m. on E!
Gilmore Girls: UPtv is airing all seven seasons of the Gilmore Girls starting Monday, November 19. The marathon continues through November 25.