When Is 'Hocus Pocus' on TV? Here's How You Can Watch the Cult-Favorite Halloween Movie in 2019
The spookiest time of the year is upon us. Now that the calendar has rolled over to October, it's time to stock up on fun-size candy, pick out the perfect costume, and binge-watch all your favorite Halloween movies — or just watch Hocus Pocus on repeat until the 31st. 
If you can't imagine Halloween without the Sanderson sisters, we have good news. The 1993 cult classic film will air 30 times between now and the end of the month on Freeform.
Freeform's '31 Nights of Halloween' is here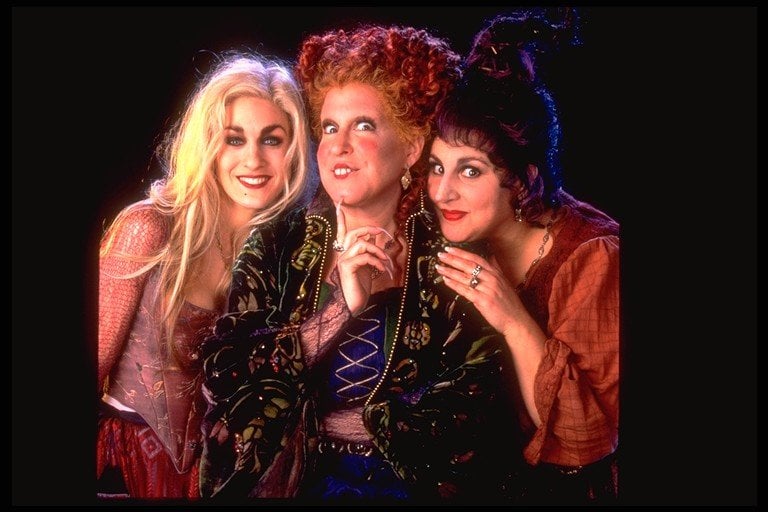 You can't scare up Hocus Pocus on Netflix, but don't despair just yet. If you have cable, you can watch the kid-friendly favorite nearly every day on TV as part of the "31 Nights of Halloween" programming block. 
The fun begins on October 1 at 8:50 p.m./7:50c. The movie will repeat dozens of times throughout the month before concluding with a Hocus Pocus marathon on the 31st starting at 12:30 p.m./11:30c.  
Cord-cutters who want to watch the witchy flick aren't entirely out of luck, though. You can rent Hocus Pocus on Amazon, iTunes, YouTube, and other on-demand streaming services from $2.99.  
It's not just a bunch of 'Hocus Pocus' at Freeform 
Hocus Pocus dominates Freeform's Halloween schedule, but it's not the only frightening film on the menu. The network's "31 Nights of Halloween" lineup is packed with spine-tingling favorites, from the darkly funny Addams Family to tongue-in-cheek slasher Scream. Plus, you can watch The Simpsons: Treehouse of Horror-thon and catch the 31 Nights of Halloween Fan Fest, which will celebrate Hocus Pocus, The Addams Family, and Ghostbusters. 
Here's the complete "31 Nights of Halloween' schedule:
Tuesday, October 1
12:30 p.m./11:30c Willy Wonka & the Chocolate Factory
3 p.m./2c Monster House
5:05 p.m./4:05c The Nightmare Before Christmas
6:45 p.m./5:45c Disney•Pixar's Monsters, Inc.
8:50 p.m./7:50c Hocus Pocus
12 a.m./11c Zombieland
Wednesday, October 2
11:30 a.m./10:30c Scared Shrekless
12 p.m./11c Monster House
2:05 p.m./1:05c R.L. Stine's Mostly Ghostly: One Night in Doom House
4:10 p.m./3:10c The Nightmare Before Christmas
5:50 p.m./4:50c Hocus Pocus
8/7 p.m.-11/10c The Simpsons: Treehouse of Horror-thon
12 a.m./11c ParaNorman
Thursday, October 3
12:30 p.m./11:30c Edward Scissorhands
2:40 p.m./1:40c ParaNorman
4:45 p.m./3:45c The Haunted Mansion (2003)
6:50 p.m./5:50c The Addams Family (1991)
8:55 p.m./7:55c Addams Family Values
12 a.m./11c Edward Scissorhands
Friday, October 4
11 a.m./10c Monsters vs. Aliens: Mutant Pumpkins
11:30 a.m./10:30c Hook (1991)
2:35 p.m./1:35c The Haunted Mansion (2003)
4:40 p.m./3:40c The Addams Family (1991)
6:45 p.m./5:45c Addams Family Values
8:50 p.m./7:50c Hocus Pocus
12 a.m./11c The Simpsons: Treehouse of Horror-thon
Saturday, October 5
7 a.m./6c ParaNorman
9 a.m./8c Hocus Pocus
11:10 a.m./10:10c The Simpsons: Treehouse of Horror-thon
1:40 p.m./12:40c Scooby-Doo (2002)
3:45 p.m./2:45c Scooby-Doo 2: Monsters Unleashed
5:50 p.m./4:50c Hocus Pocus
8 p.m./7c 31 Nights of Halloween Fan Fest
9:30 p.m./8:30c Goosebumps
12 a.m./11c Monster House
Sunday, October 6
7 a.m./6c Charlie and the Chocolate Factory
9:30 a.m./8:30c Monster House
11:30 a.m./10:30c Scooby-Doo (2002)
1:30 p.m./12:30c Scooby-Doo 2: Monsters Unleashed
3:35 p.m./2:35c Hocus Pocus
5:45 p.m./4:45c Goosebumps
8:15 p.m./7:15c Hotel Transylvania
10:20 p.m./9:20c Hocus Pocus
12:30 a.m./11:30c 31 Nights of Halloween Fan Fest
Monday, October 7
11:30 a.m./10:30c Decorating Disney: Halloween Magic
12:30 p.m./11:30c 31 Nights of Halloween Fan Fest
1:30 p.m./12:30c Dark Shadows (2012)
4:10 p.m./3:10c Hocus Pocus
6:20 p.m./5:20c Hotel Transylvania
8:25 p.m./7:25c Ghostbusters (1984)
Tuesday, October 8
11 a.m./10c The Haunted Mansion (2003)
1 p.m./12c The Corpse Bride
3 p.m./2c Ghostbusters (1984)
5:30 p.m./4:30c Ghostbusters II
8 p.m./7c Iron Man
12 a.m./11c Scooby-Doo (2002)
Wednesday, October 9
11 a.m./10c The Nightmare Before Christmas
12:40 p.m./11:40c Scooby-Doo (2002)
2:45 p.m./1:45c Scooby-Doo 2: Monsters Unleashed
4:55 p.m./3:55c Iron Man
8/7 p.m.-11/10c The Simpsons: Treehouse of Horror-thon
12 a.m./11c Scooby-Doo 2: Monsters Unleashed
Thursday, October 10
11 a.m./10c Monsters vs. Aliens: Mutant Pumpkins
11:30 a.m./10:30c R.L. Stine's Mostly Ghostly: One Night in Doom House
1:40 p.m./12:40c Monster House
3:45 p.m./2:45c Disney•Pixar's Finding Nemo
6:15 p.m./5:15c Hocus Pocus
8:25 p.m./7:25c Hotel Transylvania
10:30 p.m./9:30c Disney•Pixar's Toy Story of TERROR!
12 a.m./11c Monster House
Friday, October 11
11 a.m./10c Scared Shrekless
11:30 a.m./10:30c Disney•Pixar's Finding Nemo
2 p.m./1c Hocus Pocus
4:05 p.m./3:05c Disney•Pixar's The Incredibles
6:45 p.m./5:45c Disney•Pixar's Toy Story of TERROR!
7:15 p.m./6:15c Hotel Transylvania
9:20 p.m./8:20c The Nightmare Before Christmas
12 a.m./11c The Simpsons: Treehouse of Horror-thon
Saturday, October 12
7 a.m./6c Ghostbusters (1984)
9:30 a.m./8:30c Disney•Pixar's The Incredibles
12:10 p.m./11:10c The Nightmare Before Christmas
1:50 p.m./12:50c The Addams Family (1991)
3:55 p.m./2:55c Addams Family Values
6 p.m./5c Scream
8:40 p.m./7:40c Scream 2
11:20 p.m./10:20c Scream 3
Sunday, October 13
7 a.m./6c Ghostbusters II
9:35 a.m./8:35c The Corpse Bride
11:10 a.m./10:10c The Addams Family (1991)
1:15 p.m./12:15c Addams Family Values
3:20 p.m./2:20c Disney•Pixar's Finding Dory
5:25 p.m./4:25c Disney•Pixar's Monsters, Inc.
7:30 p.m./6:30c Disney's Moana
10 p.m./9c Hocus Pocus
12:10 a.m./11:10c The Corpse Bride
Monday, October 14
11:30 a.m./10:30c Hocus Pocus
1:40 p.m./12:40c Disney•Pixar's Monsters, Inc.
3:45 p.m./2:45c Matilda
5:50 p.m./4:50c Mrs. Doubtfire
8:55 p.m./7:55c Hotel Transylvania
Tuesday, October 15
11:30 a.m./10:30c Matilda
1:40 p.m./12:40c Mrs. Doubtfire
4:45 p.m./3:45c Hotel Transylvania
6:50 p.m./5:50c The Addams Family (1991)
8:55 p.m./7:55c Addams Family Values
12 a.m./11c Hocus Pocus
Wednesday, October 16
11 a.m./10c Sweeney Todd: The Demon Barber of Fleet Street (2007)
1:40 p.m./12:40c Hocus Pocus
3:50 p.m./2:50c The Addams Family (1991)
5:55 p.m./4:55c Addams Family Values
8/7 p.m.-11/10c The Simpsons: Treehouse of Horror-thon
12 a.m./11c The Haunted Mansion (2003)
Thursday, October 17
11 a.m./10c ParaNorman
1:05 p.m./12:05c The Haunted Mansion (2003)
3:10 p.m./2:10c 101 Dalmatians (1996)
5:15 p.m./4:15c The Corpse Bride
6:50 p.m./5:50c Scooby-Doo (2002)
8:55 p.m./7:55c Scooby-Doo 2: Monsters Unleashed
12 a.m./11c R.L. Stine's Mostly Ghostly: One Night in Doom House
Friday, October 18
11 a.m./10c 31 Nights of Halloween Fan Fest
12 p.m./11c National Treasure
3 p.m./2c Scream
5:40 p.m./4:40c Scream 2
8:20 p.m./7:20c Scream 3
12 a.m./11c The Simpsons: Treehouse of Horror-thon
Saturday, October 19
7 a.m./6c ParaNorman
9:05 a.m./8:05c Hocus Pocus
11:15 a.m./10:15c The Simpsons: Treehouse of Horror-thon
4:15 p.m./3:15c Disney's Zootopia
6:45 p.m./5:45c Hocus Pocus
8:55 p.m./7:55c Ghostbusters (1984)
11:25 p.m./10:25c Ghostbusters II
Sunday, October 20
7 a.m./6c 31 Nights of Halloween Fan Fest
8 a.m./7c Hocus Pocus
10:05 a.m./9:05c Disney's Zootopia
12:35 p.m./11:35c Ghostbusters (1984)
3:05 p.m./2:05c Ghostbusters II
5:35 p.m./4:35c Hocus Pocus
7:45 p.m./6:45c Hotel Transylvania
9:50 p.m./8:50c The Addams Family (1991)
11:55 p.m./10:55c Addams Family Values
Monday, October 21
11 a.m./10c The Corpse Bride
12:35 p.m./11:35c The Addams Family (1991)
2:40 p.m./1:40c Addams Family Values
4:45 p.m./3:45c The Nightmare Before Christmas
6:25 p.m./5:25c Hotel Transylvania
8:30 p.m./7:30c Goosebumps
Tuesday, October 22
11 a.m./10c Decorating Disney: Halloween Magic
12:03 p.m./11:03c Scared Shrekless
12:35 p.m./11:35c Monster House
2:40 p.m./1:40c The Nightmare Before Christmas
4:20 p.m./3:20c Goosebumps
6:50 p.m./5:50c Scooby-Doo (2002)
8:55 p.m./7:55c Scooby-Doo 2: Monsters Unleashed
12 a.m./11c Monster House
Wednesday, October 23
11 a.m./10c Willy Wonka & the Chocolate Factory
1:30 p.m./12:30c Scooby-Doo (2002)
3:30 p.m./2:30c Scooby-Doo 2: Monsters Unleashed
5:30 p.m./4:30c Disney's Moana
8/7 p.m.-11/10c The Simpsons: Treehouse of Horror-thon
12 a.m./11c Matilda
Thursday, October 24
11 a.m./10c Matilda
1:10 p.m./12:10c Disney's Moana
3:40 p.m./2:40c Ghostbusters (1984)
6:15 p.m./5:15c Ghostbusters II
8:50 p.m./7:50c Hocus Pocus
12 a.m./11c The Haunted Mansion (2003)
Friday, October 25
11 a.m./10c Monsters vs. Aliens: Mutant Pumpkins
11:32 a.m./10:32c Ghostbusters (1984)
2:05 p.m./1:05c Ghostbusters II
4:40 p.m./3:40c The Haunted Mansion (2003)
6:45 p.m./5:45c Hocus Pocus
8:55 p.m./7:55c Disney•Pixar's Monsters, Inc.
12 a.m./11c The Simpsons: Treehouse of Horror-thon
Saturday, October 26
7 a.m./6c Monster House
9:10 a.m./8:10c Hocus Pocus
11:20 a.m./10:20c Scooby-Doo (2002)
1:25 p.m./12:25c Scooby-Doo 2: Monsters Unleashed
3:30 p.m./2:30c Disney•Pixar's Monsters, Inc.
5:35 p.m./4:35c The Addams Family (1991)
7:40 p.m./6:40c Addams Family Values
9:45 p.m./8:45c Hotel Transylvania
11:50 p.m./10:50c Hocus Pocus
Sunday, October 27
7 a.m./6c Scooby-Doo (2002)
9 a.m./8c Scooby-Doo 2: Monsters Unleashed
11:05 a.m./10:05c Hocus Pocus
1:15 p.m./12:15c The Nightmare Before Christmas
2:55 p.m./1:55c The Addams Family (1991)
5 p.m./4c Addams Family Values
7:05 p.m./6:05c Hotel Transylvania
9:10 p.m./8:10c Hocus Pocus
11:20 p.m./10:20c Dark Shadows (2012)
Monday, October 28
7 a.m./6c Dark Shadows (2012)
11:30 a.m./10:30c The Haunted Mansion (2003)
1:30 p.m./12:30c The Nightmare Before Christmas
3:10 p.m./2:10c Scream
5:40 p.m./4:40c Scream 2
8:20 p.m./7:20c Scream 3
Tuesday, October 29
7:30 a.m./6:30c The Haunted Mansion (2003)
11 a.m./10c The Nightmare Before Christmas
12:35 p.m./11:35c Scooby-Doo (2002)
2:40 p.m./1:40c Scooby-Doo 2: Monsters Unleashed
4:45 p.m./3:45c The Addams Family (1991)
6:50 p.m./5:50c Addams Family Values
8:55 p.m./7:55c Hotel Transylvania
12 a.m./11c The Corpse Bride
Wednesday, October 30
7:30 a.m./6:30c Scooby-Doo (2002)
11 a.m./10c The Corpse Bride
12:30 p.m./11:30c Scooby-Doo 2: Monsters Unleashed
2:35 p.m./1:35c The Addams Family (1991)
4:40 p.m./3:40c Addams Family Values
6:45 p.m./5:45c Hotel Transylvania
8:50 p.m./7:50c Hocus Pocus
12 a.m./11c Scooby-Doo (2002)
Thursday, October 31
11 a.m./10c 31 Nights of Halloween Fan Fest
12:30 p.m./11:30c Hocus Pocus
2:35 p.m./1:35c Hocus Pocus
4:40 p.m./3:40c Hocus Pocus
6:45 p.m./5:45c Hocus Pocus
8:50 p.m./7:50c Hocus Pocus
12 a.m./11c Scooby-Doo 2: Monsters Unleashed