When Is Nik Wallenda's Next Walk?
After traversing the Grand Canyon, Niagara Falls, the two towers of the Condado Plaza Hotel in Puerto Rico, and, recently, Times Square, Nik Wallenda holds 10 Guinness World Records.
It's understandable when you consider that Wallenda is part of a 25 generation circus family tree. When he was only two-years-old, he was already playing a clown who was carried around in a pillowcase.
Wallenda appeared on ABC's Good Morning America before his Times Square Walk. His 1,300 feet long, 25 story crossing was aired on ABC, as well.
The King of the Highwire, Wallenda was crossing a tightrope in utero with his mother who was six months into her pregnancy. He walked the tightrope when he was two. He did not, however, perform in public until he was 13 years old.
Wallenda's grandfather, Karl Wallenda, brought his family to America from Germany to take center stage in The Ringling Brothers and Barnum & Bailey Circus. Wallenda's grandfather fell to his death in 1978, at the age of 73 while performing on the highwire in San Juan, Puerto Rico. The accident, says the family, was the fault of poor rigging.
Wallenda's past walks: 1998-2001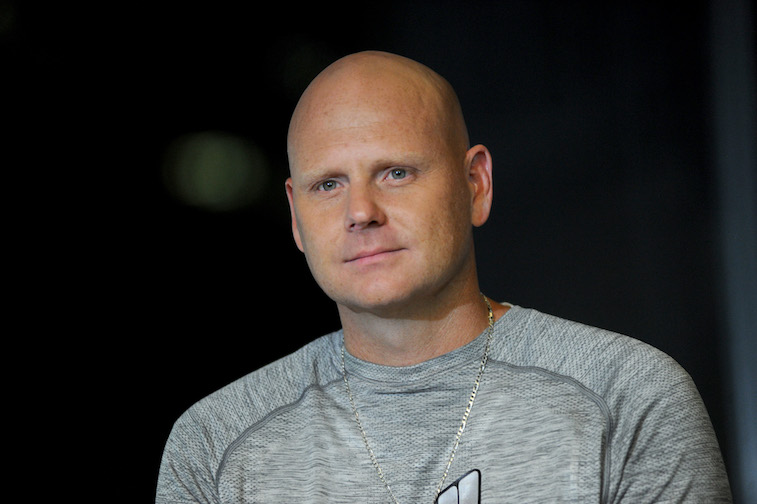 Wallenda is a showman and likes very much to do what has "not occurred before." This idea is well-exemplified in his performance choices and his world records. Wallenda never uses a safety net and says safety enhancements can sometimes cause difficulties while on the wire, such as a false sense of security.
Wallenda joined with the family to create a seven-person pyramid on the high wire in Detroit. In 1962, the Wallendas attempted the same trick in the same city but lost two acrobats and left one member, Mario Wallenda, paralyzed. The 1998 performance was a success.
"My children will show you [that] they will finish what we started to do the last time we were in Detroit," said family matriarch Jenny Wallenda at a preview performance Thursday for the media and a small number of guests.
In 2001, Wallenda set his first record in Kurashiki, Japan. The stunt involved a four-layer, 8-person pyramid on a high wire.
2011-2013
In 2011, Wallenda completed the walk in San Juan that his father never completed. It included a 135-foot-long high wire crossing between two towers of the ten-story Condado Plaza Hotel. Wallenda's mother joined him on the wire, sat down at the middle of the high wire, while Wallenda stepped over her and walked to the end of the rope.
His mother, Delilah, walked to the opposite end of the high wire. Wallenda said he performed this trick for his grandfather and considered it an honor. He also believes that individuals should try to get better and better every day. Everyone could profit from Wallenda's mindset, especially when he says he "dreams the impossible and makes it a reality."
In 2012, Wallenda walked across Niagra Falls. In 2013, he walked across the Grand Canyon.
2019
The Wallendas complete an eight-person pyramid stunt across Times Square in New York City. Wallenda's sister, Lijana, was one of the five performers who fell during an eight-pyramid trick practice in Sarasota in 2017.
After a long recovery, she was part of the recent Times Square walk; her first performance since her accident. The incident was so like the accident that killed his grandfather, but Wallenda was thrilled that no one received any injuries from this accident.
So, what's next?
Even though the Times Square performance is still on people's minds, Wallenda already has a new idea percolating in his brain.
He has been thinking about crossing a live volcano. It seems he has now chosen the specific volcano and is putting the official stamp on the idea. Nick believes that you are never too old to follow your dreams.