When Is the 2018 Rockefeller Center Christmas Tree Lighting? 
Christmas in Rockefeller Center has been a holiday tradition going back to the Great Depression. In 1933, the first official Christmas tree went up in Rockefeller Plaza, and the tree lighting has been broadcast on TV since 1951. Here's when the 86th annual Christmas tree lighting will happen, and how you can watch it on TV or in person. 
The Rockefeller Center Tree Lighting Happens on November 28

The 2018 Rockefeller Center Christmas tree lighting is scheduled for Wednesday, November 28, 2018. The event will be broadcast on NBC from 8 p.m. to 10 p.m. ET. (7 p.m. CT).
Today Show anchors Savannah Guthrie, Al Roker, and Craig Melvin will host. Performers at this year's ceremony include Diana Krall, Diana Ross, Tony Bennett, Martina McBride, Pentatonix, Kellie Pickler, The Rockettes, and special guest Howie Mandel. John Legend will also perform, and the tree lighting will be followed by his new holiday TV special, A Legendary Christmas with John and Chrissy at 10/9c.
How to watch the Rockefeller Center tree lighting in person
If you're in New York City on Wednesday, you can watch the famous tree lighting in person. The lights go on for the first time at 9 p.m. on November 28. The event is free and open to the public, and you don't need tickets, but it is first-come, first-served. You'll want to get there several hours early to secure a spot, and make sure you bundle up, since you'll be waiting outside for the big event. (Fortunately, it shouldn't be as cold on Wednesday as it was for last week's Macy's Thanksgiving Day Parade.)
The tree with its 50,000 LED lights and Daniel Libeskind–designed Swarovski star stays lit through January 7, 2019, at 9 p.m. Daily viewing hours are 5:30 a.m. to 11:30 p.m. The tree is located on the plaza between West 48th and 51st Streets and Fifth and Sixth Avenues.
Ice skating at Rockefeller Center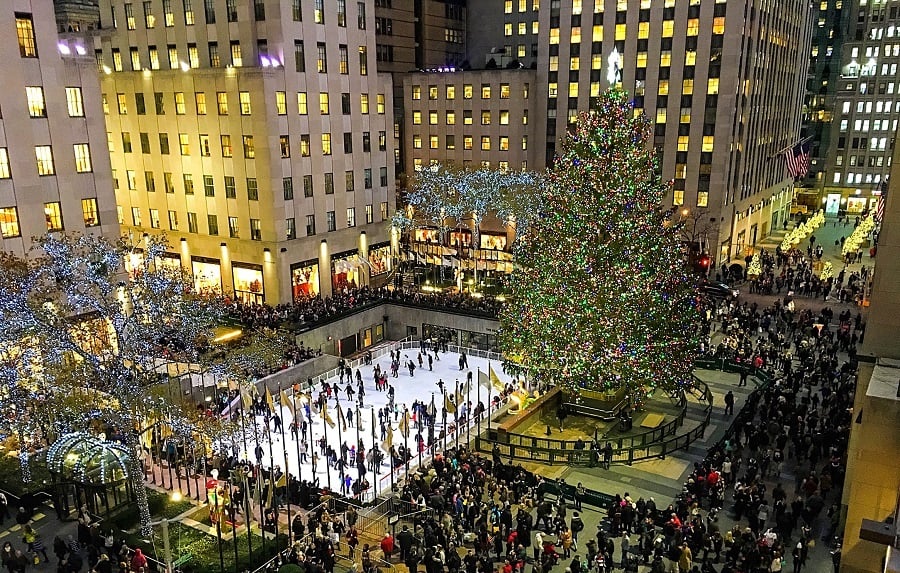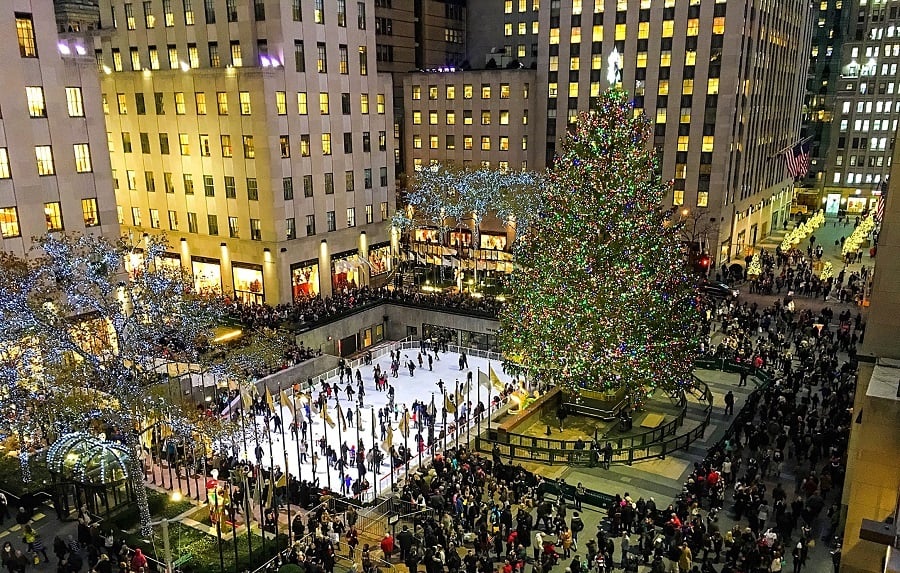 Many people combine a visit to the Rockefeller Center tree with a spin around the iconic ice rink. General admission for adults is $28 to $33 during the holiday season, while kids and seniors are $15. Skate rental is $12.50. The rink is open from 8:30 a.m. through midnight, with periodic 30-minute closures throughout the day.
VIP skating reservations are also available. A reservation, which costs $75 to $150 per person during the holiday season, gets you on the rink right away and includes skate rental, hot chocolate, and cookies.
The ice rink is closed November 27 and 28.
The Radio City Christmas Spectacular
You can round out your NYC holiday trip with a visit to Radio City Music Hall to see the world-famous Rockettes. Tickets to the Radio City Christmas Spectacular start at $41. The show is 90 minutes and there are three to six performances per day. The last performance is January 1, 2019.
What happens to the tree after Christmas?
The 72-foot-tall, 12-ton Norway spruce that serves as the Rockefeller Center Christmas tree continues to provide joy after the holiday. At the end of the season, the tree will be made into lumber and used to build homes for Habitat for Humanity.