When Will 'American Horror Story: 1984' Be on Netflix? Season 9 Is Arriving on FX Soon
The era of streaming as we know it is over. Over the past year, major companies like Disney and NBC decided to create services to compete with Netflix. As a result, beloved titles — such as The Office and Friends — will leave the platform in 2020. Naturally, television fans are asking about the longevity of their favorite shows. And with the ninth season premiere just around the corner, viewers are wondering when American Horror Story: 1984 will be on Netflix. That is if the Fox-owned series will be released at all.
Will 'American Horror Story: 1984' be added to Netflix?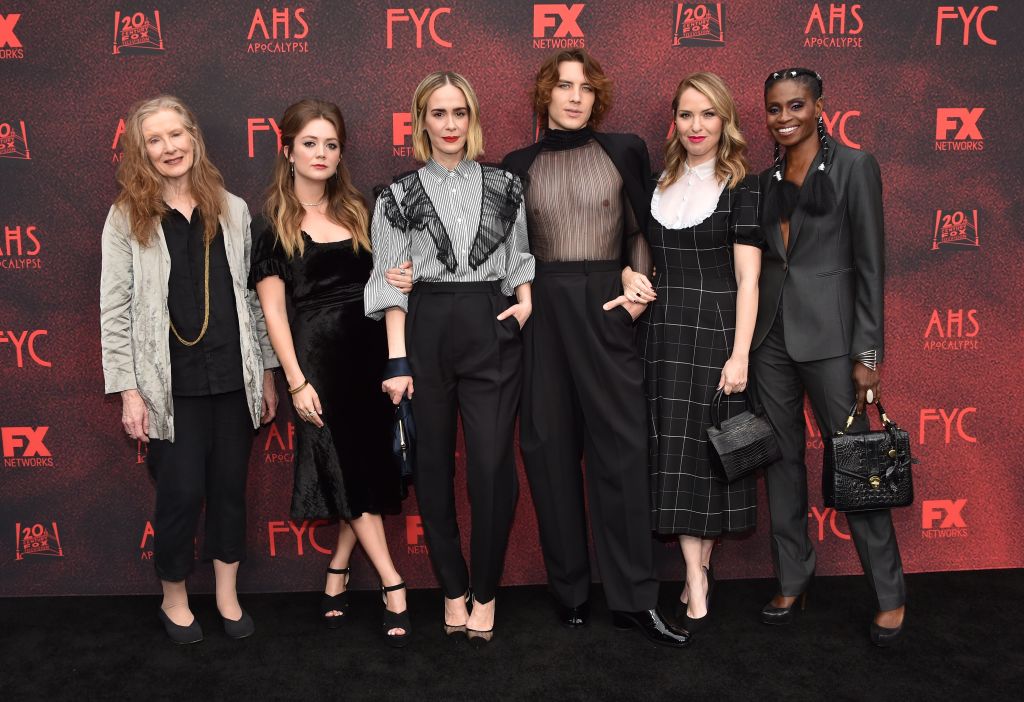 As of this write-up, it's difficult to determine whether or not American Horror Story: 1984 will be released on Netflix. Season 9 hasn't even aired its Sept. 18 premiere on FX. So, for the time being, fans will have to wait and see what happens.
That being said, the show's first seven seasons — including Murder House, Asylum, Coven, Freak Show, Hotel, Roanoke, and Cult — are all available to stream on Netflix. And with Apocalypse coming to the streaming giant in the near future, it's also likely 1984 will become available if the license is renewed by Fox.
'AHS: Apocalypse' Netflix release date
On Sept. 1, Time Magazine confirmed Apocalypse will be on Netflix. The eighth season will be added to the queue on Sept. 24. This is about a week after the ninth season premieres on Sept. 18.
Now, if 1984 follows the same schedule as Apocalypse, it's possible fans will also see a season 9 Netflix release date around mid-September 2020. But for now, the streaming platform hasn't confirmed anything, and fans will just have to hold on a little longer.
Is 'AHS' Leaving Netflix?
With so many titles making their exit from the streaming platform, cable-cutting fans might be wondering if American Horror Story will ever leave Netflix. In March 2019, the Walt Disney Company acquired 20th Century Fox, which includes television networks like FX and National Geographic Channel. As you may know, Disney has plans to make a streaming service of their own called Disney+. They also have full control over Hulu after Comcast agreed to sell its ownership stake.
It's possible American Horror Story could be pulled from Netflix for Disney+ or even Hulu. Disney now has control over where the FX series can be streamed. But, if it happens, it probably won't happen anytime soon. Netflix currently has a deal in place for the FX title. However, the details of the deal are unknown, and only time will tell what will happen in the future.
Nevertheless, it seems American Horror Story creator Ryan Murphy has left FX for Netflix. In February 2018, he signed a $300 million deal with Netflix. And it seems the Disney-Fox merger prompted Murphy to do so.
"Three months ago I thought I would literally be buried on the Fox lot," Murphy said in January 2018, per Variety. "I said point-blank the stuff I do is not Disney and I'm not interested in that and I'm concerned about that. 'Am I going to have put Mickey Mouse in American Horror Story?'"
Despite Murphy's move to Netflix, it seems the fate of American Horror Story is in the hands of Disney. But for now, fans can rest easy. There are no current plans to remove the anthology series from Netflix. And hopefully, viewers will get to watch the show on the streaming service for years to come.
Check out Showbiz Cheat Sheet on Facebook!