When Will Disney Release a Baby Yoda Plush Toy? The World Finally Has Answers
Alright, everyone knows who Baby Yoda is by now, and odds are his adorable appearance has also entranced them. The Mandalorian never promoted the Child, and because of that, they were able to deliver one of the biggest surprises in Star Wars since Vader said, "I am your father."
Now that the cat's out of the bag, fans demand a personal Baby Yoda in the form of a plushie so they can have their own, cute Force-sensitive alien at home. But toys and merchandise are nowhere to be found. Will Baby Yoda come to stores before the holidays? Or at all?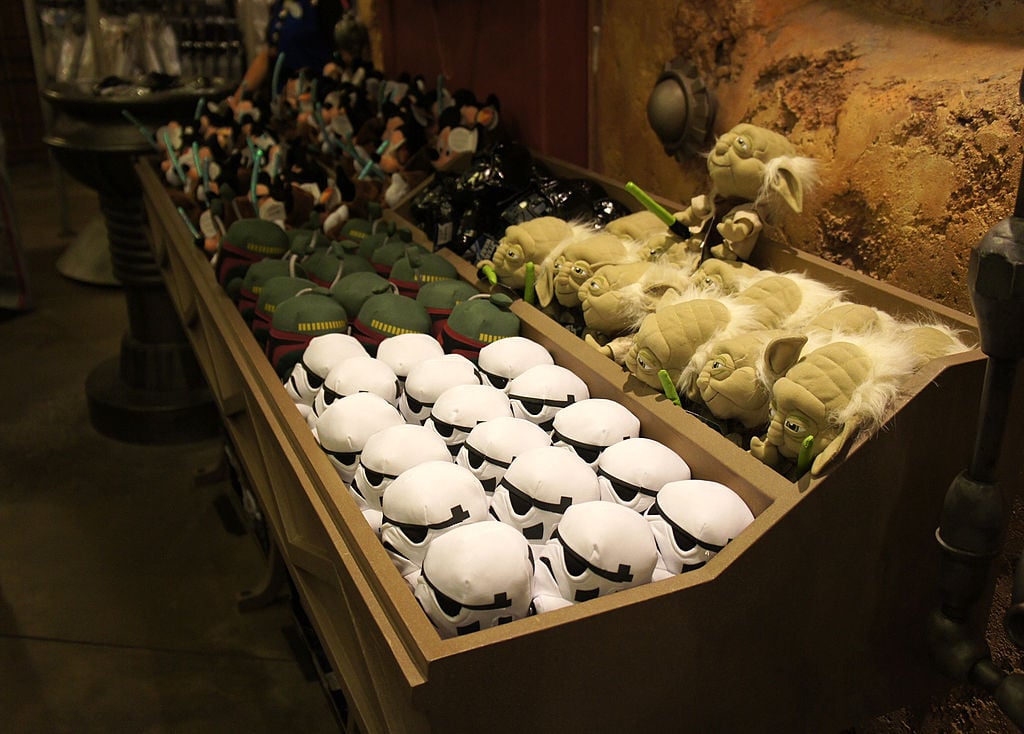 People are dying to get their hands on a Baby Yoda toy
After The Mandalorian made it to his high-paying bounty and found out it was a cute baby alien, he couldn't let IG-11 kill it. It doesn't seem like he'll give Baby Yoda to The Client, but who knows. In the meantime, the unofficial fan club for the Child is growing each day.
Disney is known for its absurdly cute creatures and characters, as well as its ability to make equally-cute plushies and merchandise. Because of this, it is a bit odd that Disney hasn't unveiled plans to launch toys of Baby Yoda. Until now.
Are there plans to release a toy?
Fans of Baby Yoda — which is the entire universe at this point — will be very excited to know that, despite the delay, Baby Yoda toys will arrive in stores before Christmas, according to WGN Chicago. In a CNBC report, Hasbro stated they would make the line of toys based on The Child from The Mandalorian.
A pretty long list of stores will carry the products, including Amazon, Zazzle, Target, Kohl's, Macy's, Hot Topic, and Box Lunch, according to CNBC. There will be shirts and apparel as well as accessories, but no specific word on those plushies. The items aren't on the websites just yet, but the outlet said they could be available "as early as Friday," possibly referring to Nov. 22.
They have a couple of pictures of shirts with an illustration of Baby Yoda on them. Merch will also be available at Disney retailers and parks, but there isn't confirmation it will ship before the holidays.
There's an explanation why Disney hasn't sold any yet
Again, it's weird that Baby Yoda's weren't sold in stores the moment the baby alien locked eyes with Mando. But there is a reason why you don't have 20 plushies already at home, and it makes sense
In an interview with Entertainment Tonight at the premiere for the series on Nov. 13, Jon Favreau blamed toy leaks for holding off on Baby Yoda beanies and toys. "I have to thank Disney and Lucasfilm because the way the cat usually gets out of the bag with that stuff is merchandising and toy catalogs and things like that. So they really back us up," he explained, according to Slashfilm.
Favreau also told how important the Baby Yoda surprise was. "We really wanted to have it be that you had to watch it yourself, so that every time you watch the show, there are new twists and secrets that come out," he said. "That requires a lot of restraint from the people who are footing the bill, saying they're gonna hold back on certain things so that the public doesn't know ahead of time. Part of that was holding back on some of the merchandise and holding back on some of the characters."
So, even though fans had to wait a little bit, it was worth it for that reveal at the end of Episode 1.