When Will Meghan Markle and Prince Harry Reveal Their Baby's Name?
Meghan Markle and Prince Harry have an enviable relationship straight out of a fairytale. Their relationship even features an "evil witch," the media, which has been painting Markle in a negative light since day one. While not everyone approves of Prince Harry's new lady love, the actress turned royal has managed to win over one of the most important members of the family —  Queen Elizabeth.
Despite the backlash, the royal family's most controversial couple are finally following in the footsteps of their predecessors and will be welcoming their first child into the world this year.
Meghan Markle and Prince Harry have royal rules to follow when naming their child
Their Royal Highnesses The Duke and Duchess of Sussex are very pleased to announce that The Duchess of Sussex is expecting a baby in the Spring of 2019. pic.twitter.com/Ut9C0RagLk

— The Duke and Duchess of Cambridge (@KensingtonRoyal) October 15, 2018
Naming a baby is never a simple task for royalty. The Duke and Duchess of Sussex will need to follow a set of rules while brainstorming for their baby-to-be.
The first rule is to honor British history and abide by family tradition. The soon-to-be parents will have a list of royal options they can reference to pay proper homage to the monarchs of the past. The second rule is that British names need to be both relevant and relatable. While following traditions is crucial it's important for the royal family to show that they are aware of the world outside of "the castle."
Lastly is receiving the Queen's approval. This isn't a strict rule but Queen Elizabeth is informed of the name choices before they go public. Even if she doesn't force her opinion on her family, a name that doesn't bode well with the Queen probably won't make the cut.
Of course, they aren't the only royal couple who had to abide by the royal baby naming rules. Prince William and Kate Middleton also followed the royal parenting agenda when handling their children's early upbringing.
How involved are other royals in the baby naming process?
While the Queen's approval is sought, other royals may give suggestions to the parents-to-be. Outside of couples referring to the British royal lineage, active interference in the naming process by others in the family is mostly unheard of.
What name will Meghan Markle and Prince Harry give their baby?
Bookmakers Ladbrokes make Samantha a 100-1 outside bet for the royal baby name. Most bookies make traditional royal names eg Alice, Arthur, Philip, Victoria – and, of course, Diana – their early favourites.

— Richard Palmer (@RoyalReporter) October 15, 2018
The bets have already begun on potential names for the future Earl of Dumbarton or Lady Mountbatten-Windsor. British oddsmakers have predicted that Victoria, Samantha, Alice, Elizabeth, Albert, Arthur, and Alexander are all top choices. Considering the names of the royal baby's grandparents, both Diana and Charles, are also up for grabs.
Prince Charles of Wales has also weighed in, saying that Kylie (after Kylie Minogue), and Shane (after Shane Warne), are also in the running for the newest member of the royal family.
When did Kate Middleton and Prince William reveal their children's names?
The couple followed the royal rules with all three of their children. They named their first two children two days after their birth and their most recent child four days after his birth announcement.
Louis Arthur Charles, their third child, is most likely named after Prince Charles' great-uncle, Louis Mountbatten. Louis is also Prince George and Prince William's middle name. Arthur is a name with a strong royal background and is another name the youngest shares with his father. Charles is a nod to Prince William's father.
Princess Charlotte Elizabeth Diana's first name hasn't been used in over 200 years and is a female variant of Prince William's father, Prince Charles and Duchess Kate's sister, Pippa. Elizabeth is a nod to The Queen herself as well as Kate's mother and Diana was Prince William's late mother's name.
George Alexander Louis is named after the Queen's father, King George VI. The middle name honors Queen Elizabeth, whose middle name is Alexandra and Louis is a tribute to Prince Phillip's grandfather, Prince Louis Alexander of Battenberg.
When will Meghan Markle and Prince Harry reveal their baby's name?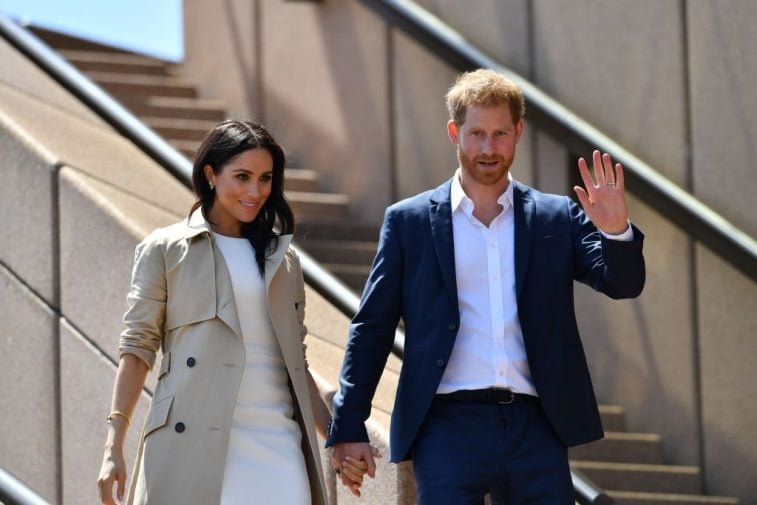 The royal family often waits to announce their children's names to the public. While we don't know precisely when Prince Harry and Markle will be letting the world know their baby-to-be's name we can look at other royal couples to see how they've handled their announcements.
Princess Diana and Prince Charles waited a week before announcing Prince William Arthur Philip Louis Windsor's name in June of 1982. While a week may seem like a long time, Prince Charles' full name wasn't released for an entire month. On the opposite side of the spectrum, Prince Harry's name was announced less than a day after he was born.
There's a wide range so anything is possible but with talks about Markle breaking away from tradition for her birthing plan, perhaps the naming protocol and delay will also veer from the standards.