When Will Ming-Na Wen's Character Appear in 'The Mandalorian'?
So when does Mulan show up in The Mandalorian?
Mulan might actually fit in the Star Wars world with her fire-breathing miniature dragon sidekick Mushu, but Disney would not be quite that meta. Besides, they've got a live-action Mulan on the way next March, so the next best thing to do would be to put Ming-Na Wen in The Mandalorian, and that's totally fine by that major Star Wars fan.
Wen's character will appear very soon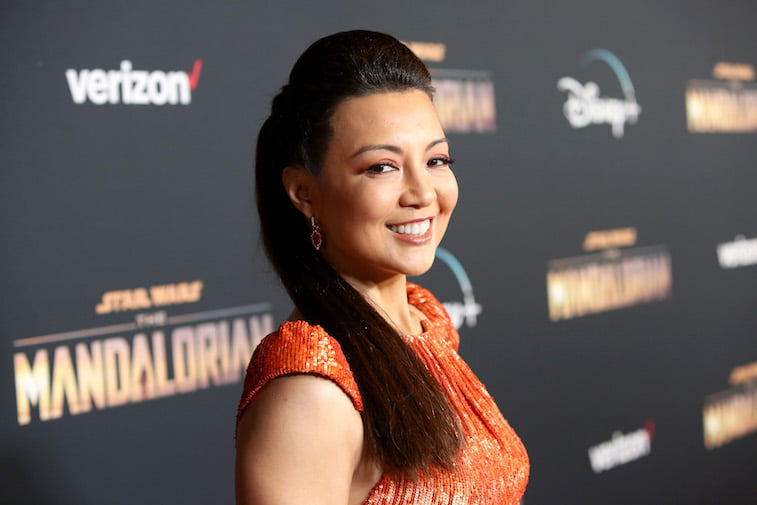 A Vanity Fair profile of the actress states that Wen's character, an assassin named Fennec Shand, will appear midway through the first season of the Star Wars live-action series. If it means literally midway, that would mean Chapter 4, which drops on Friday, November 29. If not then, Chapter 5 drops Friday, November 6.
Wen's IMDB profile does not indicate which episode the actress appears in, but it sounds like she could be in episode 4, given this plot description: "The Mandalorian teams up with an ex-soldier to protect a village from raiders."
In Vanity Fair, The actress describes her character as much like Han Solo, in that she seems to be primarily interested in herself. "Thinking that she's a mercenary, it can go either way," Wen said.
Given that her claim to fame is murdering people for crime syndicates, it sounds like she's more villain than hero, and if she showed up earlier in the Star Wars story, she would be one of the bounty hunters trying to track down Han. 
Ming-Na Wen adores star Wars
The actress told the FanX Salt Lake Comic Convention, "Ever since I was a little girl, when I saw Star Wars, it changed my life … I used to like pray to God, Buddha and the Force. I'm not kidding. And to this day, when I get on a plane, I still pray to God, Buddha and the Force we land safely."
Growing up as an Asian girl in Pittsburgh made her feel like being on the outside looking in, so Star Wars was like a window to a new world for her. "think for me, with Star Wars, I connected so much with Luke having these dreams and wanting something bigger and better than being a little farmer in Tatooine.
Just that image of him looking at the binary suns and wishing for more, it always stays with me," she told Vanity Fair. 
Asian influence has been in Star Wars from the beginning with Darth Vader's helmet design being very much like that of a samurai. The story of the original 1977 movie is very much in the model of the classic film The Hidden Fortress, by director Akira Kurosawa, in that the story is initially told from the point of view of the lowliest characters, the droids. However, there haven't been many actual Asians in Star wars.
"There was all this incredible imagery, but yet there were very few Asians in the films," Wen said. "Any sort of representation is important and necessary. And I'm just happy that I got chosen. It was meant to be."
Wen has a legacy with Disney too
This would be one of several times Wen has honored Asian representation after voicing the title character of Mulan in the 1998 animated film. She was named a Disney Legend earlier this year.
Her official citation quotes her as saying, "I am ecstatic to have played a character with such long-lasting influence. Mulan is a role model not just for little girls but little boys, too. And for adults! I love it when the moms bring their kids to meet me. They tell me what an impact Mulan has been in their lives, and now, in their kids' lives as well. It's the magic of Disney to be able to translate a Chinese story and make it relatable to everyone for all generations."
Her other work for Disney includes Phineas and Ferb, Disney XD's Guardians of the Galaxy and Milo Murphy's Law, and the series of superhero shorts Marvel Rising: Secret Warriors. She also played Agent Melinda May on the ABC series Marvel's Agents of S.H.I.E.L.D.