When Will the Lifetime Movie About the College Admissions Scandal Be On TV?
Felicity Huffman is headed to prison. Lori Loughlin is headed to trial. And a movie about the college admissions scandal is headed to Lifetime. 
In July, the network announced it was making a movie inspired by the headline-grabbing story of wealthy parents who paid big bribes to ensure their kids were admitted to elite colleges. Huffman and Loughlin were among the dozens of parents charged in the case. While the characters in the made-for-TV flick aren't directly based on the two actresses, the story of two mothers desperate to ensure their children were able to attend a prestigious institution is sure to make for a gripping drama. 
'The College Admissions Scandal' airs October 12 
Lifetime moved quickly with its movie about the scandal. Though the parents were just charged in March and the movie announced in mid-summer, The College Admissions Scandal will premiere on October 12 at 8/7c. 
The movie follows two mothers, Caroline (Penelope Ann Miller), an interior designer, and Bethany (Mia Kirshner), the owner of a financial services firm. Both are obsessed with making sure that their teens get into an elite college. Then they meet admissions consultant Rick Singer (Michael Shanks), who offers a side door into the schools of their dreams — but at a price. After Singer is caught and starts cooperating with the FBI, Caroline and Bethany must face the consequences of their actions.  
Beyond the Headlines: The College Admissions Scandal with Gretchen Carlson, a documentary about the scandal, airs after the movie. Carlson will interview a family that encountered Singer, the mastermind of the scheme; a former dean of admissions at an Ivy League university; and a mother who is suing those involved in the scandal. 
Where do things stand with Felicity Huffman and Lori Loughlin?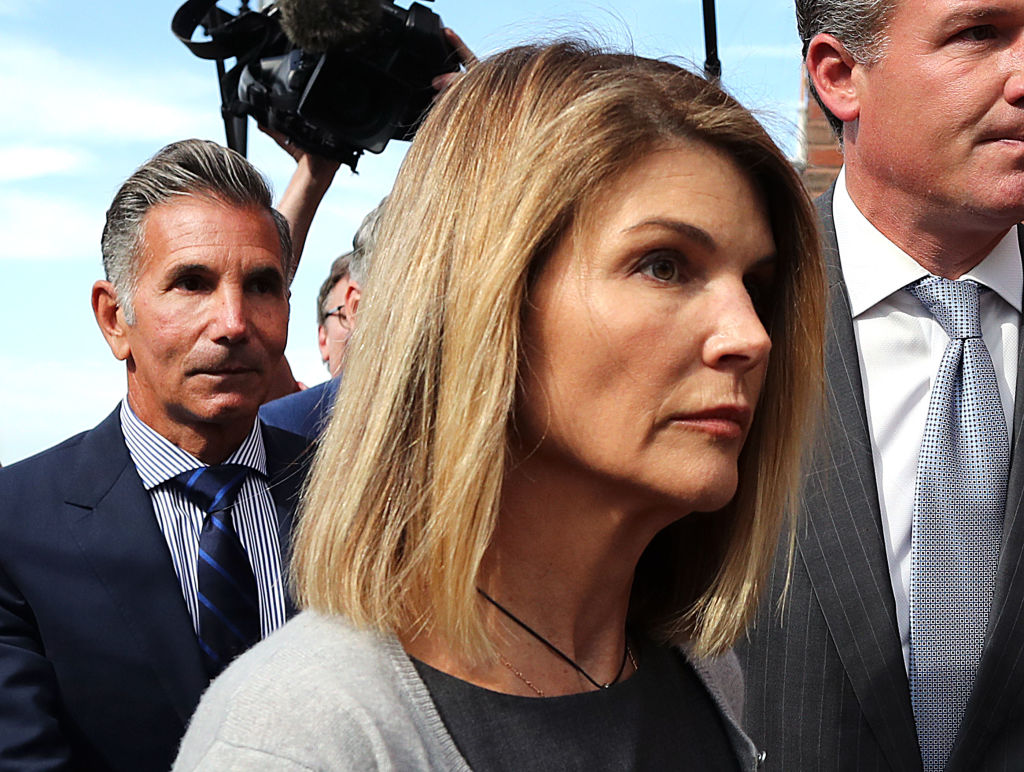 While prosecutors charged dozens of parents in the college admissions scandal, two names garnered the most press. 
Desperate Housewives star Felicity Huffman and Full House alum Lori Loughlin both worked with Singer. Huffman paid $15,000 to have someone correct answers on her eldest daughter's SAT. Loughlin, along with her husband Mossimo Giannulli, allegedly forked over $500,000 to make sure that their two daughters were admitted to the University of Southern California as crew recruits. 
Huffman quickly accepted responsibility and agreed to plead guilty to fraud. In September, a judge sentenced her to 14 days in prison. She'll also pay a $30,000 fine and complete 250 hours of community service. She'll report to prison on October 25. 
Loughlin and Giannulli have pleaded not guilty to fraud and money laundering. They face up to 40 years in prison if found guilty. 
"Lori is sticking with her story that she and her husband were scammed by Rick Singer," a source told Entertainment Tonight. "She has claimed to friends that they always thought the money was going to a charity through the school. She says she doesn't feel for one minute they were breaking the law."
The College Admissions Scandal airs Saturday, October 12 at 8/7c on Lifetime. It will be followed by Beyond the Headlines: The College Admissions Scandal with Gretchen Carlson at 10/9c.
Check out Showbiz Cheat Sheet on Facebook!