Where Did Kim Kardashian Fall in Love With Kanye West?
Kim Kardashian and Kanye West have been one of America's favorite couples since the very first time that they announced they were dating. Every day, millions of people flock to their social media pages desperate to find any new pictures or information about the super cute couple.
Together, they have four kids: North, Saint, Chicago, and Psalm. Every time they are filmed together or we get to see a new picture of their beautiful family. The Kardashian-West household looks to have the kind of happiness that can usually only be found in storybooks.
So where did Kim and Kanye meet and how did they get to be the happy couple that we know and love today? Here is what we know about when Kim Kardashian fell in love with Kanye West.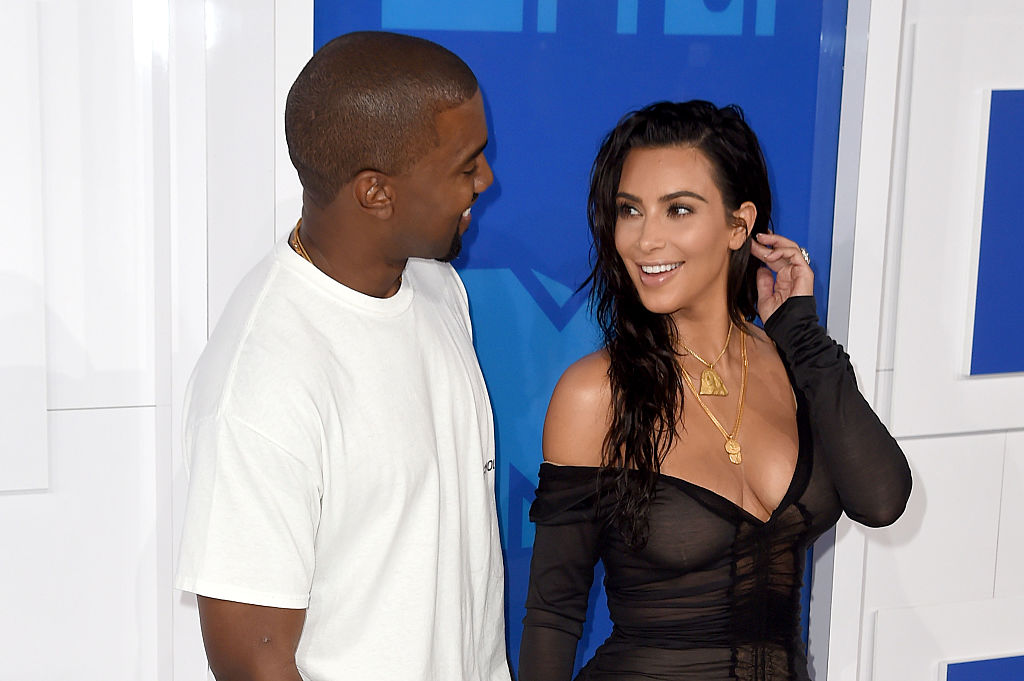 When did Kim Kardashian and Kanye West first meet?
Kim and Kanye were first introduced sometime between 2002 and 2003. They first met when Kim's friend, Brandy, was recording a song with Kanye West. Kim had accompanied her friend to the studio a few times and that is where she and Kanye sparked up a friendship. At the time Kim was married to Damon Thomas, so Kim and Kanye's relationship was strictly platonic.
Kim and Kanye remained really close friends for almost a decade before they started officially dating. In 2012, Kim sat down with Oprah and explained how being friends with Kanye first helped to set a good foundation for a healthy and strong relationship down the road. "We met maybe almost a decade ago," Kim shared with Oprah. "I've known him for a really long time, we've been friends for like six or seven years, so it's very comforting to have someone who knows everything about you, respects you, understands, gone through similar things."
They had both lost a parent (Kim's dad passed in 2003 and Kanye's mom passed away in 2007), and it was those types of life experiences that helped both of them be able to relate to one another on a more personal level.
Where did Kim Kardashian fall in love with Kanye West?
In October of 2011, Kim Kardashian had filed for divorce from her then-husband, Kris Humphries after just 72 days of marriage. A few months later, while the divorce proceedings were still being sorted out in court, Kim says her friend, Kanye, tried to cheer her up by taking her away to Paris so that she could forget all of her troubles.
On the Keeping Up with the Kardashians 10-year anniversary special, Kim had explained how that trip is where she fell in love with her future husband and the father of her four kids. "After my breakup, I was feeling really low and down and he said, 'Just come to Paris and see my fashion show.' So I went there and I stayed with him and that's where we started dating. I swear from the moment I landed, I fell madly in love with him and I thought, 'Oh my God, why didn't I do this sooner?"
Their relationship started off by being surrounded by negative rumors
During their 10-year friendship, Kim and Kanye were both in other relationships with different people. Some of their now-exes had claimed that Kim had actually been cheating her then partners with Kanye West.
Kris Humphries and Kim were still technically married when she got engaged to Kanye. Although the two had been legally separated for some time, Kris has hinted before that he thinks Kim may have actually been seeing Kanye while he and Kim were still in a relationship.
Amber Rose has also thrown accusations at both Kanye and Kim. She claims Kanye had cheated on her with Kim during their two-year relationship back in 2008. However, both Kim and Kanye have always maintained that they never cheated on anyone and insist that they did not start dating until they were both completely single.
Kim and Kanye's relationship shows us that sometimes you have to figure out who is wrong for you before you can find the one that was meant to be yours all along. We are certainly glad that these two were finally able to realize that they were meant for each other and we wish them nothing but happiness in the future.