Where in the World is Rob Kardashian?
To be fair, Rob Kardashian never seemed particularly comfortable with life in the spotlight. Seemingly henpecked into appearing on reality TV, the only male Kardashian didn't seem to know how to deal with his sudden celebrity status. Things were going well enough for a while, but a tough breakup, a tougher rebound, severe weight gain, and familial strife has seemingly pushed the former Keeping Up With the Kardashian star to the brink. Now, Rob hasn't been spotted in public in more than 800 days, according to Radar Online, and everyone is more than a little concerned. Before we figure out what he's been up to, however, it's crucial to figure out how he got to this point.
Things went downhill for Kardashian after Rita Ora
Kardashian's breakup from Adrienne Bailon in 2009 was rough. The young couple had been living together when it was revealed that Kardashian had cheated. Bailon left and is seemingly living her very best life now. The breakup from Bailon was nothing in comparison to Kardashian's rebound relationship with Rita Ora.
Kardashian seemed blind-sided by the fact that Ora was seeing other people. He alleged that she regularly cheated on him, but to hear Ora tell it, things were never really that serious, to begin with. She insisted that while they were "close" for a while, she was not dating him, according to The Christian Post.
When the pair went their separate ways, Kardashian started putting on weight, leading many to believe he was depressed. Sure, maybe he was or is depressed, but Ora probably isn't the sole reason for it. A lot has gone on in the Kardashian household in recent years. Add in the reclusive Kardashian's difficulty in dealing with the spotlight, and it would stand to reason that he's a bit down.
Rob Kardashian's toxic relationship with Blac Chyna didn't help either
After Ora, Kardashian linked up with Blac Chyna, and as things seem to go for Kardashian, things got serious quickly. The pair welcomed a child together, but toxicity eventually pulled the couple apart for good. The pair broke up and got back together several times before it became clear that they were better off apart, but the damage was seemingly done.
Kardashian has battled with Chyna in the legal arena since, first over custody of their daughter, Dream, then over their canceled reality TV show. Things don't seem to be nearly as bad lately, at least they are keeping their drama off of social media, but Kardashian appears to be entirely over being spotted out and about. In fact, he seems to be going to great lengths to ensure it doesn't happen.
What is Rob Kardashian up to these days?
The only son of the Kardashian family isn't just keeping a low profile these days, he's become something of a recluse. According to insiders, the former reality TV star struggles with pretty severe anxiety and has all but refused to leave his home; at least he won't go when he thinks he'll be spotted. He's refused to attend family public events, too.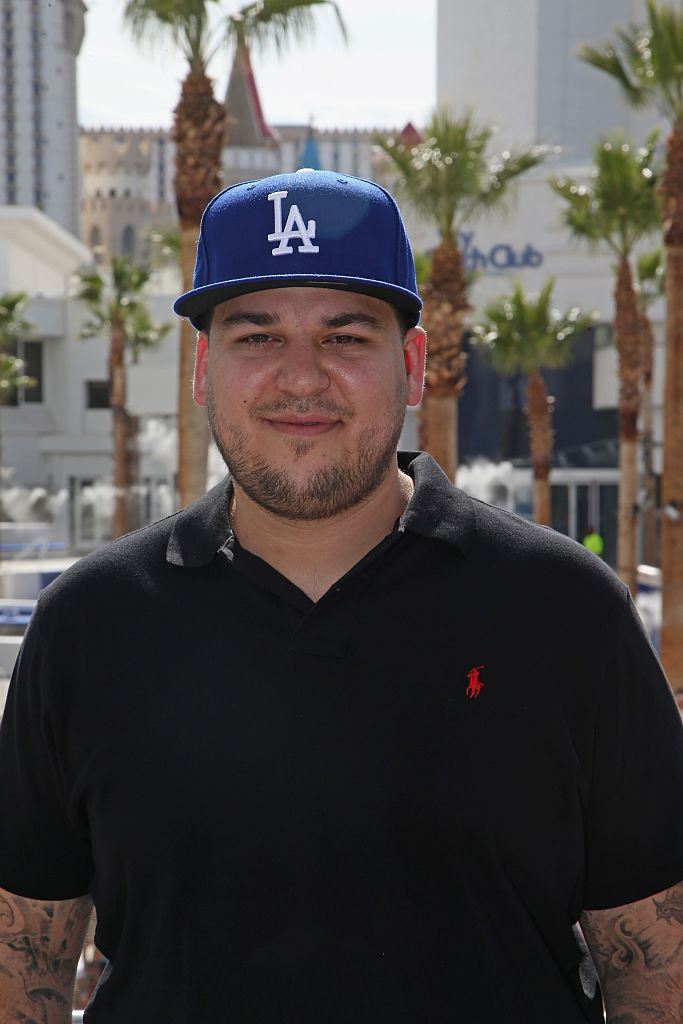 A failed clothing brand launch, toxic relationships, and trouble within the family have forced him to retreat to the confines of his home. While some people argue that Kardashian is just seeking a quiet life, others fear the 31-year-old father is actually suffering from severe mental health issues, and they believe the problems are not new.
The youngest child of Kris Jenner and Robert Kardashian left Kim's wedding early back in 2014. His toxic relationship with Blac Chyna drew him out of his shell for a short time, but he still preferred to spend time inside the safety of his house, rather than out in the world. Right now, it appears as though he's keeping things low-key and staying away from public events. Maybe he's planning a comeback, or perhaps he's hoping to sink into obscurity. It's hard to say what his end game is because he's not talking about it.