Where Is the 'Frasier' Cast Now?
'Frasier' has been off air for years but learn more about where the cast members are now.
Now 15 years off the air and in continual syndicated reruns, Frasier is a continual reminder of how witty network sitcoms once were. If most of the networks have gone back to sitcoms celebrating blue-collar workers, having a show about a pompous intellect taking on lowbrows still has resonance. After all, The Big Bang Theory basically lifted the same premise.
The cast of Frasier is still continuously celebrated, but they've all moved on to other things as we knew they would. Some have stayed in the limelight a little more than others.
Of course, Kelsey Grammer is still very active. With his desire to want to reboot Frasier, it's worth taking a minute to see what happened to the cast and the projects they did after the series ended.
What happened to all the sideline characters at the radio station?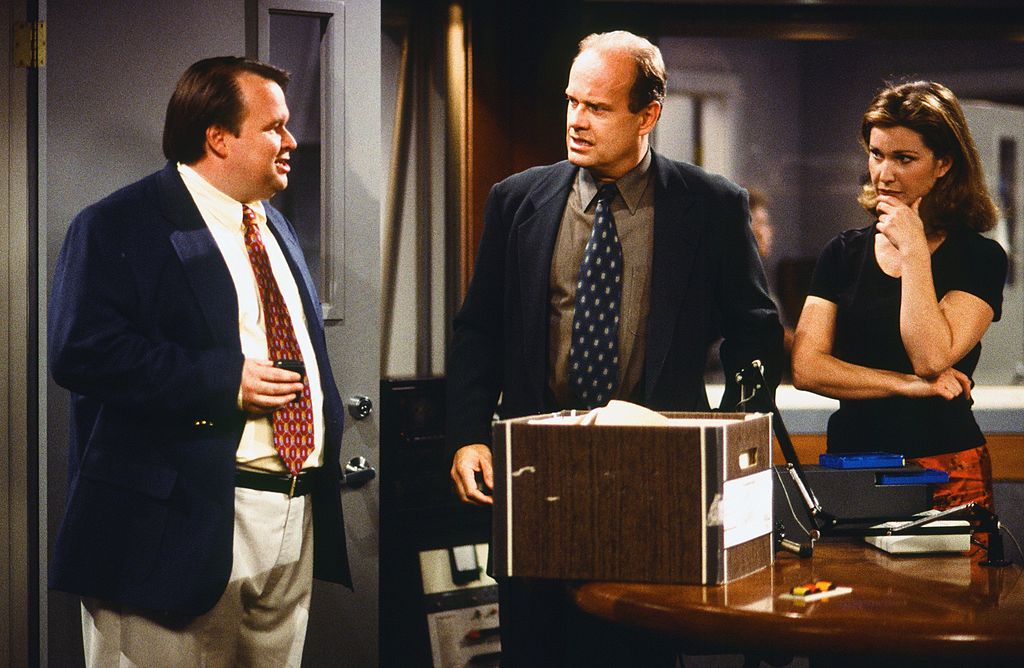 Remember Peri Gilpin who played Frasier's producer, Roz, during his Seattle radio show? Her sarcastic character truly gave Frasier headaches while tempering his cerebral side. Her blistering one-liners would be great to see again if Frasier does a reboot, though it seems unlikely she'd return.
Gilpin has been very busy acting on various shows over the last 15 years ranging from Desperate Housewives to (recently) Station 19. She even acted on another 2009-2011 series called Make It or Break It about Olympic teen gymnasts.
You also have another popular sideline character at the radio station who became a standout: Bob "Bulldog" Briscoe, played by Dan Butler. As a boorish sports broadcaster, he was also the ire of Frasier's buttoned-down sensibility. The interplay between the two was just as hilarious as the repartee between Frasier and his dad.
Actor Dan Butler is a renowned stage and TV character actor who's still acting today. While intended as a regular on Frasier, he was already adding up other TV credits while the series was still on the air. After a bit of a TV break in recent years, he's been back recently playing small roles on shows like Blindspot and Tales of the City.
What happened to John Mahoney?
It's possible Eddie the Dog (real name: Moose) is one of the most popular dogs in TV sitcom history. According to IMDb, he received more fan mail than the human cast members, which really says something.
Moose acted on Frasier as Eddie through the entire series. He sadly passed away at age 15 in 2006, only two years after the show ended. In-between the show run, he acted in one notable movie: My Dog Skip in 2000.
Apparently, Moose was a bit of a tyrant on the set, proving celebrity dogs truly do need their own agents.
Eddie's owner, Marty Crane, was played by the incredibly funny and talented John Mahoney. No doubt you've heard he passed away in February of 2018 at age 77. Grammer considered him a surrogate father in real life.
Catching up with Jane Leeves, who played Daphne
Jane Leeves was already a well-regarded comic/dramatic actor in the U.K. before landing the role of Daphne, the live-in caretaker to Marty Crane, on Frasier. Before she played Daphne Moon, she got her start as one of Benny Hill's dancing girls (Hill's Angels) in Britain, plus co-starring in a syndicated American sitcom called Throb during the late 1980s.
Playing Daphne made her a big star, making it directly responsible for her continuing to work. You've seen her many places (including hearing her distinctive voice) on TV and in movies. She's one of the few Frasier cast members to find success in another long-running series: Hot in Cleveland on TV Land.
At the moment, she's currently acting on Fox's medical drama The Resident.
Following up on David Hyde Pierce and Kelsey Grammer
We all know how ubiquitous Grammer still is on TV, movies, and the Broadway stage. He's acted on four different new series since Frasier ended, with Boss bringing him critical acclaim for his dramatic performance. Outside of looking toward a future Frasier reboot, he's acting on a Fox legal drama now called Proven Innocent.
Pierce turned more to Broadway in recent years and ended up becoming just as celebrated there as he was on TV. You've probably noticed he's been nominated for various Tony Awards over the last decade, winning one in 2008 for his role in Curtains. Pierce hasn't made any big-screen movies for a while. However, some of his most prominent TV work includes a brief recurring role on The Good Wife, including streaming with two Wet Hot American Summer movies.