Where You've Seen Oscar-Nominated Olivia Colman Besides 'The Favourite'
Olivia Colman is an Oscar nominee for her role as Queen Anne in The Favourite alongside Emma Stone and Rachel Weisz. Her résumé is filled with diverse roles she's played throughout her career.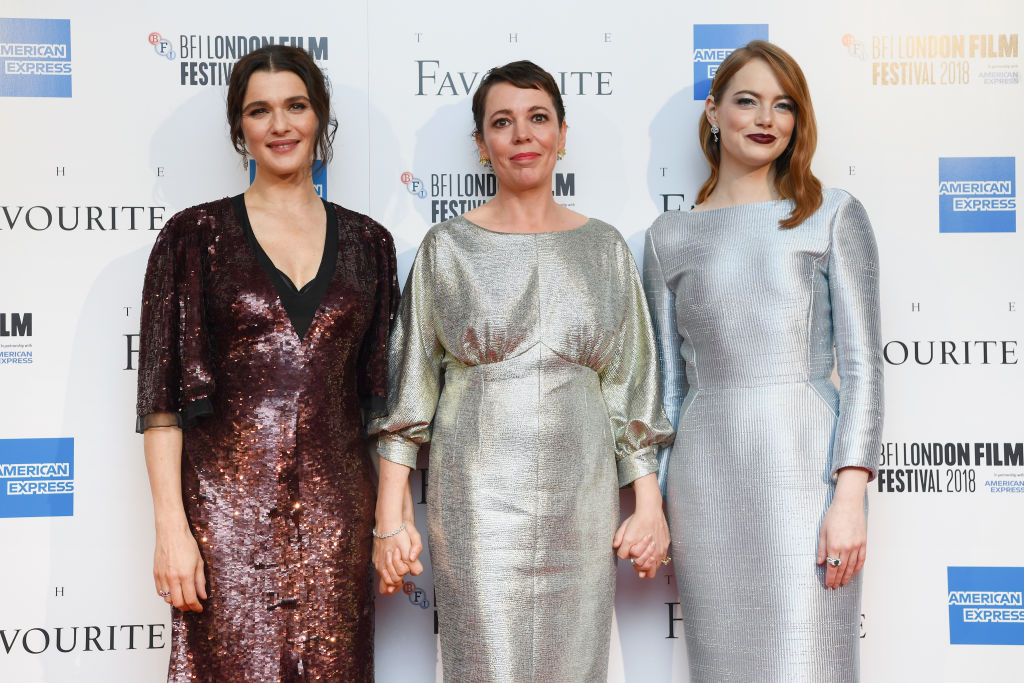 See some of Colman's more well-known works ahead. You can see if Colman takes home the Oscar for Actress in a Leading Role on Sunday by using our guide to watching the Oscars online.

'Tyrannosaur' (2011)

Colman played Hannah in this 2011 film about a man who lost his way and attempts to redeem himself with Hannah's help.
Audiences and critics alike enjoyed the film with critics giving it an 83 percent and audiences 85 percent on Rotten Tomatoes. Interestingly, the film's script was written in one week.

'The Lobster' (2016)

In a dystopian future, single people are turned into animals if they don't find a mate during a 45-day hotel stay, according to IMDB.

The movie's main character, David, played by Colin Farrell, wants to become a lobster if he ends up alone, with Rotten Tomatoes calling it "an acquired taste."

Colman plays the hotel manager who checks in with David throughout his stay. Rachel Weisz also plays a role in the film alongside Colman and they later meet again in The Favourite.

'Broadchurch' (2013-2017)

Colman played detective Ellie Miller in this dark and gritty series about crimes in a small seaside town.
Each season focuses on one major crime, the first season starting off with a local boy being found dead on the beach.
If you like British TV shows or crime TV shows, you'll want to binge watch the three seasons of Broadchurch available on Netflix.

'Murder on the Orient Express' (2017)

Colman played the character, Hildegarde Schmidt, in the 2017 film, Murder on the Orient Express, alongside Judi Dench, Kenneth Branagh, Penélope Cruz, Johnny Depp, and Willem Dafoe, according to IMDB.

Next: 'The Crown'

With the success and award buzz surrounding Colman's latest work in The Favourite, there's no doubt we'll be seeing a lot more of her in the future.
Colman is set to play Queen Elizabeth II in Seasons 3 and 4 of The Crown. Netflix announced her addition to the cast back in 2017.
An exact date hasn't been confirmed for the release of Season 3 only that it will premiere in 2019.

Playing the queen is difficult

Colman shared with Vanity Fair why playing Queen Elizabeth II has been difficult for her.
"My problem is, I emote," Colman said. "The Queen is not meant to do it. She's got to be a rock for everyone, and [has] been trained not to. We've discovered that I can't do it."

She has a trick to playing the queen

"I've come up with a little trick … Whenever anyone is telling me something sad, which just makes me cry, they give me an earpiece and they play the shipping forecast," Colman told Vanity Fair.

"It's somebody going, 'And the winds are fair to midland…blah, blah.' I'm sort of not listening to what [the other actors are] saying. I'm trying so hard to tune into the shipping forecast and not cry."

Next: 'Les Miserables'
Victor Hugo's classic novel, Les Miserables, gets a new TV adaptation thanks to PBS.

It's already aired in the U.K. but won't air stateside until April 14 at 9 p.m. ET on PBS, according to Town & Country.
Colman plays Madame Thénardier. Other cast members include Lily Collins, David Oyelowo, and Dominic West.