Which 'Below Deck' Chef Just Threw Down a Cooking Challenge?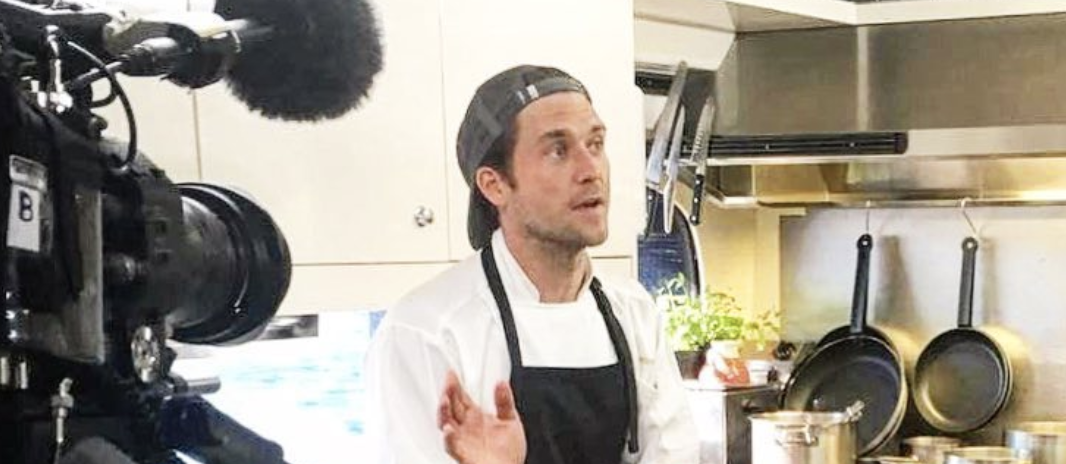 One enticing aspect of Below Deck is getting to watch professional chefs at work on the show. Even though viewers don't get an opportunity to sample the fare, they are treated to the gorgeous presentation. Plus they can watch the guests devour and rave about the meals.
The show has featured the culinary talents of four chefs. Thus far, Chef Adrian Martin and Chef Matt Burns have been on one season of the franchise. Chef Ben Robinson, one of the original cast members, has a few seasons under his belt. Chef Adam Glick has been on two show charters.
So when Glick challenged Robinson to a cooking challenge, what did Robinson say?
An innocent post led to this
Robinson posted to Instagram, "Been cooking many private parties down here in #florida, here's a shot from the other night… Great clients often equals great food… Thank you @Danielle_w919 #cheers #belowdeck #belowdeckmediterranean #bravo." Robinson's client responded to his post. "Amazing night! Food was unreal! Thank you," Danielle wrote.
What amazing culinary creation is featured in the photo? "Truffled green olive, capers, a little anchovy," Robinson wrote.
A few fans made comments until Glick happened upon the post. "Forget the private dinners, I think we should have a Ben vs. Adam throw down while I'm in So Flo next month. Let's go, Ben! I challenge you." Danielle chimed in, saying she'd be happy to host the challenge. Others added they'd love to see this go down and some offered to judge.
And then this tugged at follower's heartstrings
Robinson's former flame and Below Deck alum, Emily Warburton-Adams commented on the thread. "Miss you xx," she wrote. Robinson responded,
"@english_ems How are you!?"
Now fans were standing by to see if the couple would connect.
"@benstogram why don't you ring and ask me?!" Warburton-Adams playfully teased. One follower wrote, "@english_ems ring him! I'd love to see your pow items available in the states! Team up please." Even Below Deck Mediterranean alum, Joao Franco gave Warburton-Admas the hands up emoji.
Warburton-Adams wrote, in response to the request to team up, "Wouldn't that be fabulous – Bemily in business!" Of course one person wrote what everyone was thinking. "@english_ems can you two just get back together already? @benstogram cutest couple ever!"
So…challenge accepted?
Fans stood by waiting to see if Robinson would consider a cooking challenge. "@chefadamglick I'm in….," Robinson wrote. This ignited a flury of comments as fans excitedly pondered a cooking challenge between these two Below Deck great chefs.
"I'd love to see all the chefs together. No need to compete, just cook," one person commented. Another person said they would pay to see this challenge. Meanwhile this person had a suggestion. "So, are u taking Adam's challenge? You guys should do a live cook off and have the viewers cast thier vote."
Other fans offered this idea. "WHAT if Adrian joined this situation?" Many also wanted the event televised or live streamed and suggested any money collected for it go to charity. So…is it a go? And did Robinson call Warburton-Adams? These questions, plus what will they cook, are still on simmer.
Check out The Cheat Sheet on Facebook!