Which 'Below Deck Med' Crew Member Appears in 'Below Deck Sailing Yacht?'
Below Deck fans finally got a small taste of the upcoming new franchise installment, Below Deck Sailing Yacht. During the latest episode of Below Deck, viewers were surprised by a trailer during the commercial break.
While the preview showed the signature Below Deck luxury yacht with an attractive young crew, this series has an element of ongoing action. The luxury sailing yacht appears to be constantly in motion, which seems to take the crew and guests literally off the ground. One crew member who likely found this environment to be especially challenging was the yacht chef.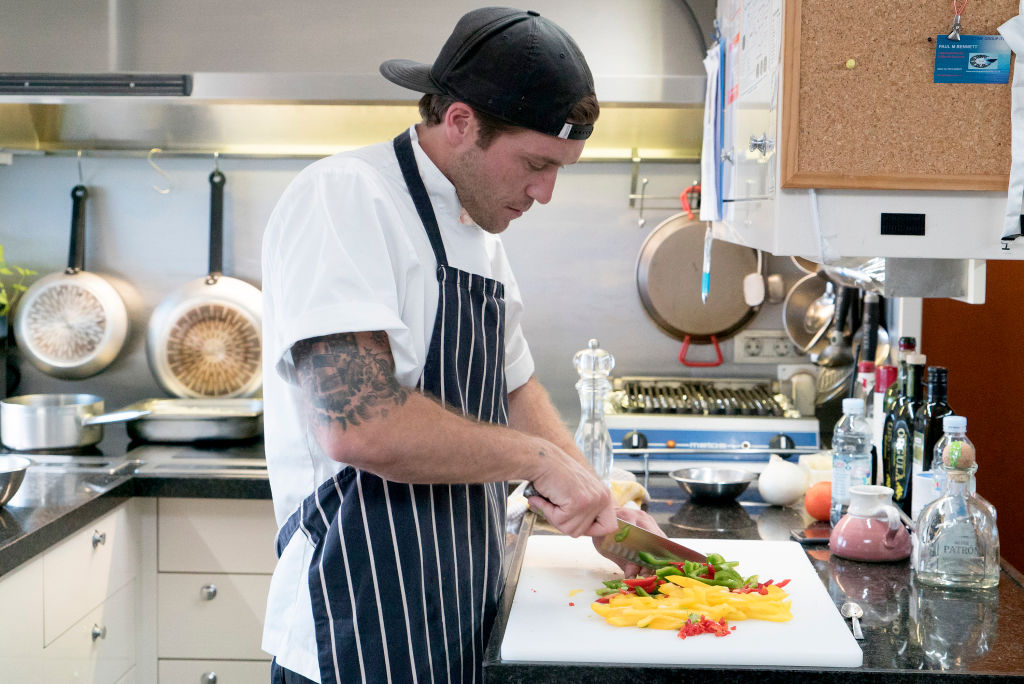 Viewers may recognize the yacht chef on the upcoming season of Below Deck Sailing Yacht. Producers did a crossover from Below Deck Mediterranean and brought over chef Adam Glick to bridge the series. Glick is seen remarking about the challenges of cooking on a luxury sailing yacht, which indicates this season will be wild.
Glick hinted about the show
Cast members cannot reveal if they will appear on an upcoming show, but Glick did a good job of teasing fans on Instagram. In May, Glick shared he'd be heading out to tackle a new adventure. "One last drive through the redwoods and I'm off to Europe. This one's going to be a doozy," he wrote along with a photo of his van driving down a tree-lined road.
He also indicated he was in Greece, which is where Below Deck Sailing Yacht was shot. "Here's a full moon over the Mediterranean Sea. Enjoying my last moments on solid ground before pushing off the dock. I'll be cooking on a new boat with all sorts of new challenges this year. It's going to be a crazy heeled over 50 day adventure and I couldn't be more excited. Let's go!"
Glick didn't share that he was filming but revealed he was on a lengthy adventure at sea. "Just doing some boat thangs. It's hard to believe it's been one month since I went out to sea. . . Happy to say I'll be back on the adventure with my boy Tex in just two more weeks. And I absolutely cannot wait, I miss him so much!"
Cooking on the sailing yacht was a challenge
The Below Deck Sailing Yacht trailer shows how the luxury sailboat is constantly at a tilt as crew and guests stumble. But imagine cooking on a vessel that could get rocked at any moment? Glick offered some insight and it sounds like he definitely faced some culinary challenges.
"Try cracking an egg into a pan on a tilt like this," he shared in June. "Needless to say this season was the greatest cooking challenge of my life. There's not a doubt in my mind I'm a better chef and person as a result of this experience. It's finally time to head home, see my boy Tex, and spend time with family and friends."
Yacht chef Polly Baptist shared how cooking on a motor yacht is different than a luxury sailing vessel. "Galleys on most yachts are fitted out with good appliances, often top of the range cookers, ovens, steam ovens, grills etc. if you are on the large motor yachts. It is slightly different on sailing yachts as the space is much smaller so you have to learn to work around the limitations of space, but it does give you the opportunity to have more shopping adventures ashore as you need to stock up more regularly!"
Adding, "Motor yachts have the most amazing walk-in fridges and freezers which again is rare on smaller sailing yachts, the bigger ones now do have them also but under 50m it is rare." Below Deck Sailing Yacht premieres on Monday, February 3 at 9/8 central, only on Bravo.