Which Braxton Sister Had the Most Successful Christmas Album?
There's a ton of holiday albums to choose from this Christmas season but rarely are fans treated to music from multiple members of the same family. The Braxton Family are known for their reality show and individual music careers, which includes the release of Christmas music. Three different Christmas albums were created from members of the Braxton family and they all were successful in their own right.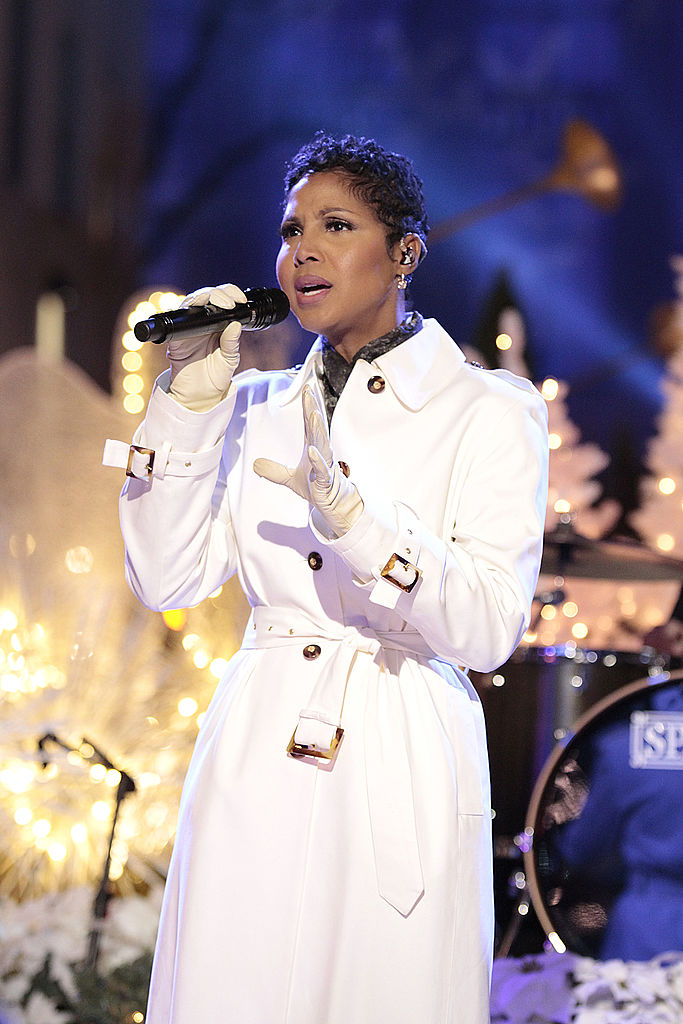 Toni Braxton's 'Snowflakes' (2001)
Snowflakes was Braxton's fourth studio album and her first Christmas album. She worked closely on the album with her then-husband, musician Keri Lewis, who helped produce the record to coincide with Toni's sultry sound. The album was distributed by Atlantic Records in October 2001.
Snowflakes consists of eleven tracks. Toni recorded several covers of classic Christmas tunes, as well as five original songs. She enlisted the help of her longtime collaborator Babyface to help her and Lewis with remixes to Christmas standards. Her younger sister Tamar also worked with her on the album, recording background vocals on many of the songs, as well as co-writing.
Music critics enjoyed the album overall but Stephen Thomas Erlewine's review on Allmusic.com felt that the album paralleled too closely to Toni's signature sound and didn't come off as a Christmas album. He wrote in part, "Snowflakes is something that's very similar to a proper Toni Braxton record, only with an appropriately hushed tone and the sultriness replacing the overt sexiness." He added that the record was "nice" but not "remarkable."
K.G. Roth of Rolling Stone favored the album, writing:
"New songs ooze with the same languid, lush vocals and mellow, hip-swiveling beats that pervade Braxton's other work. Even the standards get glazed with Braxton's sensuality. Her smooth alto lingers on each note and nearly reinvents the classic. A little bit naughty and a whole lot of nice, Snowflakes encourages listeners to put the mistletoe to good use this year."

Rolling Stone
Snowflakes was certified gold in the U.S., selling over 500,000 copies in the first month.
Tamar Braxton's 'Winter Loversland' (2013)
Tamar followed in the footsteps of her big sister when she released her first Christmas album in 2013. Released just a year after her sophomore album, Winter Loversland featured 10 tracks and was a mixture of Christmas remakes and originals. A bonus edition of the album included two additional tracks.
Compared to most Christmas albums, Tamar's was short in length with a total of 30 minutes – something noted in a review on AllMusic.com. The site, however, rated the album 2.5 out of 5 stars mainly because the reviewer felt that like her sister Toni's, the songs felt too contemporary and that Tamar overdid many of her vocals. The review read in part:
"Silent Night and orhers puts forth maximum effort. In some cases, the amount of energy exerted is greater than what's required. "Sleigh Ride" and "Santa Claus Is Coming to Town" get traditional vocal arrangements with contemporary beats, while some songs—like "Have Yourself a Merry Little Christmas," including an undeniably stunning closing note, and a serious "Santa Baby"—are played straight. A medley of "Away in a Manger" and "Little Drummer Boy," apart from what sounds like light fingersnaps, is all vocals as well, more an impressive showcase for Braxton's talent and versatility than anything else."

Allmusic.com
Her remakes of "Santa Baby" and "Sleigh Bells" were well received by fans. Beyoncé even posted a holiday photo montage with Tamar's rendition of "Sleigh Bells" as the background music. 
To promote the album, Tamar included her version of "Silent Night" in her track listing while on tour with John Legend. She also performed a set at Universal City Walk's Holiday concert and had performances on The Real and The Queen Latifah Show.
Winter Loversland was a moderate success, selling a little over 160,000 copies.
Braxton Family Christmas (2015)
The long-anticipated reunion of the Braxton sisters came in the form of a Christmas album. Braxton Family Christmas was the first to include all five Braxton sisters since their debut release in 1989. Viewers of their reality series were treated to behind the scenes footage of the sisters recording the album before its release.
The album consists of eight tracks, featuring three original songs. For the first time ever, their brother Michael Braxton recorded with them in a remake of "Under My Christmas Tree" – a duet he recorded with Toni. The Braxton's original song "Every Day Is Christmas" was the theme song of the Lifetime movie of the same title that Toni starred in during the 2018 Christmas movie season.
The Braxtons used their social media platforms to push the album. The recording process and a special episode of Braxton Family Values featured the family singing their holiday tunes. The family also performed two songs from the album on The Real.
Though Toni's album sold the most records, both Tamar's Winter Loversland and Braxton Family Christmas were favorites amongst fans. Toni's album sales can also be attributed to the traditional record industry during a time where record sales were at a high. Nowadays, songs are pushed digitally.