Which Celebrity Officiated Kathy Griffin's Surprise New Year's Eve Wedding?
Comedian Kathy Griffin surprised fans by announcing she was getting married to longtime boyfriend Randy Bick on New Year's Eve. Griffin wore a gorgeous white-sequined gown pulled together with a smart black sash.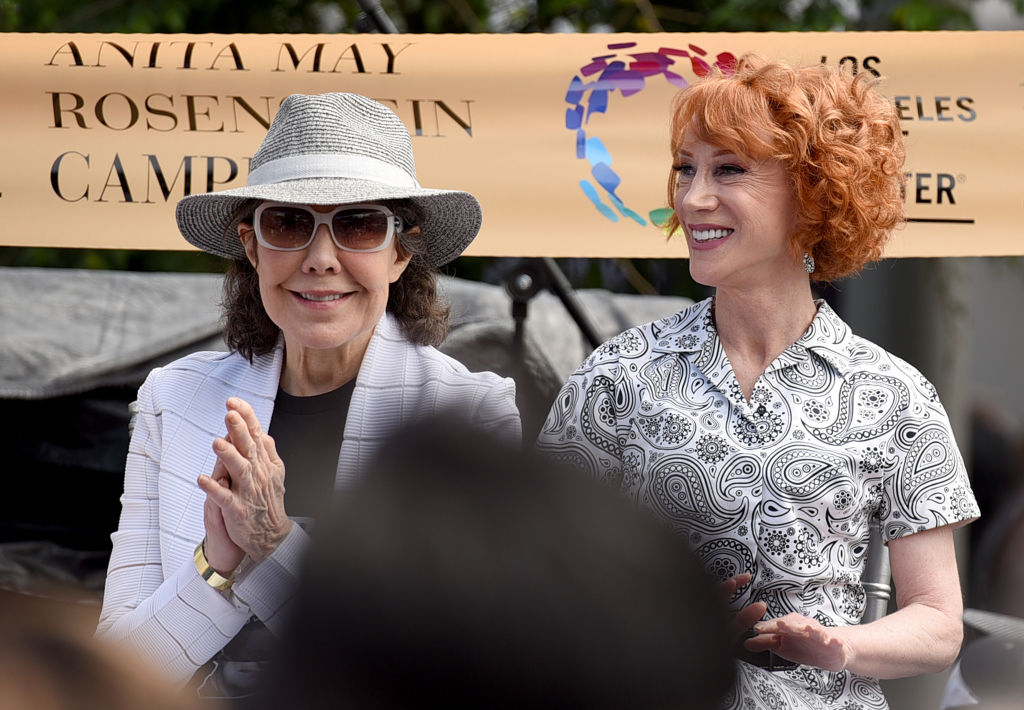 Bick sported a dark suit as the two joined actress Lily Tomlin, who married the couple. Griffin teased the wedding only hours before the clock struck midnight on the east coast, sharing she planned to marry Bick at midnight Pacific Time. In a video she shared on Instagram of the nuptials, Griffin featured Tomlin standing between the couple. "Yes, that is the great Lily Tomlin as our officiant and you will enjoy her wife, Jane Wagner, chatting in the background," Griffin commented.
The video included some funny banter between Griffin and Wagner too as the couple married in a short ceremony.
But first, let's talk about the house
Griffin and Wagner chat away as Tomlin reviews what she plans to say to join the couple together in marriage. Griffin walks in front of the camera and says, "Alright let's do this, people." Wagner remarks, "I love how you painted the arch. Dark that's wonderful." Tomlin stands under an archway in Griffin's home to perform the ceremony.
"This is the greatest house I've seen here," Wagner continues as Griffin smiles her way. "Really great Hollywood." Griffin tells Wagner that the couple re-designed the home to be pared down modern. But Tomlin looks ready to perform the ceremony and the room goes quiet except for a giggle from Wagner in the background.
She adds, "This is so sweet." Tomlin looks over at Wagner as Wagner continues to talk, sharing that Griffin's puppies are in the way. "What should I do with the puppies," she asks. The couples agree to allow the dogs to just go free-range as Tomlin begins the ceremony. "What was supposed to be a shallow, 'toot it and boot it' one-night stand has grown and flourished into something far more meaningful," Tomlin began. "They stayed together. Then they couldn't stay away from one another."
Griffin is a fan and an advocate
Griffin shared that the ceremony only lasted 14 minutes. "The entire ceremony was just under 14 minutes but I have to give you guys the uncut first 75 seconds. LOVE IT! We promised you atypical. We are in love and we cannot stop laughing. Thank you @LilyTomlin and Jane Wagner!"
She has also been a longtime fan of Tomlin and supporter of the LGBTQ community. Griffin joined Tomlin in April to open a new LGBT Center campus in Los Angeles. Griffin told Page Six she stands strong with the community. "Our colleagues on the other side of the aisle might think it's OK to discriminate against the gay community," she said.
"Our colleagues on the other side of the aisle might think it's OK to have a vice president who's clearly closeted himself and yet wants to engage in conversion therapy. But that's not OK," she added. "As a community, you guys get together." Adding, that the community legislates and passes bills "like no community I've ever seen. That's why I'm proud to be your ally now and forever."