Which Former 'Real Housewife' Should Join The 'RHOBH' Cast?
Lisa Vanderpump's absence has certainly left a massive hole in the cast of The Real Housewives of Beverly Hills. When Vanderpump announced she was leaving the show, the rumor mill went into overdrive about who might join the cast.
One of Andy Cohen's friends kicked gossip chatter into high gear when he posted a picture of Cohen and Kyle Richards' sister Kathy Hilton at dinner. His Instagram post implied the network had signed Hilton on to become the next cast member of RHOBH.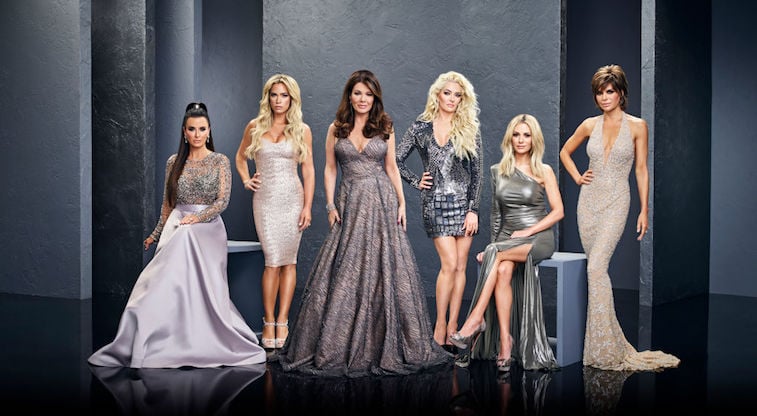 But Hilton (and Cohen) have put those rumors to rest. Both parties insist Hilton hasn't signed on to the show, which means a new cast member could be named any day. But could it be someone entirely new or is a crossover possible? Kyle Richards and Bravo superfan Poppy Montgomery appeared on Watch What Happens Live with Andy Cohen. The two offered which Real Housewives from any franchise would be nice additions to the show.
Does Kyle Richards want her sister to join the show?
When Hilton was rumored to be the next RHOBH cast member, she addressed the gossip in the funniest way. Hilton posted a video to Instagram that featured her cutting someone's hair. She wrote, "Rumors of me joining the Beverly Hills Housewives would interfere with my real job of cutting hair." She examines her "victim" and remarks, "That's it. Well, it still looks too long."
During the After Show, the ladies seemed ready to name a new cast member. A caller asked Richards about her sister joining the show. "I've been asked about my sister Kathy being on the show for many many years," Richards says. "I know the audience thinks it would be a lot of fun. I think she'd be really funny, but I don't know if she would do it."
Richards also confirmed that Hilton joining the show was just a rumor too. "So, we'll just have to fantasize about it until then," she added.
But what about this crossover?
Another caller wanted to know which former or current Real Housewife Montgomery and Richards would tap to replace Vanderpump. First, Richards adds that you can't "replace" Vanderpump. But then she gives the question some thought.
Richards says, "I would have to pick Bethenny [Frankel] or NeNe [Leakes]." Richards has a long friendship with Frankel. In fact, Frankel used to be Hilton's assistant and babysat her daughters Paris and Nicky Hilton. Richards added, "And it would be fun to have them in L.A. with me."
Meanwhile, Montgomery's wheels are spinning. "Who was the Playboy bunny from season one on the OC," she asked Cohen. Cohen looks impressed, "My God, Jeana Keough!" Montgomery yells, "Yes! Bring her back!"