Which Friend Did Andy Cohen's Son Hilariously Give the Side Eye?
Little Benjamin Cohen's funny bone is starting to show as proud dad Andy posted a comedic image of his son giving a close friend the side eye.
Cohen has taken fatherhood in stride, often finding the fun and silly side to parenthood. Amid the well-meaning fan advice, Cohen still seems to find plenty of humor and joy along the way. Cohen often likes to preview the evening's Watch What Happens Live on his Instagram story holding Benjamin.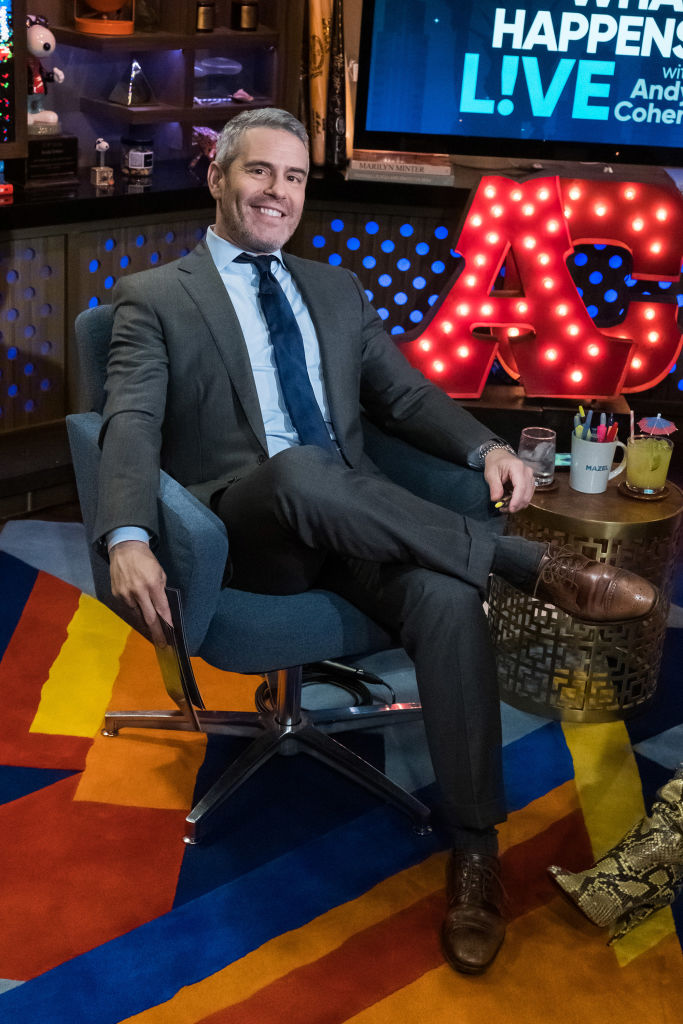 Today he sang along to the classic song, "Good Morning" by Gene Kelly. Cohen is grinning from ear to ear, likely after a typical all-nighter with a newborn. Cohen also shared his weekend park adventure to his Instagram story. But the best was a picture he took with one of his closest friends holding Benjamin. And all he could was point out that his son was totally giving his pal the side eye.
Remember Wacha's side eye?
Throwing some light shade runs in the family. A few months ago, Cohen's dog Wacha had a field day on Benjamin's stuffed Torah toy. Cohen filmed the post-toy bliss and posted it to his Instagram story. "Do you want to explain to my son what you did," Cohen jokingly asks. "And what do I tell the Rabbi? Wacha!"
Meanwhile, the dog is done, lying in the evidence, but at the same time shooting Cohen a look like, "Are you talking to me?" Of course, Cohen thought the whole thing was hysterical. But some fans, not so much.
He ended up going back on his Instagram story to assure fans the dog was not jealous or wanted to hurt his son. And that sometimes a Torah toy is just a Torah toy.
The guys had an eventful weekend
Cohen's idea of a wild weekend has probably changed quite a bit since his son arrived. But he found fun and made some pretty humorous observations while hanging out in the park this weekend.
First, he observed a remote control car zooming along the road, coming close to Wacha. The dog is either scared or intrigued but Cohen notes that the car was definitely being a little too disruptive. Initially, Cohen seems a little annoyed, but when he realizes a child was controlling the car he softens quite a bit.
"There are a variety of things I want to say about the situation but as a father, I'm going to edit myself," Cohen says. "In summary, you never know what you are going to see in a park. And number two that kid provided us with some great entertainment. I think he's a showman."
And then Benjamin hung out with this good friend
Cohen was promoting his show with Anderson Cooper on Instagram and shot a picture of Cooper holding Benjamin. "I'm a proud dad: my son gave Zaddy side eye, unprovoked!" he wrote.
Bravo personality Jenni Pulos from Flipping Out wrote, "I want to squeeze that face. Actually, all 3 of them." Actress Zooey Deschanel added heart emojis too. One person observed at how skillfully Cooper is holding the baby. "Anderson sure has a natural hold on him." Another fan wrote, "Benjamin is me watching the RHOA reunion last night lol."
This isn't the first time Benjamin has given Cooper the once over. Cohen shot a sweet photo of early introductions. Cooper is peering into the crib and Benjamin is seriously checking him out. "Uncle Anderson got an exclusive…" Cohen wrote.
Check out The Cheat Sheet on Facebook!