Which Jonas Brothers Are Married?
With the Jonas Brothers finally reuniting at long last, there are so many questions as to what they have been up to since they split up back in October 2013.
That was just over five years ago, after all, and the Jonas Brothers have definitely grown up since then. One of the biggest questions people have is which Jonas Brothers are married? Do any of them have children? We have the answers.
Joe Jonas is engaged
Joe Jonas was born on August 15, 1989 in Casa Grande, Arizona. Now 29 years old, Joe is engaged to actress Sophie Turner. Turner is best known for her roles of Sansa Stark in HBO's hit drama series Game of Thrones and as Jean Gray in the most recent X-Men franchise movies.
The couple have an eight year ago difference and have kept their relationship as under wraps as possible. They have appeared to be very happy together since they first began dating in November of 2016. So much so that the two adopted a puppy together in September of 2017, and soon thereafter announced their engagement in October of 2017.
The engagement announcement was done via Instagram, where both Joe Jonas and Sophie Turner posted an image of their hands with Turner's sporting a large diamond ring on her hand. She captioned it "I said yes," while Joe captioned his image "She said yes." The couple have stated plans to get married this upcoming summer.
Nick Jonas is married
Nick Jonas is the youngest of the three Jonas Brothers in the band, born September 16, 1992. The 26 year old is married to Indian actress Priyanka Chopra, who is ten years his senior. The couple had a whirlwind romance, with things moving quickly from first Instagram message to marriage.
It was confirmed the two were dating sometime around May 2017, when they attended the Met Gala together. Less than a year later, in July 2018, the couple were engaged on midnight the day after Chopra's birthday. A few months after, on December 1, 2018, the two tied the knot in Priyanka Chopra's home of India. The venue was the Taj Umaid Bhawan Palace in Jodhpurs, India.
Kevin Jonas is married with children
At 31 years old, Kevin Jonas is the oldest brother, born November 5, 1987, and he's been married for nearly a decade now. He met his wife, Danielle Jonas (nee Deleasa) in the Bahamas way back in 2006. Besides being a wife and mom, Danielle Jonas is also a jewelry designer. The couple married in 2009, after about three years of dating.
Kevin and Danielle Jonas kicked off the next generation of Jonas children with two daughters – both of which are highly doted upon by their three uncles. Alena Rose was born in 2014, and followed shortly after by younger sister Valentina in 2016.
Frankie Jonas is single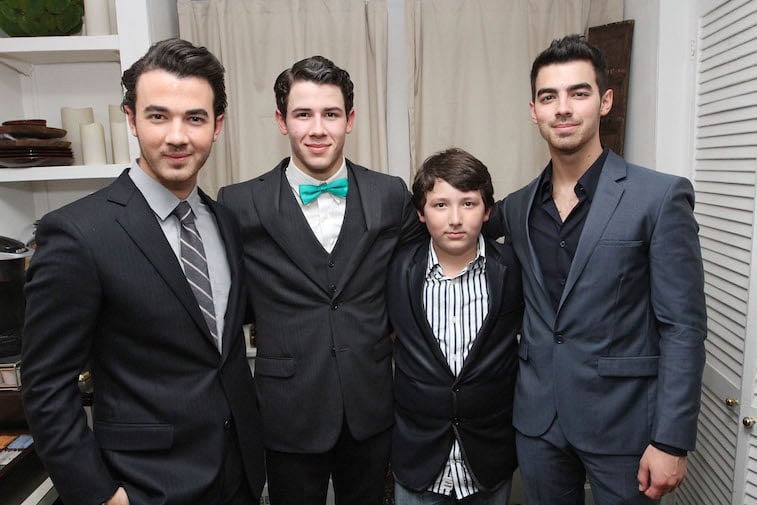 Frankie Jonas is best known as the little brother of the Jonas Brothers, who just too young to be part of their band. Cutely nicknamed the "Bonus Jonas," Frankie is all grown up now and has dabbled a bit in music himself. As far as sources can tell, the 18 year old is currently single, although he did take a girl named Austin to the prom last year. They posted an image of themselves kissing, but it doesn't appear it went any further than that.
'Sucker' shows the happy couples
The Jonas Brothers recently released their first music video in half a decade, and it features the likes of their significant others in varying roles. The song is called Sucker, and fans were excited to not only hear new music after such a long waiting period but also to see the three eldest brothers interacting with their new life partners.