Which Kardashian-Jenner Sister is Really the Most Successful?
Let's start by asking how success is measured. If measured by fame, the whole Kardashian-Jenner clan is successful. If measured by money, maybe Kylie has made more, but they all have found financial success.
If it is measured by happiness, well does it really matter when you have all that fame and fortune?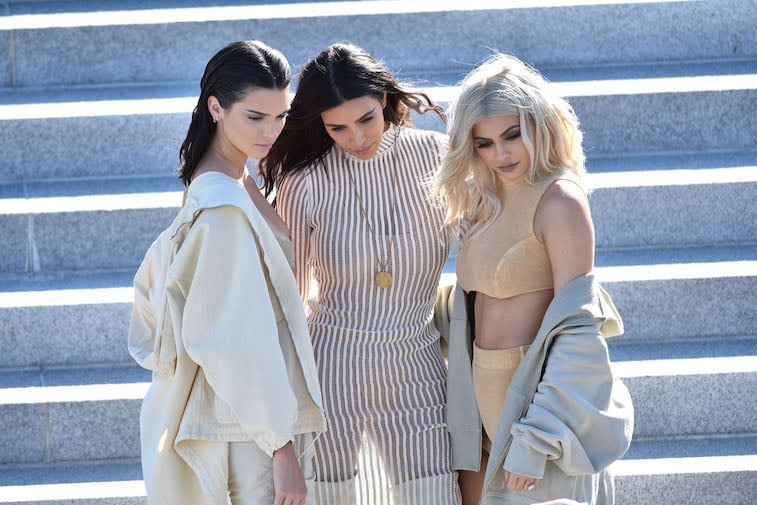 Is Kylie the most financially successful?
The youngest of the Kardashian-Jenner clan, Forbes Magazine featured Kylie on the cover of their August 21, 2018, edition and proclaimed that "she was set to be the youngest-ever self-made billionaire." That means that she made more money than Mark Zuckerberg did at the same age.
Kylie Cosmetics sells a lip-kit of matching liner and lipstick. Each kit sells for $29 and when launched they sold so well; she could not keep them in stock. Owning 100% of the company puts Kylie in complete control, and she collects all the profits. Kylie checks all the boxes: famous, rich, and happy in her personal life.
Is Kendall the happiest sister?
Kendall Jenner forged her own path by dropping Jenner from her name. She worked hard to become a highly paid supermodel. In fact, she earned $22.5 million in 2018, which made her the highest-paid model that year.
Her family made her famous, and she was born with all that is required for supermodel status, but she has made her own fortune. While her earnings pale in comparison to the other sisters, by keeping her personal life mostly private she may be the happiest of the bunch.
Is Khloe the busiest Kardashian?
In addition to gaining fame on Keeping up with the Kardashians, Khloe starred in the spin off Kourtney and Khloe Take Miami and Khloe & Lamar. Khloe also appeared on the short-lived Kourtney and Kim Take New York. She is still a part of KUWTK and now has her own show, Revenge Body.
Khloe found success on talk-radio in Miami's at WHYI, and with her show The Mix Up with Khloe Kardashian Odom. She partnered with Kim and Kourtney to open multiple D-A-S-H clothing stores, sell jewelry on QVC, and create a tooth whitening pen and tanning product Kardashian Glamour Tan. They authored Kardashian Konfidential and a novel, Dollhouse.
Khloe and Lamar created two unisex fragrances Unbreakable and Unbreakable Joy. Not the best name since they did break up. She currently has her own clothing company Good American.
There may be more that we are missing, but there is no denying Khloe works hard. She is famous, financially secure, but as far as happiness goes, she has had her share of heartbreak.
Is Kourtney the most down-to-earth sister?
Kourtney, the oldest Kardashian sister, is more earth mother than mega mogul. Her relaxed way of life and focus on her three children shows where her priorities are. This is not to say that she does not work hard.
Kourtney was a producer for KUWTK in 2015-16, and of course has been a big part of the show. She has several endorsement deals and may be launching her own line of make-up. Her latest venture is her lifestyle site, Poosh, but word has it that it may not be creating the buzz she expected.
Kourtney's personal life has been full of drama. Her relationship with Scott Disick is one crazy roller coaster ride. Even in the face of all that, she is rich, famous, and chill, which gets our vote for the most down to earth sister.
Is Kim the most famous Kardashian?
It all started with a sex tape. Some of us remember when a public release of a sex tape would be a reason to go into hiding. However, when a sex tape of Kim was released her name recognition and fame went off the charts. Kim admits she went through a wild phase. About the sex tape she said in an episode of Keeping Up with The Kardashians, "I did ecstasy once and I got married [to music producer Damon Thomas.] I did it again, I made a sex tape [with Ray J.]." Obviously, ecstasy and Kim are not a good fit.
Even before the sex tape, Kim had famous friends. This was the era of Paris Hilton and Nicole Richie's The Simple Life. Hilton and Richie's families were mega-rich and famous. Kim's were not, but she was gorgeous. Besides her beauty, Kim had an asset that Hilton and Richie didn't have, a cunning and savvy businesswoman for a mother.
'Keeping Up With the Kardashians': The beginning of mega fame and riches.
Kris Kardashian saw a grand opportunity; her daughter just revealed all in a raunchy sex tape, but never mind that, mamma Kris had other plans. Talk about making lemonade out of lemons, Kris called in the cameras and the money started rolling in.
The whole family dug-in to air their dirty laundry. Turns out their audience absolutely loved every minute of the drama and the endless eating of salads. Keeping up with the Kardashians left The Simple Life in the dust.
Kim proves she is savvy businesswoman and a social justice warrior
Kris knows how to seize the moment and Kim knows how to make the moment last. A Wall Street Journal article that discusses Kim's ability to turn self-promotion into an art form made the point; "Kim knows she can earn more money if she can make the public more interested in her than in her work."
The article was flattering to Kim points out Kim is not only interested her own financial success, but she cares about the people who benefit from her success. It does take a village to keep the Kardashian "industrial complex" moving forward.
It takes a village to keep up with Kim
She may not directly employ a village, but in the greater world of fashion, makeup, reality television, gossip, and interest in all things Kim, a group of people that could fill a village benefit from Kim's fame.
Kim knows and has said, "Public interest in me supports thousands of jobs in the larger economy." Kim is always on the move to find ways to keep this machine well-oiled and moving ahead.
So, who is the most successful Kardashian-Jenner?
It is not hard to find all the facts that anyone would want to know about Kim's business ventures and how successful they have been, so they are not listed here. What we know is all the sisters are famous, financially successful, and most likely, incredibly happy.
But there is an element of success that we have not talked about, and that is influence and power. Kim managed to get an invitation to the White House, was able to plead the case of Alice Johnson, and convince The President to release Johnson from her life sentence in prison. Wow, that is power and influence!
So, the question of who is most successful, measured any way, can only be answered this way: Kim is by a country mile.
Kim is gorgeous, benevolent, and fighter for justice. She gets our vote for the most successful one of that bunch.