Which Part of 'Avengers: Endgame' Made Chris Hemsworth Mad?
Some of the biggest stars of the Marvel Cinematic Universe (MCU) hosted a panel at ACE Comic-Con in Illinois last weekend, including Chris Hemsworth, who was asked about some of the finer details of his work on Avengers: Endgame. When the actor, who plays Thor in the MCU, was asked about how he felt when Captain America (Chris Evans) lifted Mjolnir, he made a shocking admission. While fans loved watching Cap lift the hammer, Hemsworth admitted that the scene kind of made him angry.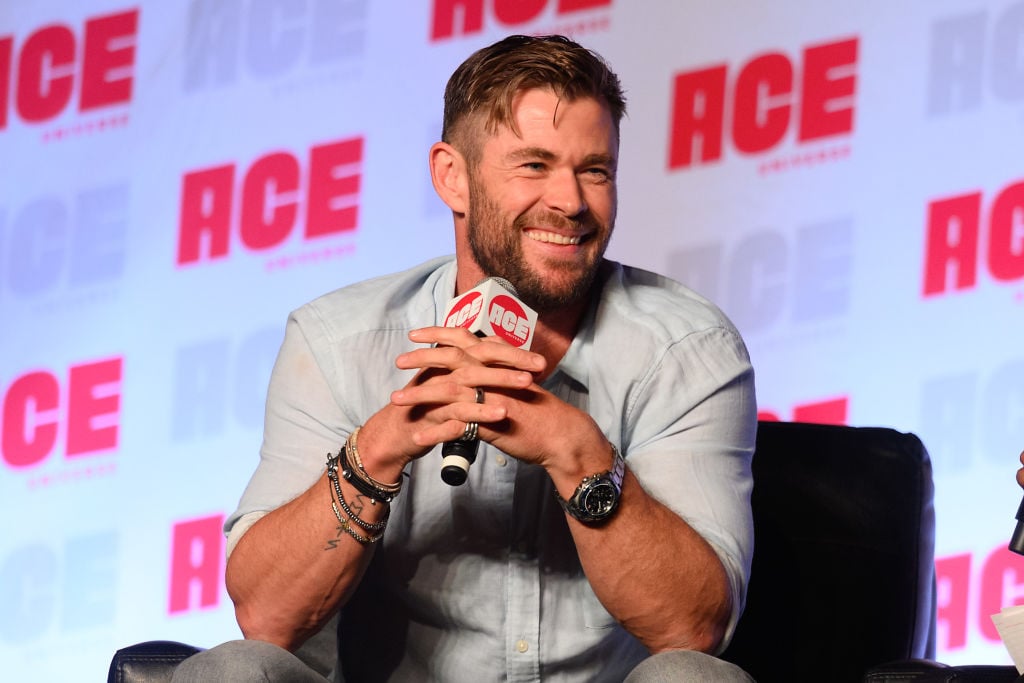 Hemsworth dishes on 'Avengers: Endgame' scene
Hemsworth was joined on stage by quite a few of his MCU co-stars, including Brie Larson, Tom Holland, Jake Gyllenhaal, and Tessa Thompson.
According to Comic Book, the panel included a Q&A session with fans, one of whom asked Hemsworth how he felt about someone else wielding Thor's iconic hammer.
"Uh, pretty angry, yeah," Chris Hemsworth joked. "I'm sick of people picking up that hammer, to be honest. It's playing with my toys, you know, it's like 'give me that.'"
The fan then assured Hemsworth that his anger did not show up on camera. The actor joked once more about how he was a little peeved by the scene and that Cap shouldn't be carrying his hammer because he has a "little shield" of his own.
Fans were also quick to notice how Hemsworth talked about "people" picking up his hammer, which could have been a tease about how Jane (Natalie Portman) will do the same in Thor: Love and Thunder. The upcoming movie is the first time an MCU franchise has received a fourth film and will feature Jane taking up Thor's mantle.
Director Taika Waititi is returning to help the project following his successful leadership in Thor: Ragnarok. Thompson is also expected to return as King Valkyrie, and there has been a lot of speculation about her character exploring romantic options, which is a great thing for the LGBTQ community.
What about Chris Hemsworth's favorite part of 'Endgame'?
Hemsworth was very open about what he disliked about Endgame, but what was his favorite part of the movie?
The actor revealed that Bro Thor was actually the part he loved the most about Avengers: Endgame. The transformation from a ripped and confident Thor to an overweight and philosophically troubled God of Thunder was a big surprise going into the film – and Hemsworth appreciated every minute of it.
During the panel, Hemsworth talked about how Thor underwent a lot of changes in Ragnarok and that Endgame directors Joe and Anthony Russo wanted to do the same with their project.
"We just kind of ran with it, and it evolved. There was a lot of improvisation," Chris Hemsworth added.
The actor added that they did not have any rules when it came to his character in Endgame. In fact, half the time he had no idea what was going on and was not sure where they were taking his character.
Prior to Hemsworth's interview, the Russo brothers also admitted that Thor's appearance in Endgame was one of their favorite parts of the project. While there are plenty of great moments in the film, we have to agree that Bro Thor was one of the best.
Mark Ruffalo had doubts after 'Ragnarok'
With all of the changes Thor witnessed in Ragnarok (which included a new haircut and a lost eye), there were moments when some of Chris Hemsworth's co-stars questioned where the story was headed.
During the panel, Hemsworth explained how Mark Ruffalo wondered out loud if they were ruining their characters by improvising too much.
Ruffalo apparently felt like some of the scenes were getting pretty hysterical and that they might be wrecking everything they've worked hard to build.
Fortunately, everything worked out in the end and fans absolutely loved Waititi's vision for the character, especially the more comedic tone of the film.
The overwhelming support from fans is one reason why Hemsworth and company are getting a fourth movie, something that no other franchise in the MCU has enjoyed.
Unfortunately, fans will have to wait a while before we see Chris Hemsworth as Thor back in action. Thor: Love and Thunder is scheduled to hit theaters on November 5, 2021.
The next movie in Marvel's lineup is Black Widow, which opens in theaters on May 1, 2020. The Eternals is next in Phase 4 with a premiere date of November 6, 2020.