Which 'RHOBH' Cast Member Offers the Opening Line for 'John Mulaney & the Sack Lunch Bunch'?
As a true student of pop culture, comedian John Mulaney found the perfect opener for his first Netflix children's special John Mulaney & the Sack Lunch Bunch.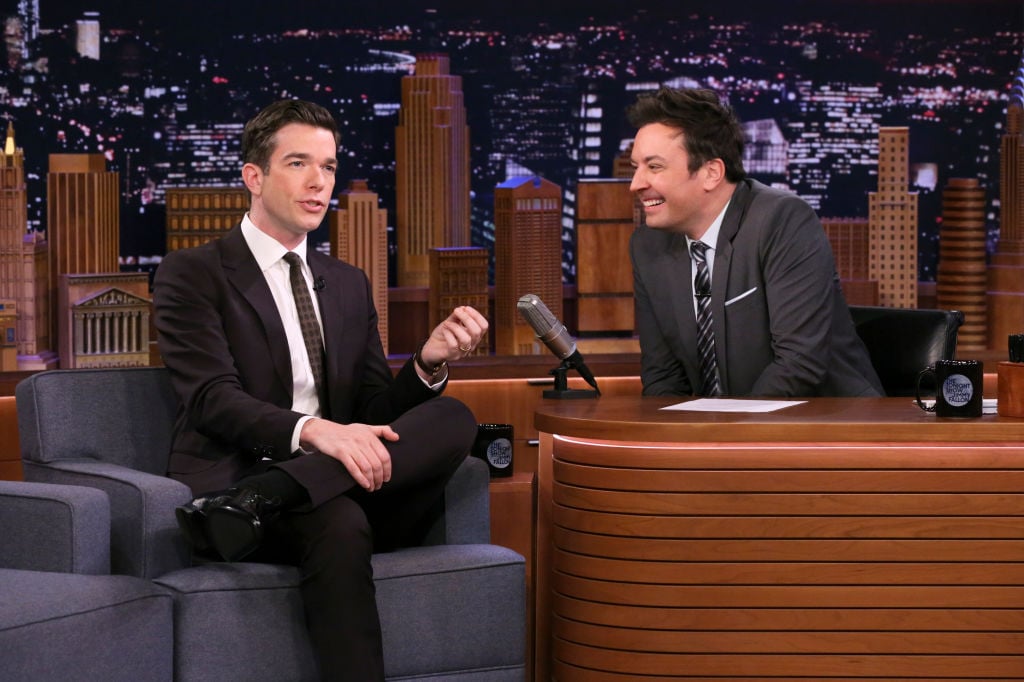 Mulaney dug deep and identified the ideal opening line for his children's special which really set the tone and mood for the entire variety show. The special opens with a line from Erika Jayne [Girardi] from The Real Housewives of Beverly Hills. "Do you know who tells the truth? Drunks and children." Erika Jayne, The Real Housewives of Beverly Hills S09E20. The show then descends into hilarity, delivering the same darkly optimistic discussions Mulaney is known for in his standup.
The show dives into topics like death, along with the children and guest stars sharing their greatest fears along the way. While it may seem odd that Mulaney would dig up a funny observation from a Real Housewife to kick off his show, he actually knows his Housewives. In fact, he knows his Housewives very well.
He spoofed the 'Real Housewives' in this SNL appearance
When Mulaney hosted Saturday Night Live in 2018, he was part of a hilarious Bravo spoofed sketch of the Real Housewives. The sketch begins with, "You're watching Bravo, when does your boyfriend get back in town?" Then the narrator offers a programming rundown. This includes Andy Cohen's Endoscopy Camp at 11 pm.
But then fake Bravo offers a new show that is just intros (and taglines) called The Real Intros of Reality Hills. The show features a number of women delivering hilarious taglines. "I'm too old and my hair is too long" and "The south will rise again. But when I stand up too fast, I pass out."
Mulaney appears as a twin. "I'm as gay as my twin," he says in a sassy voice. "I'm as gay as my wife," the other Mulaney twin says. "We own a skincare line that's huge in Iraq." Both Mulaney twins say, "Jealous?" But then the "show" explains what the characters really mean with their taglines. Mulaney's twin character says, "His booty is real, but my personality is fake. Our niece played Topanga on Boy Meets World. Jealous?"
He seems to love Erika Jayne
During a Valentine's Day tribute to his wife, Mulaney referred to the RHOBH cast member. "Happy Valentines Day to the coolest, kindest, funniest, weirdest, most beautiful, most artistically inspiring person I have ever met. Happy Valentines Day to a woman who is a cross between Joan Didion and Erika Jayne," he shared on Instagram. "Anna, you might as well be the Sea Org, because I'd sign a Billion Year Contract to be with you. Happy Valentines Day @amtendler. Life would be so stupid without you."
When Mulaney appeared on The Tonight Show, he told host Jimmy Fallon about the quote he used. "The special begins with a maxim I find to be quite true," he says as he reads Girardi's quote. As the audience applauds, he reveals the owner of the quote. "Wise words, wise words. That is from Erika Jayne of The Real Housewives of Beverly Hills."
"It's right after they go wine tasting thing, where Kyle and Teddi get way too drunk. The next day, Erika says, you know, 'Who tells the truth, drunks, and children,'" he continues. "I was working on the special at the time, and I was in one of those moods where I was like, 'That's going in.'"