Which Show Will Win Tonight's Emmy for Outstanding Drama Series?
With the 66th Primetime Emmy Awards upon us tonight, the talented casts and crews of some of television's best programs will learn whether they've earned a spot in history. While dozens of awards are given out, arguably one of the most important is the one given to a drama series. This year, there are six deserving shows nominated. But only one can win.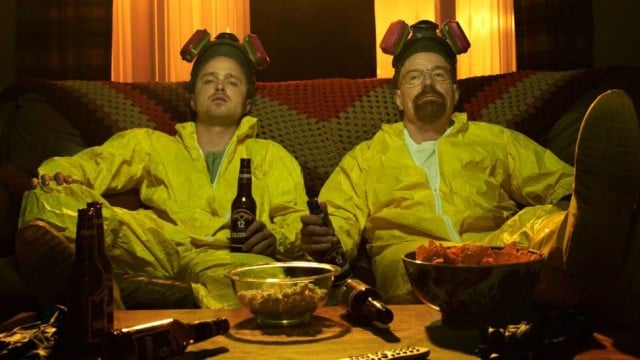 Breaking Bad (AMC)
What happens when the man you least expect to become a drug kingpin starts making meth in an RV? Six glorious seasons of jaw-dropping, pulse-pounding, heartbreaking drama. That's what we got with Breaking Bad. After this crime thriller wrapped up last fall, many TV critics had already named it one of television's best series ever. Will the Academy of Television Arts & Sciences agree?
Why it could win: Emmy voters love to celebrate successful series at the end of their run, and Breaking Bad went out on a high note.
Will it win? Almost certainly — unless Emmy voters decide that last year's Outstanding Drama trophy was enough for Vince Gilligan and crew.

Downton Abbey (PBS)
The fine line between the rich and the poor hasn't been this fascinating in years — at least that's what fans of Downton Abbey will tell you. This British ensemble drama follows the lives of an aristocratic family and those of their servants at the turn of the 20th century. The show is packed with historical and fictional drama — from the sinking of the Titanic and World War I to untimely death and wrongful imprisonment — and packs enough romance to keep even the most old-fashioned hearts aflutter.
Why it could win: Many doubted the show could survive after several of its most popular stars left at the end of the third season, but its fourth showing proved to be just as strong.
Will it win? Probably not. Despite a worldwide fandom that shows no signs of dying out, the show's critical accolades have lessened over the years.

Game of Thrones (HBO)
Dragons, direwolves, and deadly weddings, oh my! This fantasy series, based on George R.R. Martin's best selling book series A Song of Ice and Fire, tells the epic tale of families fighting for control over Westeros. It's captivated viewers, fans of the books, and critics alike.
Why it could win: Many believe the most recent season, Game of Thrones' fourth, was its best yet.
Will it win? It's unlikely, since Emmy voters rarely reward genre or fantasy series with top prizes.

House of Cards (Netflix)
You know your show is a big deal when the POTUS asks the nation not to spoil it for him. When the second season of House of Cards hit last Valentine's Day, many fans felt the same way. The series — Netflix's first original — boasts a powerhouse cast and crew, including Kevin Spacey, Robin Wright, and David Fincher, and is the first to be created with the "binge-watching" crowd in mind. Its take on the political maneuvering and backstabbing that happens in D.C. has kept fans and critics on the edge of their seats.
Why it could win: It proved to be more than a flash in the pan with a strong second season full of powerful twists.
Will it win? If Emmy voters are looking to shake things up a bit, there's a chance it could give Breaking Bad a run for its money.

Mad Men (AMC)
The show that put AMC on the map as a producer of quality television is coming to an end. Fans of this compelling drama were treated to some meaty moments for Don Draper (Jon Hamm), Peggy Olson (Elisabeth Moss), and the rest of the ensemble as the characters lived through the summer of love. With the end of Mad Men on the horizon, it's hard not to feel a little bit of nostalgia for its second to last shot at Emmy glory.
Why it could win: After hitting a low point with season six, many critics felt Mad Men was back at the top of its game when it returned this spring.
Will it win? No. The general consensus amongst fans — and most likely Emmy voters — is that this great drama has already had its time in the spotlight.

True Detective (HBO)
What do you get when you cast two A-list actors at the top of their game in a gritty modern day crime noir? True Detective — one of the most critically acclaimed and popular series HBO has produced in years. Created in an anthology format — meaning each season will feature a new cast of characters — the first season followed Rust (Matthew McConaughey) and Marty (Woody Harrelson) as they tracked a disturbed serial killer in rural Louisiana. It's gripping, compelling, and leaves you wanting more — just like a great TV drama should.
Why it could win: True Detective was all the rage when it premiered early this year, and may be one of the most fresh nominees in Emmy voter's minds.
Will it win? There's a very good chance it could steal Breaking Bad's thunder if voters cast their ballots before word about showrunner Nic Pizzolatto's alleged plagiarism leaked.
More From Entertainment Cheat Sheet: