Which Three Controversial Reality Stars Just Partied Together in Vegas?
Three of reality television's most controversial reality stars partied together on Thursday for the 10th anniversary party at the Crazy Horse 3 Las Vegas.
Farrah Abraham, who was was let go from MTV's Teen Mom OG after years on the air for her foray into adult entertainment, walked the red carpet with 90 Day Fiancé's Larissa Dos Santos Lima, who was well-known for her rollercoaster relationship with ex Colt Johnson.
Meanwhile, Jenni Harley, Jersey Shore: Family Vacation star Ronnie Ortiz-Magro's on-and-off girlfriend, joined Abraham and Lima for pizza and partying in the wake of Ortiz-Magro's most recent arrest for alleged domestic violence against her.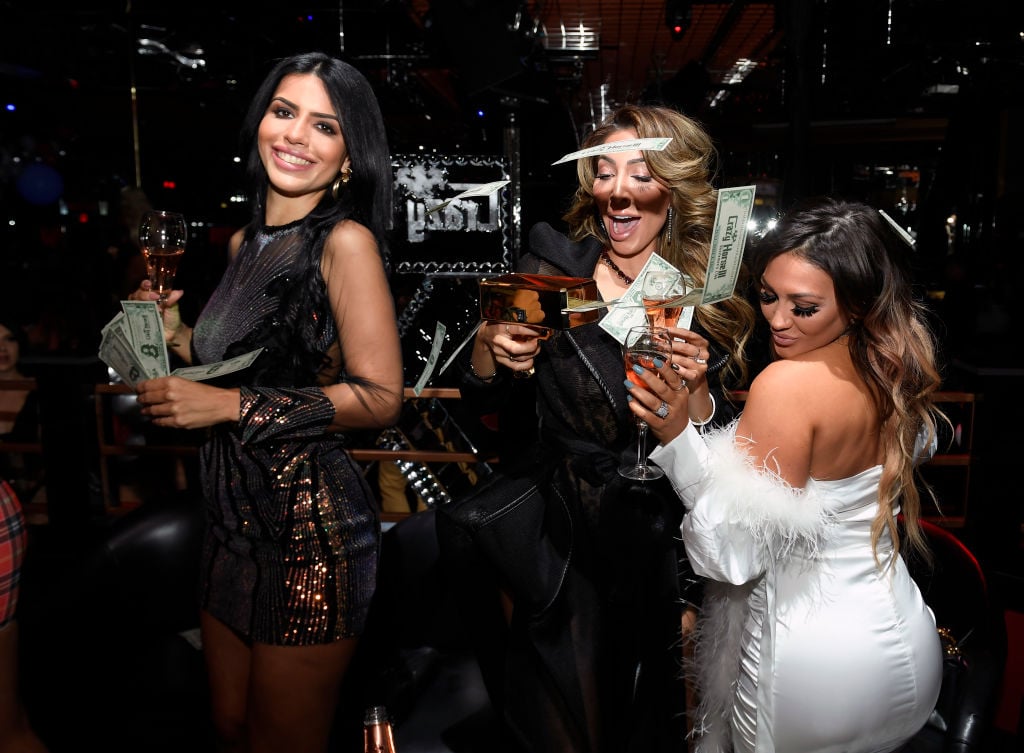 The three scandal-courting stars partied at the Crazy Horse
Lima, Harley, and Abraham are no strangers to public scrutiny and controversy, but their night at the strip club on Thurs., Oct. 17 was more lighthearted than their usual fare.
Harley donned a white minidress and feather boa for the event, while Lima wore a black-and-silver sparkly minidress and Abraham donned a sheer getup that showed off her thong bodysuit underneath.
The three of them snapped selfies, posted to their Instagram stories with each other, fanned themselves with dollar bills, and drank champagne as the Crazy Horse 3 celebrated its anniversary.
"I booked @farrahabraham here 8 years ago for the first time now here we are celebrating 10 years," wrote Lindsay Feldman, the Director of Brand Marketing at the Crazy Horse 3 Las Vegas, in an Instagram story accompanied by a smiling photo of herself and Abraham.
Larissa Dos Santos Lima took to Instagram to write of the night, "A BIGGEE shout out to @crazyhorse3lv and all the wonderful staff. A special thank you to @lindsay_feldman dear Lindsay, you always help me getting invites to the best strip club in Las Vegas."
Lima defended Abraham from criticism about her appearance
Lima stuck up for her new friend Abraham when her social media followers insulted the former Teen Mom OG star's appearance. Lima posted a photo of herself and Abraham drinking champagne at the strip club blowout.
Underneath the photo, several commenters remarked on Abraham's plastic surgery and claimed she looked older than she was. The Brazilian TV personality fired back, "ok we believe you are not bashing other woman cuz you are hella confident."
Harley didn't appear fazed by Ortiz-Magro's recent arrest
Jenni Harley was all smiles at the Crazy Horse 3 anniversary party, despite her recent drama with her on-again off-again boyfriend and baby daddy from Jersey Shore: Family Vacation.
On Oct. 4, Ortiz-Magro was arrested in Los Angeles for allegedly dragging Harley on the floor of their rental home, injuring her in the process, as well as snatching their one-year-old daughter Ariana Sky and chasing his ex with a knife as she tried to get away.
For his part, Ortiz-Magro claimed that Harley had been drinking excessively throughout the day and that he felt his daughter was in danger.
Ortiz-Magro was charged with kidnapping and domestic assault, and Harley was awarded an emergency protective order against him. The investigation is ongoing.