Which TV Shows Were Binge-Watched the Most In 2019? 'Friends' Shockingly Wasn't No. 1
Now that 2019 is winding down, it's time to take a look back at the TV shows we binge-watched this year. While a few current series like Stranger Things made this list, most people enjoyed watching old favorite sitcoms like Friends. But you may be surprised which show was binge-watched the most. Here's a look at the 2019 TV Time Binge Report.
'Stranger Things'
Coming in at No. 5 on the most binge-watched list is Stranger Things. The first season of the series dropped in full in July 2016, From there, it was a little over a year until Season 2, which was released with a Halloween theme in Oct. 2017. This year, we finally got Season 3, which went back to its summer roots, airing on July 4, 2019.
Few TV events this past summer were more highly anticipated than the third season of Stranger Things, which received mixed reviews. Given that all of the episodes are released at once (as is Netflix's tradition), it made for a perfect summer binge.
'Brooklyn Nine-Nine'
Shifting to a very different kind of show, Brooklyn Nine-Nine lands in the No. 4 spot. The former Fox series aired its sixth season in 2019, beginning with its mid-season debut on NBC after being canceled by the former network in 2018.
Brooklyn Nine-Nine's dedicated fan base clearly made sure that the show's return wasn't in vain. The episodes can be watched by on the NBC app or on Hulu, both released week over week after airing on NBC first. It would appear that people were either binging the old seasons or saving up to watch Season 6 all at once. Fortunately, a pending seventh season will begin in Feb. 2020.
'Grey's Anatomy'
When it comes to series with an extensive back catalog, few can beat Grey's Anatomy, which is No. 3 here. The ABC drama concluded its record-breaking fifteenth season earlier this year, beginning its sixteenth in September. With more than 300 episodes to date, that's a lot to binge.
Fans may have enjoyed going back and watching old seasons of Grey's Anatomy on Netflix, where the previous fifteen are available to binge. Things are bound to change when Season 16 resumes in Jan. 2020, now that there's a closer time between the medical drama and its firefighter spinoff, Station 19.
'Friends'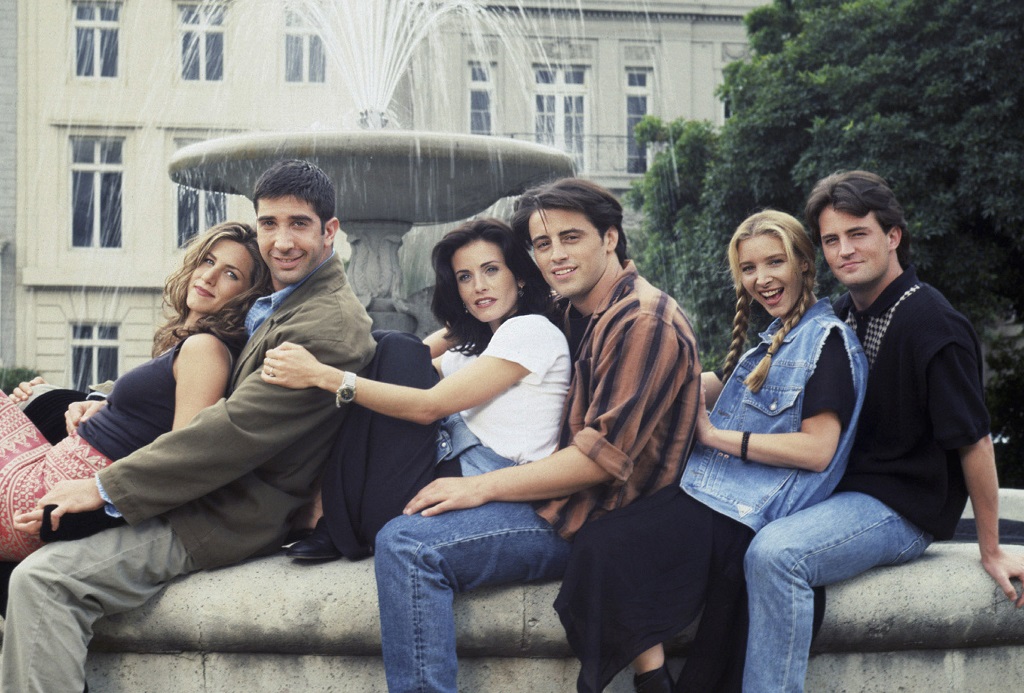 No. 2 on the list is none other than Friends. The beloved sitcom was incredibly popular during its airing from 1994-2004, becoming the show to watch Thursday nights on NBC. And despite being off the air for many years now, it's still nearly just as popular in 2019.
You see, Friends has accumulated many new fans over the years. Once it became available to stream on Netflix, the binge-watching opportunities were endless. And when news dropped that it was leaving the popular streaming service for the upcoming HBOMax, Netflix users appear to have doubled down on their viewing.
'Lucifer'
There's a huge world of DC Comics character on the CW. But its Netflix's series, Lucifer, that tops this list. If you're not familiar, the series follows the titular character, who is, in fact, the devil — though he lives in Los Angeles, and works with the police.
The strange-yet-intriguing premise has drawn in plenty of viewers. It originally aired on Fox, but, after it's decried cancelation, was picked up by Netflix. Lucifer has had an uneven but beloved run, which will come to an with its upcoming fifth season.
Runner-ups
Chances are, you won't be surprised by the rest of the top ten. No. 6 was Game of Thrones, HBO's only contribution to the list. Two CBS series, The Big Bang Theory and How I Met Your Mother, came in at No. 7 and No. 9, respectively. The CW hit Riverdale earned the No. 8 spot, while Netflix's Money Reist finishes the list off at No. 10.